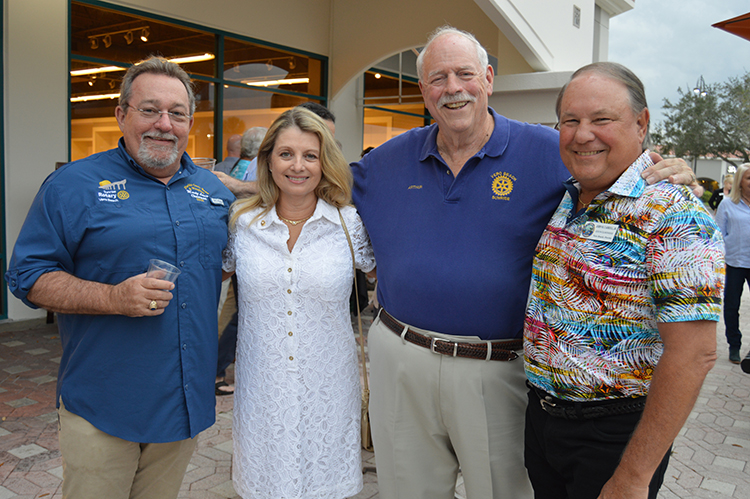 Royal Palm Pointe was overrun by fans of craft brews, chicken wings and family fun during the 11th annual Florida Craft Brew and Wingfest hosted by Sunrise Rotary Vero Beach.
Prior to the big day, sponsors had been feted at a VIP event at the Vero Beach Outlets, where they enjoyed a BBQ dinner and had the chance to look under the hood of several Strickland Auto Racing cars.
Gray skies loomed the morning of the Brew and Wingfest, but seemingly by the sheer will of the collective Rotarians, it turned out to be a beautiful day with the last of the season's cooler weather.
Attendees enjoyed live music from stages at both ends of the Pointe as they made their way from one end to the other, nibbling on a wide variety of delicious wings from 16 competitors and washing them down with more than 200 craft beers, ciders and sours. Rotary Ladies sold pretzel necklaces to cleanse palates between tastings.
Wing variations included everything from traditional barbecue and Buffalo to mango habanero. The restaurant Pepper and Salt embraced the essence of the Wingfest by using Orchid Island's Indian River Grapefruit IPA to create their El Chefe's wings.
A panel of judges assessed the wings on presentation and taste, ultimately selecting Cap's Pizza as the First Place winner in the Restaurant division. Big Shots received the Spirit Award.
The Source won the Peoples' Choice Award and took First Place in the Independent Chef division for Mo's Famous Wings. The sweet jalapeno and pineapple sauce was in memory of Maureen Archer, the beloved assistant executive director of the nonprofit, who died unexpectedly last year – a fitting tribute to the sweet and spicy powerhouse.
The afternoon held other amusements, including a wing-eating contest won by Parrish Lore and Root Beer tastings for the little ones.
Organizers estimated that more than 10,000 people enjoyed the day, which raised money to support the many Sunrise Rotary projects.
"We do this for the satisfaction that the community gains from our volunteer efforts. The Wingfest is a short event, but it is impactful," said Arthur Hodge, adding that it took some 150 volunteers to pull off the massive event.
Fulfilling their motto "Service Above Self," Sunrise Rotary members support youth, environment and education programs by lending a hand and providing funding for projects and programs. Among them, the Little Wonders program at the Environmental Learning Center, the Rain Garden at Citrus Elementary School, books for students in the school district's Pre-K program, laptops for Little Birthday Angels, food for the Fellsmere Fridge project, and support for St. Francis Manor, Ocean Research Conservation Association, Coastal Connections and LaPorte Farms.
At the international level, Sunrise Rotary is helping to bring clean water to residents of the Dominican Republic by providing water filters and building aqueducts.
Sunrise Rotary members meet Wednesdays at 7 a.m. at the Riverhouse. For more information, visit SunriseRotaryVeroBeach.org.
Photos by Joshua Kodis and provided