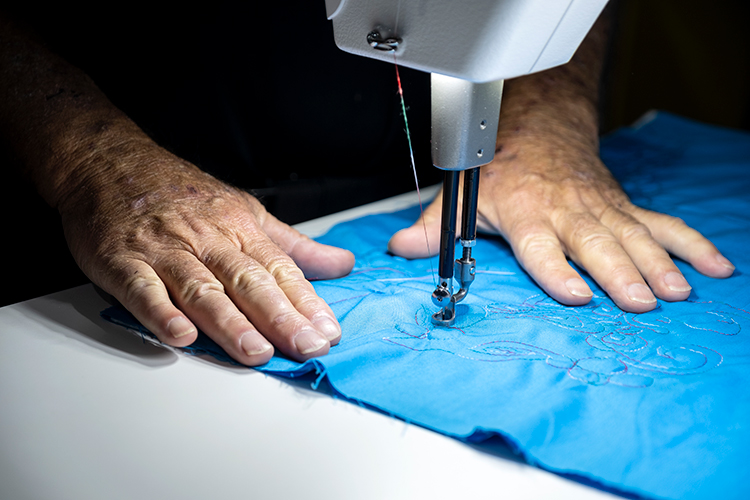 Fiber artists showcased their talents with a colorful display of more than 200 quilts at the Vero Beach Quilt Guild – Sunbonnet Sue Quilt Show, held at the Indian River County Fairgrounds.
"We turned the Quilt Show over in 11 months, so that was a big undertaking," said Cindy Baron, show co-chair with Diane Miller.
While Vero Beach shows are generally held on the odd year, they held their 2021 show in 2022 due to COVID and are now back on track. The fairgrounds have already been booked for the next show, Feb. 6-8, 2025.
A complex art form that spans thousands of generations around the world, quilting has experienced a resurgence in recent years.
"We're finding a lot of new, younger folks interested in quilting and fiber art, which is stunning to us. I think they're trying to find peace in their lives, and this is a peaceful thing to do. It's meditative," said Miller.
"I think COVID had a lot to do with it also, bringing back old-fashioned values and trying to keep the art alive," said Baron.
Proceeds from items sold in their Boutique Booth benefit a different charity each show and this time it was Shining Light Garden, which grows and donates food to feed the hungry.
Because the nonprofit also gives flowers to places such as nursing homes and the Hospice House, the guild held a Floral Quilt Challenge, where each 20-inch by 20-inch wall hanging featured a floral interpretation. Those pieces were judged by Beth Sweet of Sweet Time Quilting and Diane Titherington from Shining Light Garden.
Quilters who wished to could have their other pieces judged by a professional show judge.
Categories included small, medium and large sized pieces, various sizes of appliqued and mixed techniques, miniature, wool quilted with batting, wool only, abstract/art and block of the month. This year's Best of Show was "Moorea" by Martha Dallesandro.
New this year was a Youth Fabric Textile Art category. The guild had invited high school students to participate and the quilts from six students at Masters Academy who accepted the challenge were on display.
Additionally, Vero Beach fiber artist Susan Rienzo brought a selection of her remarkable abstract and pictorial art quilts, and Judith Kratts created the beautiful "Potted Petals" Raffle Quilt, and a Tiny Quilt Exhibit and Sale of 36 pieces, with proceeds from both to benefit the guild.
"She purchased a book and did every miniature inside the book. And then she just turned around and donated them to the quilt show to sell," said Miller.
The nonprofit guild will use those funds to craft and donate items, such as placemats, fidget quilts and teddy bears to some 15 local charities and the Sheriff's Victims' Advocate Unit, and Baron said they have just started making covers to put over isolettes in neonatal intensive care units.
The guild meets Thursdays from 10 a.m. to noon at St. Augustine Episcopal Church parish hall, and quilters of all levels are invited to join.
Photos by Joshua Kodis