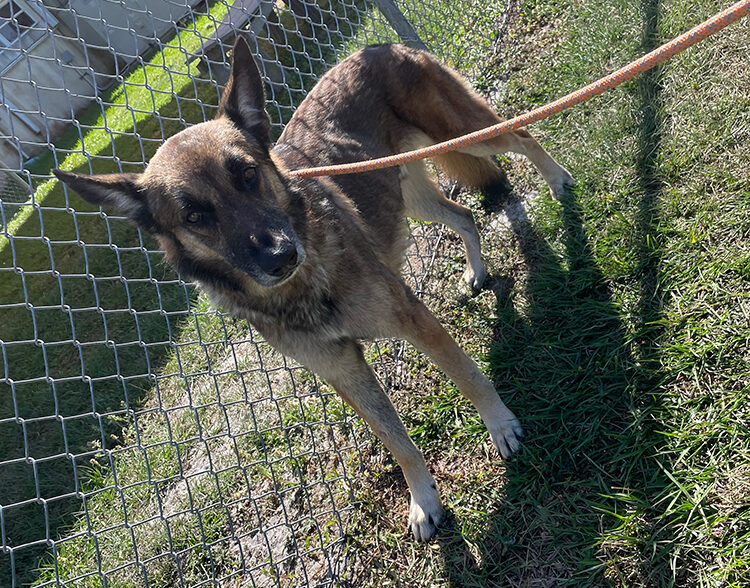 INDIAN RIVER COUNTY — Blaze, the dog rescued by police last week after being stranded on an island for four days, is getting tons of love, exercise and tasty meals. The German Shepherd – with a silky dark brown coat – already has a list of people signed up who want to adopt him, according to Veterinary Program Manager Jennifer Hudick.
"Blaze is doing much better. He has calmed down significantly. He's gained a lot of attention," said Hudick, who has worked at the Humane Society of Vero Beach & Indian River County since Jan. 2022. "He's a little shy and very well-mannered."
Humane Society officials – who are caring for the canine – are aiming to get Blaze into a foster home followed by an adoption soon.
Hudick said the three-year-old dog had a microchip. Humane Society officials tried several times to contact the owner using the information from the microchip, but got no response, Hudick said.
Vero Beach police rescued Blaze on Feb. 28 after the dog was stranded on the island directly southwest of Memorial Island. Four days earlier, witnesses told officers that Blaze ran into the shallow water and swam to the island.
"It's a very large island with lots of mangroves surrounding it," Vero Beach police spokesperson Kelsea Marty previously said. "It was very easy for the dog to hide and hard for humans to get to it."
The police department's animal control unit took boats to the island and conducted several foot patrols to search for Blaze. Officers used a dog trap to capture the stranded canine that officials said evaded people for several days as they came near.
Blaze was taken to the local humane society, where he received a full medical examination. Hudick said Blaze was up to date on his vaccinations and deworming, but also said he was slightly limping and might have Arthritis.
Blaze is a familiar face to the humane society.
Hudick said Blaze was previously at the shelter for about three weeks. His owner adopted him a week before Blaze ran off to the island, Hudick said.
"It probably helped that Blaze saw familiar faces he was already used to seeing," Hudick said. "He's much more open with body language now. He's more accepting for us to be around him. He's opened up a lot since he came back."
Blaze enjoys chowing on Hill's Science Diet Adult Dog Food at the shelter, Hudick said. For Hudick, helping pets like Blaze is worthwhile.
"It's an amazing feeling to know you're part of a team that helps animals like this," Hudick said.
Photos contributed by Humane Society of Vero Beach & Indian River County