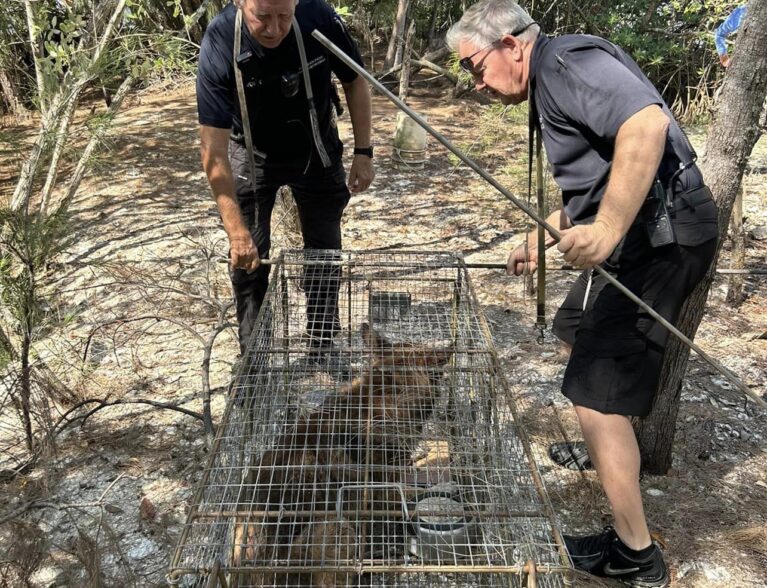 VERO BEACH — Police rescued a German Shepherd Tuesday after the dog ran into shallow water and swam to the island directly southwest of Memorial Island four days earlier, officers said. Officers used a dog trap to capture the stranded canine that officials said evaded people for several days as they came near.
"It's a very large island with lots of mangroves surrounding it," Vero Beach police spokesperson Kelsea Marty said. "It was very easy for the dog to hide and hard for humans to get to it."
Marty said the dog had no visible injuries. The canine did not have a collar, and its owner has not yet come forward, Marty said.
The German Shepherd ran into the water and swam to the island on Friday, police said. The police department's animal control unit took boats to the island and conducted several foot patrols to search for the dog.
"The waters are very shallow in that area so only certain boats can get to the island," Marty said. "There was a good amount of people in the community that attempted to capture the dog."
Officers left dog food and water on the island in hopes that the canine would pop out, police said.
Police set the dog trap on the island Monday. Chris Woodruff, owner of Vero Tackle & Watersports, was riding on his boat about 11 a.m. Tuesday when he went to the island and noticed the German Shepherd was secured in the dog trap, officers said.
The canine was taken to the Humane Society of Vero Beach & Indian River County for observation, officers said.
"If unable to locate the owner of the German Shepherd, we will be looking for a foster family for this handsome dog," police said.
Photos provided by Vero Beach Police Department