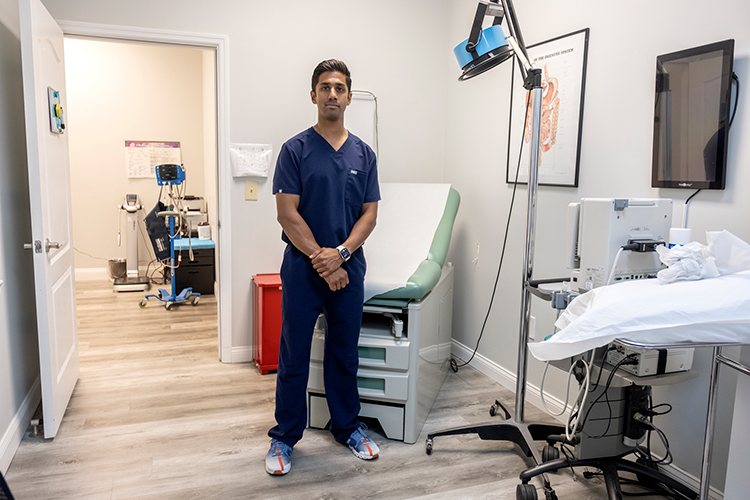 Dr. Kevin Seeras, a board-certified general surgeon, has joined the Steward Sebastian Metabolic and Bariatric Surgery Program at Sebastian River Medical Center.
The hospital's bariatric team is under the leadership of Dr. Patrick Domkowski and includes surgeons, a nurse practitioner, a bariatric coordinator and nutritionist to offer patients not just surgical services but also continued support through nutritional counseling and support group meetings.
"Bariatric surgery can extend life and permanently cure metabolic disease, eliminate heart disease and have a big impact on mental health. But it's not just surgery," says Dr. Seeras.
"Success comes from patient motivation and the willingness to totally change his or her lifestyle."
Three to six months before surgery takes place, patients start to make those lifestyle changes as required by insurance, such as eating a healthier diet and getting more exercise. They interact with the Steward Sebastian Metabolic and Bariatric Surgery Program team and enlist the support of friends and family. "If the family isn't supportive, the patient will not do well," says Dr. Seeras.
Bariatric surgery can benefit patients who have a BMI (body mass index) of more than 40 or those with BMIs of 35-to-40 with a comorbidity such as high blood pressure or cholesterol, diabetes, osteoarthritis or sleep apnea.
It's not for tobacco or alcohol users or those with uncontrolled psychiatric problems.
According to Mayo Clinic, obesity is a complex disease most notable for excessive body fat. It isn't just a cosmetic concern but a serious condition that can lead to and worsen additional health problems.
There are many reasons why people are obese and have difficulty losing weight, including genetic, physiological and environmental factors, combined with poor diet and lack of proper physical activity.
Dr. Seeras has always been interested in surgery and is excited to be part of the team at Sebastian River Medical Center. He's involved in the program as more than a surgeon, participating in the patient's path to success.
"I run support groups myself," he says. "Patients can take part in person, on Facebook, in Zoom meetings – whatever way they are most comfortable. I want them to be able to talk with nurses, other patients, me – anyone who can answer questions and help them."
Bariatric surgery is less complicated now than it was in the 1980s or '90s, he says. "Only a one-night stay in the hospital is necessary now and 99 percent of the time the surgery is minimally invasive – similar to gall bladder surgery. Plus, you're required to be up and around the day of the operation. You'll feel sore but Tylenol takes care of the pain."
If it seems to you that bariatric surgery is performed more frequently than it used to be, you're right. Since it's more widely accepted and frequently talked about on social media platforms, people feel more comfortable considering it. Having said that, only 2 percent or fewer of people eligible for the surgery actually get the operation.
The bariatric and metabolic team at Sebastian River Medical Center is accredited by the Metabolic and Bariatric Surgery Accreditation and Quality Improvement Program (MBSAQIP).
This means it has undergone an independent, voluntary and rigorous peer evaluation in accordance with nationally recognized bariatric surgical standards. The American College of Surgeons (ACS) and the American Society for Metabolic and Bariatric Surgery (ASMBS) combined their respective bariatric surgery accreditation efforts into a single unified program to create a consistent national standard to guide doctors and benefit patients.
By the way, Dr. Seeras doesn't just talk about a healthy lifestyle – he lives it. Besides exercising every day, he plays golf and kayaks. He grew up in Chicago and moved to Florida in 2021 to be close to his family in Sarasota and to take advantage of the beautiful weather for his outdoor activities.
Dr. Kevin Seeras is a board-certified surgeon specializing in Minimally Invasive General and Bariatric Surgery. He earned his medical degree from the Chicago College of Osteopathic Medicine in 2015 and completed his general surgery residency at Henry Ford Macomb in Detroit.
He is currently accepting new patients at Sebastian River Medical Center, 13695 U.S. 1, Sebastian, 772-581-8003.