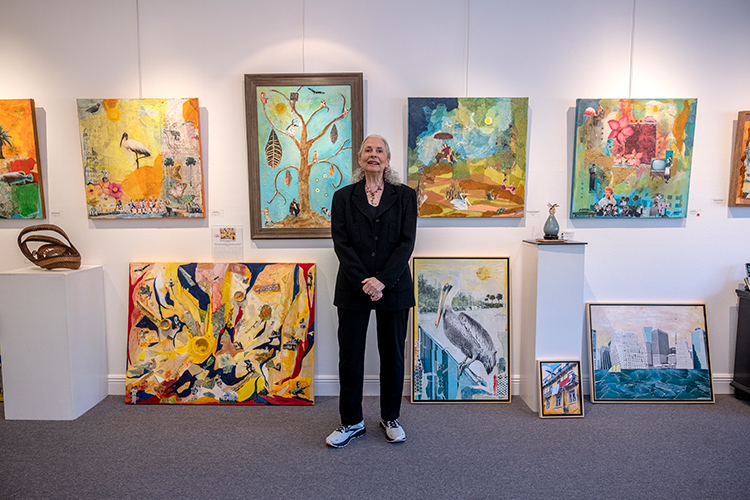 "It was hard to make the choice between theater and art when I was applying to college," says mixed-media collage artist Dorothy Napp Schindel, a founding partner of Gallery 14, who has been fortunate to have found a way to enjoy a life filled with both.
Growing up in Neponsit, a small community on the ocean in Rockaway Beach, N.Y., she says her mother, a painter, interior designer and singer, was invested in the arts.
"As a child my mother took me to see the New York City Ballet every Saturday."
Her mother also arranged to have lessons at the house in art, drama and piano. Schindel attended the Brooklyn Museum Art School and as a teenager was a summer stock apprentice with the Gateway Playhouse, an Equity theater on Long Island.
Schindel combined her interests and studied theater, specializing in set design, and education, obtaining a bachelor's from Columbia University and master's degrees both in theater and in museum education leadership.
"In these dual roles I specialized in creating immersive sculptural environments that redefined the relationship between audience and actors," she says.
Her interest in collage work grew out of a class in 2002 from a noted artist at the Cooper Union in New York City, who also sparked her interest in political issues.
"It was the most inspiring class. I just loved every minute of it."
Some of her initial collages were done in wooden boxes built by Stephen, her husband of 57 years, or with antique cigar boxes.
"I imagine that these were closest to stage sets. My initial covered work was done with watercolor.
I now use acrylics, all kinds, including the transparent ones that work like watercolor," Schindel explains.
She entered a United Nations show, Fem-in-Art, sponsored by the United Nations Development Fund for Women and won First Place for 'Unholy Vision,' about the persecution of women in Afghanistan. Schindel went on to do other social issue works that conveyed messages on topics such as women, immigration, war and peace, and American Indians.
"One of my pieces, a commentary on pollution in the Housatonic River, was showcased at the Norman Rockwell Museum in Stockbridge, Massachusetts," says Schindel, referencing her 'River of Hope.' The river, which runs from Pittsfield, Mass., through Connecticut and into Long Island Sound, is dangerously polluted with PCBs and other chemicals from a General Electric plant.
Her piece 'After the Storm' is a commentary on the devastation of the 2004 twin hurricanes, Frances and Jean, but her latest collages are more upbeat.
One features scenes from the classic "I Love Lucy" episode where Lucy and Ethel are wrapping chocolates on a conveyor belt that keeps moving faster and faster. They are seen stuffing the chocolates in their mouths and shirts so the forewoman wouldn't know they couldn't keep up.
"We need some happy right now," she says. "It was really a lot of fun to do."
Schindel uses photos she has taken as the base for her collages, and mixes them with historic and other found images, even a painting her father made. She is especially known for her 'laundry' series, where each collage features a building or landscape with laundry hung out to dry.
"Everybody can relate to laundry," says Schindel. Other series showcase an assortment of subject matter.
"I work with a wide variety of media that includes my own drawings and prints, tissue paper, doilies, stenciling, gel prints, newspaper, found and art papers, ephemera, plastics and other found objects, torn paper and photos. I use photo transfer techniques often, then Photoshop," she explains. "Very time consuming and detailed work."
Schindel is now experimenting with sewn paper collages, having bought a computerized sewing machine that makes 60 decorative stiches.
"I begin in much the same way a scenic designer would. Identify concept or issue or specific item and explore that with a graphic image that says something emotionally about the image through color, line and form," says Schindel.
"With collage, I have at my fingertips infinite possibilities for interpretation through a variety of materials. I like to add surprise images, not expected, often repeating them."
Prior to moving to Vero Beach in 2004, Schindel had an active life in New York City and the Berkshires in Massachusetts, where she was involved nationally in educational theater and developmental drama.
For many years, Schindel was the director of DramaMUSE Associates, a theater company that interpreted concepts and exhibits through interactive productions at museums, conferences and even for New York's mayor at Gracie Mansion.
She taught acting at New York University, served as artistic director of the Little Theater of the Mind's Eye in Great Neck, N.Y., was the founding artistic director of City Lights Youth Theater in NYC, and was director of Middle School Theater at Packer Collegiate Institute in Brooklyn Heights.
"Packer had a very advanced arts program," recalls Schindel. "All middle-schoolers studied dance, visual arts, music, theater and animation as academic subjects."
The country home they owned in the Berkshires was down the road from Jacob's Pillow, a dance center and performance space, and for a number of years she served as director of education for the Berkshire Theatre Festival in Stockbridge. During the summer Schindel would work with children, flushing out plays they had written, after which they would have a production of the play. She also served as museum director of the Becket Land Trust Historic Quarry and Forest, where she initiated programs that continue to this day.
Her book "Pioneer Journeys: Drama in Museum Education," co-authored with Jennifer Fell Hayes, received the Distinguished Book Award from the American Alliance for Theater and Education.
Schindel's work can be viewed at Gallery 14, which is celebrating its 15th anniversary this year, and the virtual show, Art Impact International, an online site of artists and exhibitions. She is also an active member of the Vero Beach Art Club, where she is currently co-chair of workshops.
Photos by Joshua Kodis