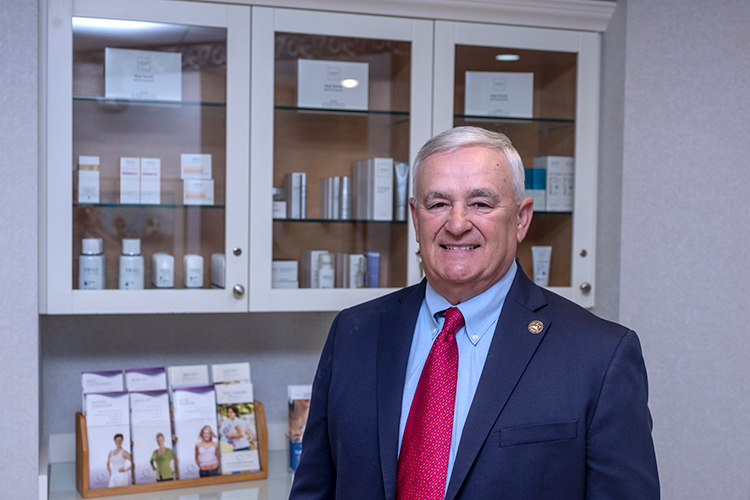 The American Society of Plastic Surgeons says that since the pandemic, there has been an unprecedented demand for cosmetic surgical procedures, partly because people saw how they looked on Zoom calls and decided to make a change.
If you're considering a procedure to make you feel better about your looks, you have more choices than there ever before, from new and improved versions of the traditional face-lift to a variety of options that are less invasive, including fillers and Botox. The trick is finding the one that's right for you.
"In pre-COVID times, there was a little bit of joy that went along with your Botox and filler maintenance – that sense of taking care of yourself," facial plastic surgeon Dara Liotta, M.D., told allure.com.
"Now, though, fewer patients are interested in continuous injectable upkeep, nor do they want to run the risk of an overfilled area due to repeat injections. Instead, they are turning to more permanent solutions, like the increasingly popular lip lift and brow lift procedures."
Vero Beach plastic surgeon Dr. Ralph Rosato says that although he still sees patients who opt for minimally invasive surgical procedures, anyone who needs more extensive work and long-lasting results will do best going the more traditional route.
"A good plastic surgeon can do a lot of great things, but he or she is limited by the 'canvas,'" Dr. Rosato says.
"For a certain group of patients, minimally invasive surgery is fine," he adds, "but while Botox or fillers may work for some, they're not going to be satisfactory for everyone. They can be effective for a 40-year-old, but not for skin that has aged."
According to Dr. Rosato, "there are surgical procedures that don't involve a full-face lift, such as cheek lifts and modified brow lifts. They target just one body part and have a lasting effect that fillers can't."
Other medical professionals such as dermatologists have various laser and radio-frequency treatments to improve appearance and, because of the lower cost and shorter down-time, many patients opt for these treatments.
Also, if you are wondering, there is a difference between cosmetic surgery and plastic surgery.
While both specialties deal with improving a patient's body, the philosophies guiding the training, research and goals for patient outcomes are somewhat different, according to the American Board of Cosmetic Surgery.
Cosmetic surgery is focused on enhancing appearance. Improving aesthetic appeal, symmetry and proportion are the key goals. An aesthetic surgery can be performed on any area of the head, neck or body and is designated as elective. Cosmetic elective procedures are performed by doctors from a variety of medical fields, including plastic surgeons.
Plastic surgery is a surgical specialty dedicated primarily to reconstruction of facial and body defects due to birth disorders, trauma, burns and disease. It is intended to correct dysfunctional areas of the body and is, by definition, reconstructive in nature. Many plastic surgeons complete additional training and perform cosmetic surgery as well, but the core of their surgical training is focused on reconstructive plastic surgery.
There are two distinct types of aging skin. Intrinsic (internal) aging is caused by the genes we inherit while extrinsic (external) aging is caused by environmental factors such as sun exposure and smoking. Determining which type you're treating takes a practiced eye and someone who can give you accurate input about what treatment you need for optimum results.
Dr. Rosato says that after a procedure you should be hearing from your friends how rested you look.
Dr. Rosato says the jury is still out on long-term outcomes for people who start Botox and similar treatments in their teens and 20s to prevent wrinkles. "It remains to be seen what the results will be after treating the same skin over and over for a period of many years," he says.
Ralph M. Rosato, M.D., has board certifications from the American Board of Plastic Surgery and American Board of Surgery, with a certificate of added qualification in hand surgery. He completed his plastic and reconstructive surgery residence at the Cleveland Clinic Foundation in Ohio. He is affiliated with Sebastian River Medical Center and Cleveland Clinic Indian River Hospital. Dr. Rosato is currently accepting new patients at Rosato Plastic Surgery Center, 3790 7th Terrace, Suite 101, Vero Beach. Call 772-562-5859 for an appointment.