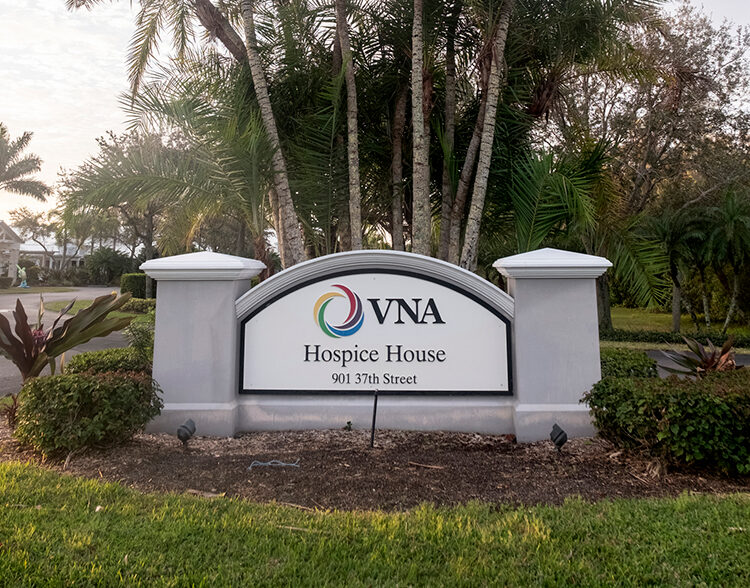 Sooner or later we all have to deal the loss of a loved one and eventually our own death. For many, the diagnosis of a terminal illness can be one of the most difficult times in life and not knowing where to turn is a common fear.
"I always tell people that young, old, expected or unexpected – it's never easy," said Dr. Michael Venazio, medical director for VNA Hospice of Indian River County. "We are available to help you and your loved ones through an extremely difficult time and we will do our best to give the most incredible care we can."
Hospice is for those whose illness is not expected to get better and for that reason hospice care treats the person, not the disease. It focuses on alleviating what people fear the most – being in pain, being alone, losing control and being a burden to others.
"When we graduate as physicians, we take an oath to do no harm and take care of people in times when they are living and when the end of life comes," Dr. Venazio said. "Taking care of them and having their needs met at the end of their life is as important as it is when they are healthy and vibrant."
In Vero Beach, free hospice care is provided by the Visiting Nurse Association to everyone, with or without insurance. Most insurance companies cover the services completely; for those without insurance, the VNA hospice staff work out payment through Medicaid or local philanthropic organizations.
In his role as medical director, Dr. Venazio oversees admission, discharge and patient care at Hospice House. He personally visits patients in their long-term care facility, their home, hospital or at the Hospice House. Hospice care is provided whenever and wherever a patient asks for help, with pain management being a top priority. Frequency of care is based on a patient's needs and plan of care established by the patient, their family and their interdisciplinary team.
"We treat patients where they live and where they are most comfortable," Dr. Venazio explained.
"We make sure the patients are comfortable with what's happening. At the same time our social workers, bereavement counselors and chaplains are available to talk to the patient and family and offer support to the caregivers."
Medicare guidelines say hospice patients must be within the last six months of their life if their disease progresses as expected, as determined by two physicians. "Most of the referrals will come from the patient's primary care physician, cardiologist, oncologist or attending physician. Then the case will be presented to me and I'll agree or ask for more information," said Dr. Venazio.
"Ultimately two doctors need to agree on eligibility."
While the six-month window to end of life is standard, some individuals receive hospice services for years if their disease process is slow. Other patients improve under the high quality of care offered and may actually be discharged from hospice care.
Services provided by VNA Hospice include pain management through medication and therapy, counseling and support, personal care such as bathing and dressing, and volunteer support for hospice patients and families, to help run errands or just provide comfort and compassion.
Alternative therapies offered include music therapy, pet visitations, massage, aromatherapy and spiritual support.
A major aspect of VNA Hospice is the multi-faceted Bereavement Program which is available to the families of patients for 13 months after their loved one has passed. Children ages 6-12 can find comfort and guidance at Camp Chrysalis, a bereavement camp designed to help children work through their grief.
For patients whose symptoms cannot be managed at home, VNA Hospice House offers end-of-life care in a homelike setting. Each patient room has a large bathroom and private lanai overlooking gardens. The rooms also have overnight sleeping accommodations for visitors. The VNA Hospice House is available up to five days each month to patients receiving hospice care at their homes under a program called Respite Care, which is designed to give caregivers time to rest and refuel.
"The majority of our patients are on routine care at home, in the hospital or at a long-term facility," Dr. Venazio elaborated. "We are not licensed as a long-term care facility at Hospice House, so most of our patients are admitted in the final days of life or are there for respite care to give caregivers a break."
Hospice staff said having an advanced care plan in place prior to a medical crisis helps your family know your end-of-life wishes. Conversations can be uncomfortable, but there is really no reason to delay doing it. While 92 percent of people say that talking about end of life to their loved ones is important, only 32 percent have actually done so.
The VNA has a simple, four-step individualized advance care plan template that be used to help you make difficult medical decisions.
Step 1 is understanding your diagnosis. Ask for details about your diagnosis and if there are any other medical problems that should be taken into consideration. Ask your provider what decisions you and your family will need to make and write them down.
Step 2 is to discuss the prognosis. Find out how your condition will affect your future and how much time you have left. Will you be able to live independently? Will your quality of life or time remaining be affected by aggressive medical treatment? Discuss how much assistance you may need from family members and caregivers.
Step 3 is identifying goals of care. Consider how and where you want to live and how much quality of life are you willing to sacrifice to live longer? At what point do you want to stop aggressive treatment and focus on comfort? Healthcare preferences are unique to everyone so write them down.
Step 4 is aligning treatments. Discuss treatment options with your provider and share these wishes with your family. What are the benefits and risks of these options? Clarify details of specific orders such as Do Not Resuscitate (DNR).
For more information about advanced care planning and hospice care, call the Visiting Nurse Association at 772-567-5551 or visit vnatc.com.
Dr. Michael Venazio is an internist who divides his time between serving as medical director at VNA Hospice and attending to patients in his Sebastian office. He is affiliated with Cleveland Clinic Indian River Hospital. Dr. Venazio received his medical degree from New Jersey University of Medicine and Dentistry (now called Rutgers New Jersey Medical School) and completed his residency at Cooper Hospital/University Medical Center in New Jersey. He can be reached at his office located at 1627 U.S. 1, #201 in Sebastian. Call 772-388-2110 to set up an appointment.