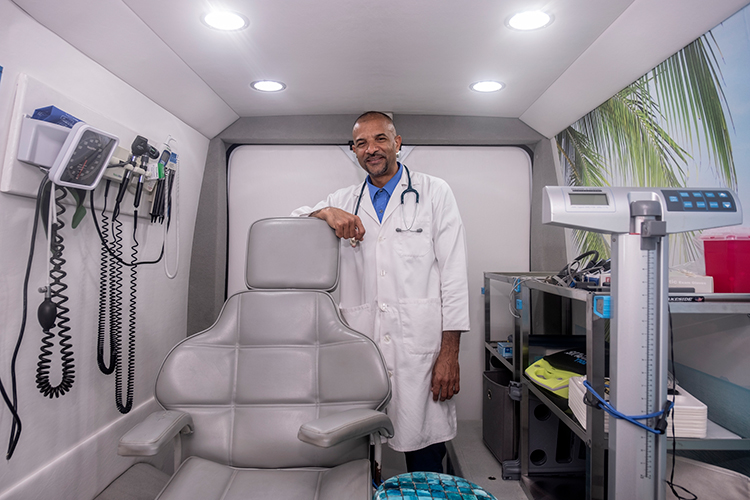 When he learned that a working mother had lost a day's pay after she brought her sick son to his office for an exam, Dr. Sydney Nichols knew there had to be a better way.
"That's when I got the idea for Mobile Virtual Providers," he says.
Dr. Nichols had a van retrofitted, and his medical office on wheels now makes house and school calls in Sebastian, Vero Beach, Melbourne and Palm Bay.
He also works out of traditional medical offices in Sebastian near Sebastian River Medical Center and can provide identical services in the office or at your home or at child's school or day care center.
Nonprofits and large medical practices often have mobile units, but so far as Dr. Nichols knows, he's the only individual doctor in the area offering this alternative.
The Mobile Virtual Providers van fits in a standard driveway or parking space. "It's very convenient if you have more than one child who needs to be examined – he or she can stay in the house until it's appointment time and simply walk to the van without having to wait in an office while the others are seen. Your living room is your waiting room." Dr. Nichols said.
"There are many reasons that parents love the ease of the mobile visit: mothers of newborns may not be comfortable bringing the little one to an office filled with sick children, or perhaps mom, herself, isn't feeling up to the trip. Transportation issues are no longer a problem," adds Dr. Nichols.
You needn't be an established patient to take advantage of the convenience of Mobile Virtual Providers. For many people, the first visit takes the place of going to an urgent care center. Dr. Nichols says his mobile service is much more cost effective. "A visit from Mobile Virtual Providers is billed as an office visit rather than an urgent care center visit, which is a substantial savings on just about any insurance plan."
No insurance? No worries, Dr. Nichols accepts out-of-pocket payment.
A full list of the illnesses and conditions Dr. Nichols treats via his mobile unit, as well as the costs, can be found at www.mobilevirtualproviders.com. There is also a $60 convenience fee per mobile visit.
Dr. Nichols is passionate about healthy lifestyles for children and in December 2022 became certified in Lifestyle Medicine. The mobile unit is a key component in his mission to help patients get started on – and stay on – a path to making good choices.
According to the American College of Lifestyle Medicine (ACLM), this specialty uses therapeutic lifestyle interventions to treat chronic conditions including cardiovascular diseases, type 2 diabetes and obesity. Lifestyle medicine certified clinicians are trained to apply evidence-based, whole-person, prescriptive lifestyle change to treat and, when used intensively, often reverse such conditions.
Dr. Nichols said that although he normally treats patients aged newborn to 18, he accepts those up to the age of 26 in the lifestyle medicine protocol. "Plus, the whole family can get involved so everyone benefits."
Patients are taught how to adopt a whole-food, plant-predominant eating pattern, practice physical activity, restorative sleep, stress management, avoidance of risky substances and positive social connections so they get started on the path to good health early.
Since regular oversight is key to achieving success, Dr. Nichols' ability to visit patients where and when it is convenient for them is an important advantage for busy families or those who don't like going to the doctor's office.
Dr. Nichols' goal is to provide accessible, affordable medical care, especially for working parents. He is at the office and on call on Mondays through Fridays until 9 p.m., and from 2 p.m. to 6 p.m. on Saturdays.
Sydney Nichols M.D., is a board-certified Fellow of the American Academy of Pediatrics, with over 10 years' experience. He completed his Pediatric Residency at Maimonides Medical Center, New York, in 2011. He was certified in Lifestyle Medicine in 2022. Dr. Nichols is currently accepting new patients at 7955 Bay St., Suite 2, Sebastian for in-office or mobile treatment. Call 772-388-9155 for an appointment.