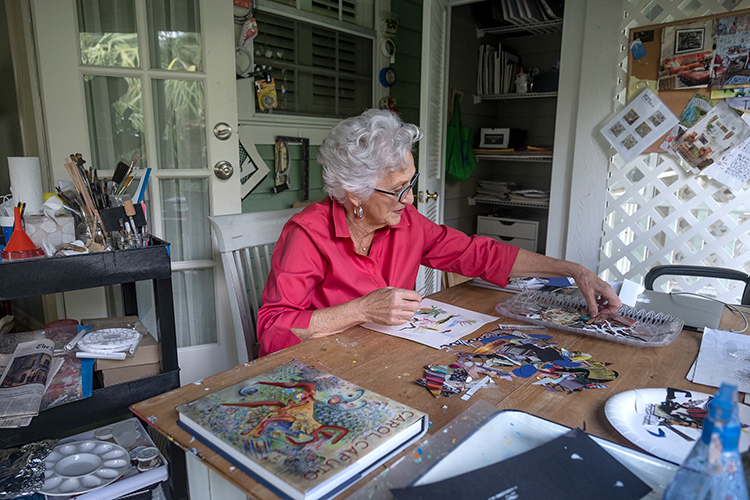 Carol Caputo says she believes her life is her art. Over the past 60 years, she has created hundreds of drawings, paintings, sculptures, some of which are captured in a pictured memoir of her creative journey, "The Art of Living, Loving, and Giving."
Until seven years ago, the Brooklyn-born Caputo lived and worked primarily in New York City, describing herself as an "urban romantic." She enjoyed a successful career as a visual artist and in earlier days was a creative director for companies and ad agencies. At the time, however, there were conceptual differences between commercial and fine art.
"But then Andy Warhol came along and changed all that. Even before Andy's soup cans revolutionized the world, Toulouse-Lautrec and Paul Gauguin, among others, veered into the commercial arena with posters and stage sets as working artists."
After a high school teacher helped her to put together a cartoon and illustration presentation, Caputo was accepted, with full scholarship, to the School of Visual Arts in New York City. She was the first woman to ever receive a scholarship from that school.
Her first job out of school was at Montgomery Ward, and she next took a position at Douglas D. Simon Advertising, making more money her first year there than her mother had made in her entire life.
The 1960s, she says, were the heyday of advertising and, "I was a young designer just entering the field."
She also attended New York University Film School, the only woman at the time, and took classes in filmmaking and directing. Her first film was titled "The Disadvantages of Being a Woman."
When Caputo and her husband John, who hated the cold of the northeast, made their way to Florida, she says that the change was a shock to her artistic psyche.
"But here I am, in beautiful Vero Beach, enjoying the warm sunshine and amazing beaches."
Initially feeling isolated and unconnected to other local artists, she soon discovered the Vero Beach Museum of Art and the Vero Beach Art Club, where she could connect with fellow artists, and have opportunities to exhibit her work.
Caputo enjoys walking the beaches, collecting shells and rocks as the tide rolls in, and marvels at nature's palette, "colors so vivid they couldn't be found in any tube of paint."
After discovering the historic Jungle Trail near her home, she began photographing and collecting interesting leaves and other items in the "swamy coves that daily walkers ignored," and carting the items to her backyard patio.
"Soon the material, raw and challenging, started to talk to me and ideas began to flow."
She took a hose to an ever-growing mound of materials, and was amazed and excited at an unexpected discovery.
"In seconds, a medley of creatures scurried everywhere, searching for cover. Hidden all around me was a living, breathing world of wonder."
Caputo began putting items together with rope, glue and dry leaves, eventually syncing with her new-found tropical environment to create her Good Nature Series.
"I have always been creative. As a child, sewing, needlepoint, beading, I liked to be by myself and create both in crafting and imagery. I would hide and play with things I found interesting. There is a collect-ness and collage-ness to my art. I wonder what would happen if I do this?"
She says that famed illustrators, designers and directors such as Milton Glaser, Saul Bass and Paul Rand proved that audiences respond to innovative ideas and visuals, shattering the traditional definition of art.
"I was born with joy in my heart, a predisposition to happiness that meant, in spite of the daily
dramas that surrounded me, I could always find sunshine," says Caputo, whose life journey has included two husbands and two lovely daughters.
She believes that being an artist is a way to share the beauty of our surroundings.
"Masterpieces are not planned. They manifest when the artist's intention is sincere and honest. A way to celebrate life," she says.
For many years now, Caputo's attention has been drawn to the art of rubbing, which involves taking a piece of paper or canvas, placing it over an object or textured surface, and creating a unique piece of art by rubbing with a pencil or crayon.
In 2006, Caputo's art inspired the IRUBNY Community Arts Initiative in Manhattan, which encourages anyone to make an intimate connection with the city they love and live in by creating rubbed artworks.
Caputo handed out paper and crayons to willing participants at street fairs, churches and schools, etc., so that anyone could create works of art by making impressions of gravestones, walls, even a crack in the sidewalk.
"Anyone can create a street rubbing journal," says Caputo, who realized that this simple and inexpensive technique "created the urban language experience, a unique personal language that connected all of us to our community."
Caputo often adds paint to her rubbings, explaining that unlike a pre-ordained landscape, the picture evolves. "You never know what you will end up with," says Caputo.
In 2014, Caputo produced the documentary "IRUBNY" about how the process touched the city, one block at a time. The film follows Caputo as she weaves her way through the streets of New York, sharing her contagious energy with strangers, and showing how everyone is capable of creating art.
"My affair with rubbing continues to interest me because touching and stroking while creating art is just like petting a dog or stirring a pot of soup. It calms and centers you," says Caputo.
"That space between the subject, material and you is where the creativity comes in. You learn to see the world from so many different perspectives, to see nature and the environment in a totally new way."
Although she admits that she doesn't know what the master plan is for her life, she does know that she has to follow her heart.
"But that doesn't mean that I should sit around waiting for things to happen. It means I must keep working on my craft and stay ready for when opportunities arise," says Caputo.
"Life is about recycling, and my goal is to recreate a new universe. Nature is constantly reinventing itself, so we need to do that too."
Caputo's work can be viewed at a solo show at M. Maison on Ocean Drive from Jan. 26 to Feb. 1, and she will give demonstrations of rubbings at the Sea Oaks Art Stroll on March 18. Her film, and other information about rubbings can be found at irubny.com.
Photos by Joshua Kodis