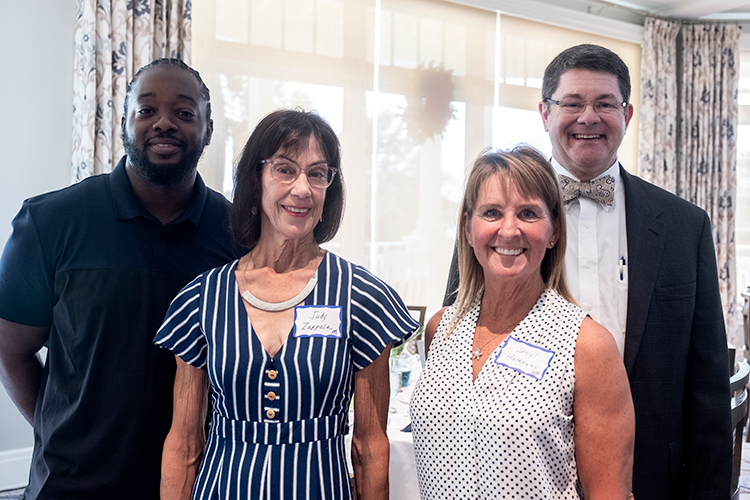 At an Appreciation Luncheon at the Moorings Yacht and Country Club, members of the Moorings Habitat Partnership committee, sponsors and staff were thanked for helping to raise a total of $875,000 this past year to support Indian River Habitat for Humanity.
That number includes $688,000 raised primarily through the 2022 Habitat Classic Weekend, plus $187,000 contributed by the Moorings Club through the Community Contribution Tax Credit Program, a Florida sales tax incentive program targeting affordable housing organizations.
Since 1999, the Moorings community has contributed $11 million to Habitat, funding the construction of 90 homes, repairing others, and providing scholarships to Habitat homeowners and their families.
Habitat homeowner Cheryl Hathaway said a quote by Coretta Scott King could define the Moorings: "The greatness of a community is best defined by the compassionate actions of its members."
When told that her rent was going to double, Hathaway, who has worked at the same job since moving here about five years ago, and volunteers at the Vero Beach Volunteer Fire Department and the Salvation Army, applied to become a Habitat homeowner.
"When I got accepted, I felt like I was part of a family. We go out and we work together, we sweat together, we even go to classes together," said Hathaway, referencing the mandatory classes on everything from budgeting to home maintenance.
She recalled noticing a stone in the shape of a heart as she said a prayer to bless her lot, adding, "And this heart-shaped stone is a sign from God that this home is where the heart is. So this is clearly my home."
Speaking on behalf of the other Habitat homeowners, she thanked everyone and said, "I know that our futures are brighter because of you, because of the Moorings."
"You heard earlier that each of the homebuyers isn't only buying a home. They're learning about what it is to be a homeowner, enhancing their financial ability and in many cases, it's changing their life astronomically," said Mark Parent, vice chair of the Habitat Partnership committee.
Gary Parker, president of the Moorings Board of Governors, said the Moorings-Habitat partnership is the club's largest philanthropic commitment.
Explaining the Tax Credit Program, he said it is derived from a percentage of the sales tax that the club annually collects and is obligated to pay the state, plus the number of "sweat equity" hours spent and recorded by members and staff, as they help build Habitat homes or volunteer in the ReStore.
"So it's a real financially tangible way that we contribute," said Parker, adding that club members, the management team, staff and the board are very much behind the effort. "It's a terrific cause and we all feel great about it."
Trevor Loomis, Habitat president/CEO, stressed the enormous need for housing, noting that if an employee making $15 an hour spends half their salary on rent, that would be $1,300 a month.
According to Zillow, he said, there are only three units at $1,300 or less.
"There's just nothing that is available for working people in our community to afford. The need for housing is more than it's ever been," said Loomis, adding that they have launched a five- year strategic plan to seek solutions.
"We have to stop calling it affordable housing. It's time we start talking about it as essential housing," said Loomis, noting that it is essential workers who are struggling to find decent housing.
"Housing for those people is essential for our community to operate in a way that works best for everyone. Without essential housing, we all suffer, and we all feel the effects of this crunch."
For more information, visit IRCHabitat.org.
Photos by Joshua Kodis