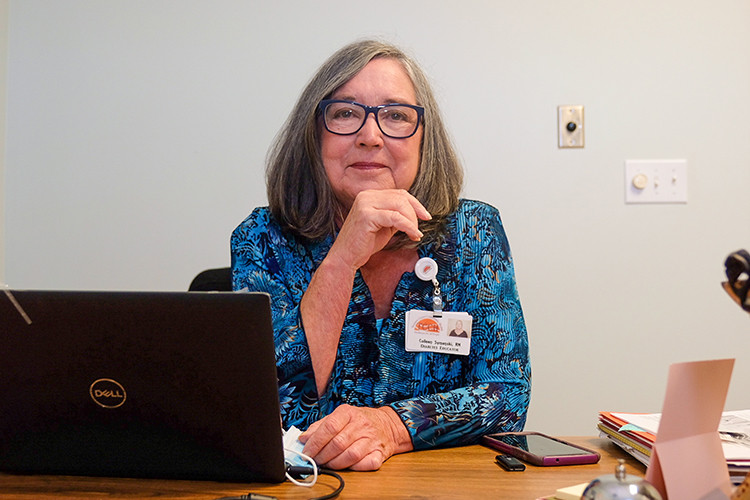 Living with diabetes can be tedious, confusing and frustrating at times. The disease is a 24/7 challenge for patients and caregivers. There are times healthy eating, monitoring blood sugar levels, and even injecting insulin several times a day don't bring blood sugar in line with what it should be. That's when a Certified Diabetes Care and Education Specialist (CDCES) can provide invaluable help adjusting the parameters of care while offering individualized instruction and support.
Happily for diabetes patients in Vero Beach, Treasure Coast Community Health has a CDCES on staff and its diabetes care program was recently accredited by the Association of Diabetes Care & Education Specialists. The accreditation recognizes a high level of service to the community and the ability to meet the needs of Medicare recipients and others affected by diabetes.
"The diabetes program at TCCH is patient-centered and goal-driven. It's about us listening to what the patients want to accomplish and helping them reach their goals," Colleen Symanski, RN, CDCES, said. "I was hired in January 2021 for my ability to help patients manage their diabetes so they have better self-care and better health.
"Toward the end of 2021, Vicki Soule, CEO of Treasure Coast Community Health, saw the need for an accredited diabetes program because there wasn't one in this area. There simply wasn't a mechanism outside of the medical arena to help diabetics with self-directed care, long-term support and patient-driven goals."
Getting accreditation is a lengthy, detailed process that takes months to complete. Accreditation programs must meet the 2022 national standards for Diabetes Self-Management Education and Support established by the Association of Diabetes Care & Education Specialists, which is itself accredited by the Centers for Medicare and Medicaid Services.
The standards are revised every five years by a group of diabetes educators representing both ADCES and the American Diabetes Association and approved by Centers for Medicare and Medicaid Services. Programs must maintain compliance with all standards during the four-year accreditation cycle.
Treasure Coast Community Health received full accreditation in April and now offers a variety of avenues for patients to achieve optimal health while living with diabetes and is fully covered as a Medicare benefit because of its accreditation.
"Getting the accreditation is such a group project," Symanski explained. "It required participation from the IT department, the billing department, the board of directors, the management and advisory committee. It's all of us working together for a common goal."
While a physician can diagnose and treat diabetes, support beyond the provider/patient relationship is beneficial to the long-term health of diabetics.
"At TCCH, we recognize that your health is going to change and we address the disease distress and fatigue that go along with living with diabetes," Symanski continued. "We offer the patient additional resources to be successful. We work with other healthcare professionals like pharmacists, other physicians and mental health counselors to ensure patients get the care they need. We also assist in filling out applications for financial assistance for medications.
"Our program is totally patient-focused. We address the essential areas of diabetes care which include healthy eating, monitoring blood sugar, helping with coping skills, getting medications, reducing risks and complications. The patient tells us where he is struggling and we find a way to simplify it. Maybe a patient is having trouble utilizing a glucose meter or finger stick and wants to be taught how to use a sensor where he can just swipe his phone and get results. We will teach him how do that."
Long-term support and access to resources are other benefits of an accredited program. When a patient completes the program at TCCH, they have access to resources to keep them focused and they can always call and get additional help if needed. TCCH also hosts a diabetes support group each month at its Gifford location.
According to the CDC, diabetes is the eighth leading cause of death in the U.S. It and can lead to complications for heart disease (the leading cause of death), hypertension and stroke (the fifth leading cause of death). Other complications include blindness, kidney disease and neuropathy of the feet.
"When you improve the health of people with diabetes, you reduce the comorbidities of the top killers, other than cancer," Symanski said.
"Diabetes is one of those diseases that we can effectively manage with both medication and lifestyle changes. Medication is meant to work with people being active and eating well and will not replace healthy eating and physical activity. Teaching a patient lifelong, self-care management is every bit as important as the medication itself."
Because the accreditation is so new, TCCH is currently offering the diabetes program to their patients only.
They hope to expand within the next few months making it available to others in the community.
TCCH is a nonprofit, providing comprehensive, high-quality healthcare to more than 26,000 insured, underinsured and uninsured patients. TCCH, Indian River County's only Federally Qualified Health Center, has eight locations providing medical, vision, dental, behavioral health and pharmacy services. TCCH offers a sliding fee discount based on household income and family size. For more information, visit tcchinc.org or call 772-257-8224.