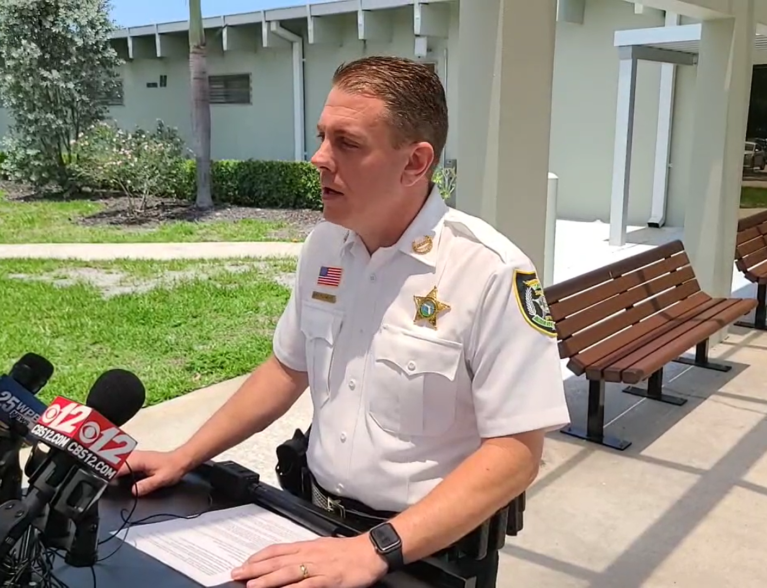 GIFFORD — Sheriff's officials released body-camera footage of a deputy-involved shooting that left a Fort Pierce man with several gunshot wounds over the weekend. Deputies said the man, 19-year-old Jamall Nathanel Frederick, remained in stable condition Tuesday at HCA Florida Lawnwood Hospital in Fort Pierce.
Indian River County Sheriff Eric Flowers said Frederick – who they described as a suspect in a separate shooting early Saturday – grabbed a firearm before he ran from deputies during a traffic stop. At least four deputies fired at Frederick as he ran away from them, Flowers said.
Flowers said deputies told Frederick to not touch the firearm.
"This entire incident could have been avoided had Jamall Frederick listened to the deputies – their instructions to not touch the gun," Flowers said during a Tuesday news conference outside of the sheriff's office. "The second he armed himself, he changed the scenario."
Body-camera footage, released publicly on Tuesday, showed Frederick bolt from the car and run away from deputies as they fired multiple shots in his direction. The footage can be seen on the sheriff's office agency Facebook page.
Sheriff's officials said Frederick moved the gun from his left hand to his right hand while he ran.
Sheriff's officials said Frederick turned toward deputies. Flowers said Frederick did not point the gun toward officers.
It was unclear how many shots were fired total, how many times Frederick was struck or where he was hit on his body from the gunfire. The deputies who shot at Frederick were put on paid administrative leave, which is routine in police-involved shootings.
The names of the deputies were not publicly released.
What happened
The shooting occurred about 9 p.m. Saturday in the 3100 block of 45th Street as deputies conducted a traffic stop. Deputies pulled over the dark-colored car they said was connected to a shooting that happened earlier that day in the 4500 block of 38th Avenue, Flowers said.
Flowers said the vehicle was also connected to burglaries in the community. Body-camera footage showed deputies approach the car with four people inside, including Frederick in the rear-passenger seat.
Deputies ordered the people in the vehicle to put their hands up. One deputy can be heard in the video loudly yelling "do not touch that gun."
"Jamall Frederick, a passenger in the vehicle, was told not to touch the gun that deputies saw through the window," sheriff's officials said in a statement. "As deputies opened the door, Frederick aggressively grabbed the firearm thereby making him an immediate threat to law enforcement and the community."
Frederick ran from deputies. Deputies fired at Frederick as he ran toward a residential neighborhood.
The Sheriff's K-9 unit found Frederick hiding in an enclosed porch of a nearby home, officials said. Authorities said deputies took Frederick into custody, treated his wounds and called for emergency medical services.
Sheriff's officials said Frederick was a convicted felon in possession of a firearm, and that additional charges for him are pending.  Deputies arrested a passenger in the vehicle, Zbryius Jones, 18, of the 3800 block of 44th Street, on a charge of violation of probation.
The gun Frederick carried, along with another firearm inside the vehicle, were both reported stolen in a string of residential and auto burglaries, sheriff's officials said. Deputies recovered both weapons from the scene.
Sheriff's officials said the other two people in the vehicle were released but remain under investigation.
This story will be updated.