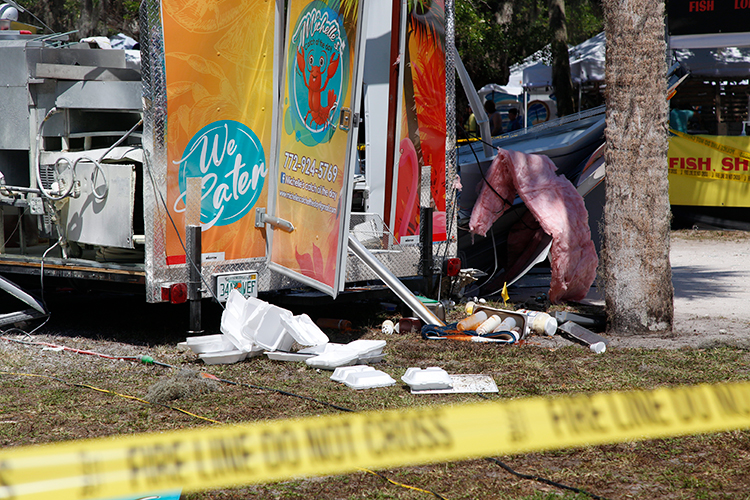 VERO BEACH — A 53-year-old woman suffered severe burns to her arms and legs after her food truck exploded shortly before the start of the Vero Beach Seafood Festival on Saturday, officials said. Indian River County Fire Rescue crews said the incident was the result of a propane explosion.
.@VeroBeachPD and fire crews are at Riverside Park where a food truck appears to have exploded. Officers on scene said the incident happened before the Vero Beach Seafood Festival began at the park. #VeroNews pic.twitter.com/syDCZUAjgF

— Nicholas Samuel (@JournalistNickS) May 14, 2022
Vero Beach police officers responded to the incident at 8:56 a.m. at Riverside Park. Witnesses reported smelling propane moments before the food truck exploded, Vero Beach police spokesperson Master Officer Darrell Rivers said.
The explosion caused a flash fire, which quickly burned itself out before fire crews arrived, Assistant Fire Chief Sean Gibbons said. The woman, who was in the truck when it exploded, was flown to Orlando Regional Medical Center, Gibbons said.
Her condition was not immediately available.
Rivers said the woman owned the food truck, called 'Michelle's Catch of the Day.' The food truck was going to be a vendor at the seafood festival, which runs from 10 a.m. to 5 p.m. Saturday and Sunday.
Yellow caution tape could be seen wrapped around the mangled debris of the food truck Saturday afternoon. The state fire marshal was at the scene investigating the cause of the explosion.
The explosion did not impact the opening of the festival. No further details were immediately available.
Photos by Kaila Jones and Nick Samuel