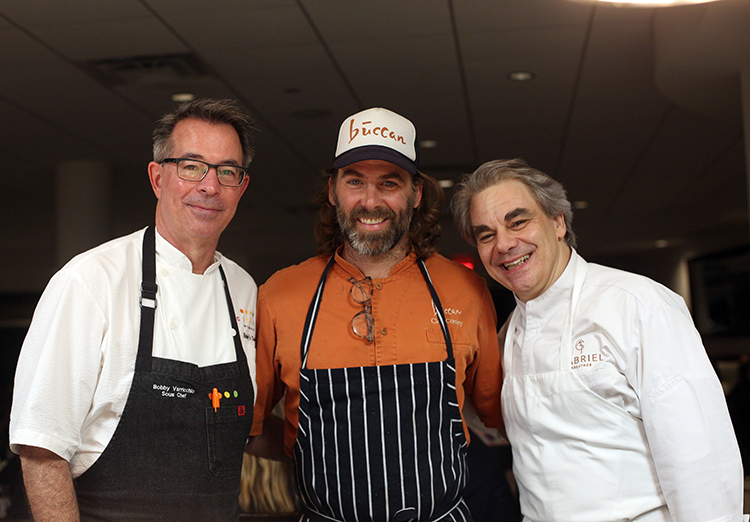 What may well turn out to be the culinary high point of the 2022 season here took place last Wednesday when two big-time chefs – Gabriel Kreuther, owner of the eponymous restaurant in New York, and Clay Conley of Palm Beach's Buccan – joined Vero's Scott Varricchio in putting on a $350-a-head, wine-pairing dinner at Citrus.
While the price of admission may be a new Vero record, it's not every day a Michelin-starred chef from New York and the chef from the hottest restaurant in Palm Beach – once again a semifinalist this year in the James Beard "Best Chef in The South" competition – come to our island to collaborate with one of Vero's top chefs on a special dinner.
As a lucky 100 diners who signed up the minute they heard of the event were finding their way to tables (about an equal number who waited too long to reserve were turned away), servers circulated with trays of amuse-bouches that offered a tease of the inspired dishes to come.
My favorite of the hors d'oeuvres was a scallop tartlet prepared by Chef Gabriel adorned with black truffle atop a celery root purée. What a start!
Chef Gabriel followed that up with the first course of the evening, a langoustine tartar served with flying fish roe, cauliflower purée and a cayenne pepper tuile. This dish was accompanied by the first of the evening's wines, a white from Alsace (Domaine Weinbach pinot blanc reserve, 2019). As might be expected given that Chef Gabriel grew up in Alsace, the wine paired very well with his dish.
The second course was prepared by Chef Clay – a white asparagus tartlet topped with butter poached Maine lobster and white asparagus tips tossed in tarragon vinaigrette. It was paired with one of my favorite wines of the evening, a chenin blanc with intense minerality from the Savennieres region in the Loire Valley (Domaine Des Baumard 'Clos du Papillon,' 2016).
Chef Clay also led the way with the third course, a riff on the sweet corn agnolotti that has long been a signature dish at his Palm Beach restaurant. On this occasion, the agnolotti (some call it corn pasta) was topped by morels and winter black truffle – and it was paired with a very nice Russian River Valley chardonnay (Ramey Wine Cellars chardonnay, 2019).
Then for course No. 4, it was back to Chef Gabriel for one of his legendary dishes – a delicious chorizo crusted red snapper, with white coco bean puree and Xeres vinegar jus.
While Chef Gabriel originally created this dish some years ago in Manhattan utilizing cod, red snapper worked equally well in showcasing the intensely flavored Spanish chorizo. This course was accompanied by a pinot noit from Nuits-Saint-Georges in Burgundy (Maison Henri Gouges, 2019). This was, in my view, the best pairing of the evening.
Then for the fifth course, it was time for Vero's member of the special triumvirate to step up.
On this occasion, Chef Scott prepared a superb onion-ashed loin of lamb, accompanied by a deconstructed Greek salad with a sun-dried tomato feta vinaigrette. This dish was served with a Napa cabernet (Chateau Montelena, 2018) – a complex wine that paired very well with the lamb.
The only thing that did not pair well on this spectacular evening was the beverage served with the dessert course. Chef Scott's excellent Key Lime pie was paired for some reason not with a wine but with Enroot – a sparkling cold brew wellness tea.
The Enroot website boasts that the tea – "masterfully crafted by James Beard chefs" – "can be paired with the greatest cuisines in the world." Spare me. On this evening, it served as a bit of a downer – but even the tea could not take the edge off what otherwise was a Vero dinner to remember.
"The energy in the room was like no other night in our history," Chef Scott told me a couple of days later. "All three teams worked as one to make this happen. All of us loved how the night just flowed and was seamless. The amount of texts and emails that I received the next day was amazing – everybody loved it and wanted to know when the next one will be."
And the answer is?
"There will be more, though not for a while," Chef Scott said. "But as I look at what we pulled off, I am beyond happy – and proud of our team."
Photos by Kaila Jones