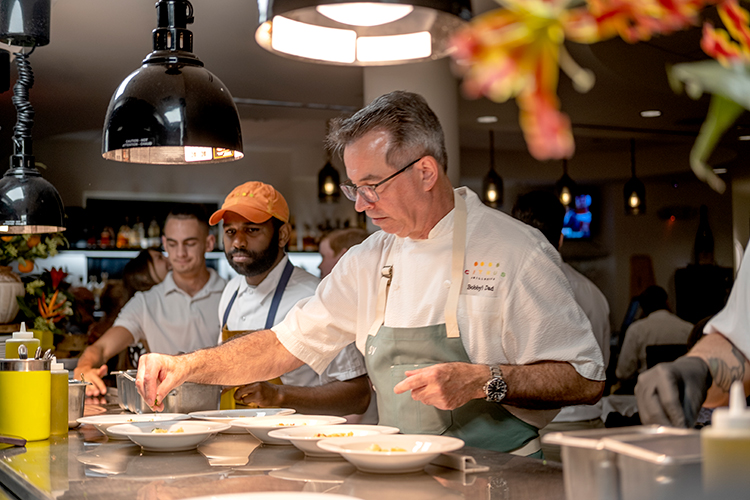 While celebrity chefs can be viewed most any night of the week competing on shows like "Chopped" and "Beat Bobby Flay," it is far more unusual to find these masters of the kitchen collaborating to prepare a spectacular joint dinner.
But last Wednesday, three big-time chefs – one TV regular who almost beat Bobby Flay, a second award-winning chef from Los Angeles, and a third who was one-time executive chef of New York's legendary Le Cirque – teamed up with Vero chef Scott Varricchio to put on a $450-a-head dinner at Citrus.
The four chefs were joined by sommelier Benjamin Rodney, who did the best job of pairing interesting wines with the most creative dishes that I've seen in a long time.
As a lucky 100 diners who signed up even before the first public announcement of Dinner by the Sea were finding their way to tables, servers circulated with trays of amuse bouches that offered a tease of the evening to come.
Chef Amanda Freitag followed up with the first course of the evening. If the name sounds familiar, you've probably seen her as a judge on "Chopped." Or perhaps battling Bobby Flay on "Iron Chef America."
Her appetizer consisted of a piquillo pepper, stuffed with charred eggplant, and garnished with white gazpacho and marcona crumble. This dish was accompanied by the first of the evening's wines, a 2020 Via Nua from Portugal.
For diners expecting a white wine with this opening course, this red wine made from Touriga Nacional grapes came as a surprise – and a very fine pair for lighter fare.
The second course was a collaboration between Chef Amanda and Chef Scott – beautiful little baby carrots garnished with pea and carrot puree, goat cheese, and a carrot top pesto. It was paired with a light 2021 Ingrid Groiss Reisling Braitenpuechtorff. This Austrian reisling was surprisingly crisp, and again an excellent pairing for the tasty dish.
Chef Tom Valenti led the way with the third course.
Author of three best-selling cookbooks, Chef Tom, who over the years was executive chef at a number of highly-rated Manhattan spots including the fabled Le Cirque, now presides over the restaurant at the Morristown, N.J., landmark Jockey Hollow. One of his signature dishes there is fava bean agnolotti adorned by a bacon and white wine jus. On this evening, it was paired with a Sicilian white wine, the 2021 Etna Bianco from Benanti. Perfection.
Then for course No. 4, it was time for Vero's Chef Scott to step up. He prepared a piece of Alaskan Halibut topped by a sauce gribiche, accompanied by pommes paillasson (a French dish of shredded and fried potatoes). This course was paired with a 2019 St. Joseph blanc, Etienne Guigal, from France's Rhone Valley.
Then for the fifth course, Chef Scott prepared a beautifully marbled Wagyu filet, accompanied by a root vegetable puree, potatoes, and adorned with maitake mushrooms and a truffle jus.
This dish was served with Promis, a 2020 vintage from the Gaja winery's Ca'Marcanda vineyard in Tuscany. This super Tuscan blend was voluptuous in the mouth.
Finally came the dessert course, prepared by Chef Lincoln Carson.
While in recent years he has been executive chef of several highly regarded L.A. restaurants, Chef Lincoln made his reputation as a pastry chef – and to conclude this spectacular evening, he produced a Valrhona milk chocolate delice topped with salted caramel and walnuts. It was paired with a dessert wine, M. Chapoutier Banyuls Rimage, a 2012 Grenache from the Rhone Valley.
I can't let a wonderful evening end without one little quibble. If Vero is going to be treated to more special evenings like this, the fine wine and fine food should be served in fine wine glasses and with fine cutlery. At the risk of sounding ungracious, the glasses and utensils were not worthy of the occasion.
But while the accessories needed upgrading, the food was as good as it gets – and the wine selections proved that a knowledgeable sommelier can find remarkable vintages at a relatively modest price point.
Following the dinner and a well-deserved ovation for the culinary stars, Chef Lincoln said:
"Beyond being able to celebrate a reunion amongst such a group of old friends, seeing the love and support that the Vero Beach community has for Scott and the team at Citrus was incredible."
"Being able to spend some time cooking with old friends was just special," Chef Scott told me a couple of days later. "It was a lot of work, but a whole lot of reward for all involved."
And will there be another? "We will do a Dinner by the Sea next year," Chef Scott said, "but topping this will be a very large feat."
The reviewer dines at restaurants at the expense of Vero Beach 32963.
Photos by Joshua Kodis