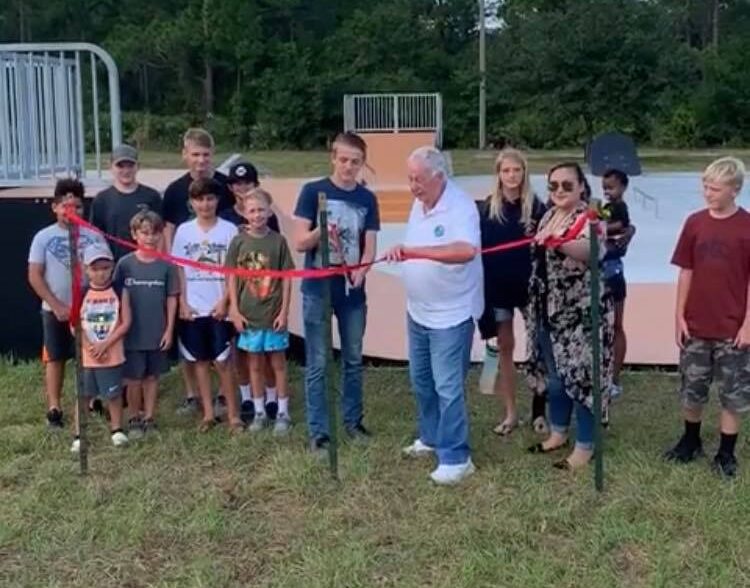 FELLSMERE — Youth resident Kyle Goldsmith was all smiles as he stood next to Mayor Joel Tyson during the grand opening for the city's first skate park Saturday.
Goldsmith, 15, of Fellsmere, cut the ribbon in front of the crowd of 25 people about 10 a.m. and then shook Tyson's hand, according to a video from the event provided by the city. Senior League Skate Park, located at Senior League Park, could be seen in the background of the footage.
Kyle Goldsmith, 15, cuts the ribbon at the skate park grand opening Saturday as he stands next to Fellsmere Mayor Joel Tyson. Video provided by City of Fellsmere. pic.twitter.com/K3y1n7YQAO

— Nicholas Samuel (@JournalistNickS) October 23, 2021
The moment was one of accomplishment and reflection.
Goldsmith had first proposed to the city council the idea of building a new skate park five years ago, city officials said. Goldsmith, only 10 years old at the time, told the council that Fellsmere needed more recreational activities for the youth.
Senior League Park is located at 222 S. Myrtle Street, north of 89th Street and south of Massachusetts Avenue. The project was made possible through funding assistance from the Community Development Block Program of the United States Department of Housing and Urban Development, in partnership with the Florida Department of Economic Opportunity.
Those who want more information on the skate park can call the city of Fellsmere at 772-646-6303.