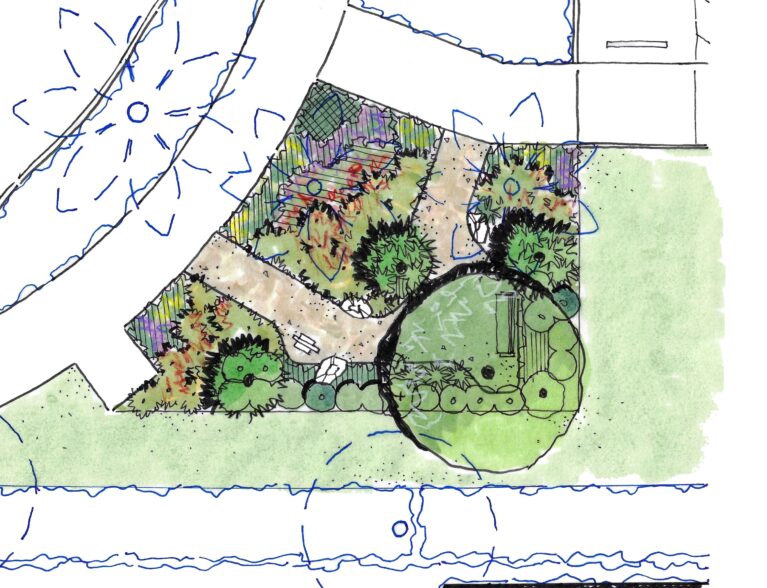 A noted South Florida landscape architectural firm has teamed up with Pelican Island Audubon Society and Indian River County to design a native plant garden that will be installed at the entrance to the main county administration building.
Approved unanimously by the county commission last week, the garden is intended "to provide a striking visual example of the ecological and aesthetic value of native plants," according to Stephanie Dunn, an architect with Cadence Landscape Architects, which is known for high-profile projects in Miami and Fort Lauderdale, including Tarpon Landing, FATVillage Arts District and URBIN Retreat Miami Beach.
"There are 21 native species of plants included within the 1,125-square-foot garden. They were carefully chosen for their ecological benefits, such as providing a food source or cover for birds, as well as nectar or pollen for pollinators," Dunn wrote in an email to Vero Beach 32963. "These specific plants were also chosen for their availability from nurseries and ease of maintenance so that individuals could find these plants and include them in their own gardens."
Beyond aesthetics, the driving idea behind the demonstration garden is that the green, grassy residential lawns people lavish water, chemicals and loving care on are an ecological disaster when taken as whole, soaking up much more fresh water than Floridians use in their homes and requiring millions of pounds of toxic chemicals to maintain.
"Good government sets an example," says District 5 Commissioner Laura Moss, who shepherded the project through the approval process. "I understand the reluctance people have to changing their turf lawns, which they are used to, but native plants are beautiful for economic as well as ecological reasons."
Moss says she got interested in native plant landscaping after attending one of Audubon's annual "Transforming Landscapes for a Sustainable Future" events at The Emerson Center.
"That day really opened my eyes and gave me a new view of the impact of landscaping," says Moss, who subsequently led the effort to get rid of turf grass at Vero Beach City Hall when she was mayor, cutting the city's irrigation and chemical bills and making the city hall grounds much more beautiful and "Florida-like."
"By definition, native plants are suited to this environment," Moss says. "They have deeper roots and require less water and maintenance."
Moss put a county garden on the agenda the day she was sworn in last November. "That is how important I think it is," she says. "It has taken a year, but we got it done."
Richard Baker, a biology professor emeritus at the University of Florida and head of the Pelican Island Audubon says 68 percent of water drawn from Florida's aquifers goes to irrigate lawns, drawing down a critical resource and opening the door for greater saltwater intrusion as sea levels rise.
"Nationwide, more than 100 million pounds of fertilizer, insecticides and herbicides are applied to lawns each year, with much of that load eventually washing into sensitive waters like the Indian River Lagoon," says Baker. Two billion gallons of gas are burned annually in lawn care equipment, which emits countless tons of CO2 into the atmosphere.
Baker says the garden – which will include seating for those seeking a quiet moment in nature – will cost about $10,000 to install. It will be funded by donations, with Audubon volunteers providing the labor.
Moss says the Vero city hall garden attracted lots of interest from individuals and HOA managers who adopted some of its features on their own properties and she hopes the county will expand its native landscaping to benefit the environment, save money and inspire eco-minded citizens to revamp their lawns.
"This native plant garden design relates to the work we do every day at Cadence, Landscape Architects," says Dunn. "We advocate to all our clients, whether residential, commercial, hospitality or public projects, that native plants provide many benefits such as being low maintenance, help to combat climate change, are ecologically beneficial, help to conserve water, reduce pollution, and are healthier landscapes for all.
"We constantly strive to design with nature to transform how humans interact with and impact their environment, desiring for the built world to make a positive impact on our natural world."