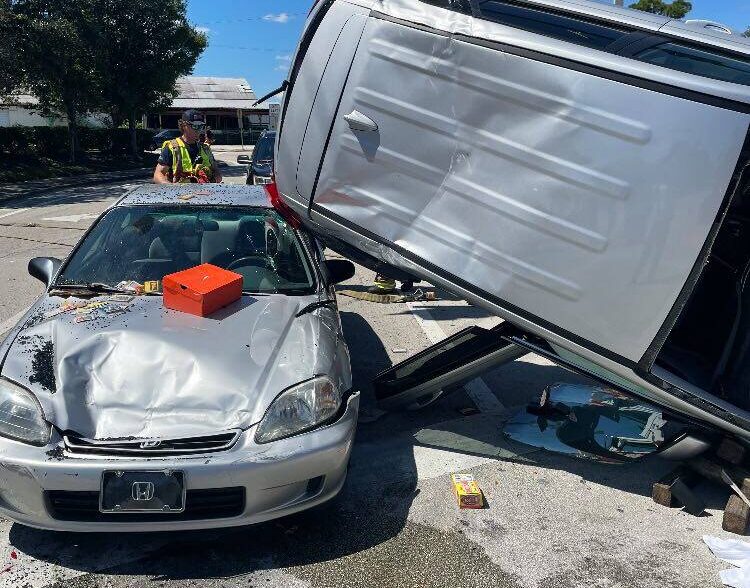 Update: 
County Road 510 and southbound U.S. 1 reopened by 2:15 p.m., Indian River County sheriff's officials said.
Earlier story:
WABASSO — A man was injured in a three-vehicle crash that blocked County Road 510 and U.S. 1 Tuesday, authorities said. The rear of one of the automobiles flipped onto a car during impact.
The crash – involving a Honda Civic, Hyundai Tucson and a Mazda MX-5 – happened about 12:30 p.m. at C.R. 510 and U.S. 1 in Wabasso, Indian River County Fire Rescue Battalion Chief Jamie Coleman said. The back of the Hyundai landed on the front left part of the roof of the Honda.
Traffic on County Road 510 near US 1 has been shutdown, as has southbound traffic on US 1 following a 3-vehicle crash that left at least one person injured.  Fire Rescue and EMS are on scene. Sheriff's Office is investigating the crash. No further details at this time. pic.twitter.com/KqQt83XYHP

— IRCSheriff (@IRCSheriff) September 28, 2021
The man driving the Hyundai was taken by ambulance to Sebastian River Medical Center with non-life threatening injuries, Coleman said. Coleman said two other people refused treatment.
Indian River County sheriff's deputies shut down traffic on C.R. 510 near U.S. 1. Sheriff's officials also blocked traffic on southbound U.S. 1.
It was unknown when the roadways would reopen. Deputies were investigating the cause of the crash.
Photos provided by Indian River County Fire Rescue and Sheriff's Office