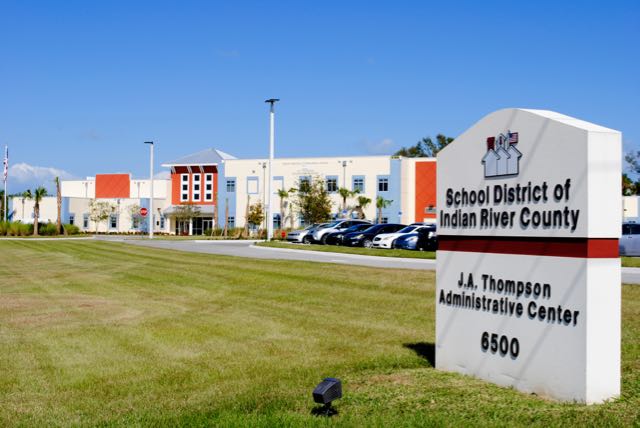 What happens if elected bodies like the Indian River County School Board don't comply with Gov. Ron DeSantis' executive order prohibiting them from passing mask mandates or restrictions on the unvaccinated?
As already has happened elsewhere in Florida, that could become more than a hypothetical question here.
Because according to School Superintendent David Moore's "eyeball estimates" as he toured the county's public schools last week, a significant number of the district's students weren't wearing masks when indoors.
"I'd say 80 percent of students at the elementary schools were masked," Moore said. "The number dropped to about 70 percent at the middle schools and 50 to 60 percent at the high schools."
He said he didn't know how many of the county's students were vaccinated, but such protection isn't yet available to children under age 12.
Yet, when asked if he was concerned the number wearing masks wasn't higher – especially with Florida leading the nation in new COVID cases and the more-transmissible Delta variant also doing damage to younger people – Moore surprised me.
"There were more masks than I thought I'd see," Moore said, "so I'm encouraged."
You can't blame Moore for expecting worse, after listening for countless hours to the anti-mask crowd complain relentlessly at School Board meetings for more than a year.
Perhaps, he now realizes that's where we are as a community, taking solace in knowing that the parents of only 20 percent of our elementary school students sent their children to class without masks.
At a time when this COVID variant is spreading in every age group, too many parents are willing to gamble with the health of our children, their teachers and our neighbors, merely hoping only a few of us get seriously ill or die.
Led by our governor, who also has banned counties and municipalities from imposing any COVID-related mask or vaccine mandates, we're relying on luck – because, even as the pandemic finds its second wind, we continue to see too many wrongheaded people placing their individual freedoms above the health and safety of the community.
With DeSantis refusing to allow communities to properly protect themselves, many of our neighbors still refuse to get vaccinated or don masks, and our local elected officials seem to have no real appetite to challenge him.
Last week, in fact, both County Commission Chairman Joe Flescher and Vero Beach Mayor Robbie Brackett said they would not defy DeSantis' orders, even if the COVID surge continues locally.
"I don't feel it's appropriate to challenge the governor's directive – because it's working," Flescher said, adding that he opposes mask mandates and prefers that "people take responsibility themselves, rather than be in a hyper-controlled environment."
Brackett said he's a "big home-rule fan," but he respects DeSantis' decision, which he described as a "tough call," and couldn't see himself voting for a mandate that defies the governor's order.
Neither Flescher nor Brackett could identify a threshold that would prompt them to change their minds, though both said they continue to monitor the number of cases and hospitalizations.
"In some states that imposed mandates, the cure was worse than the disease," Brackett said, referring to the sometimes-drastic measures taken to combat COVID last year. "We treated people like adults."
The pandemic quickly became politicized, however, and not everyone acted like adults. Even in our relatively small community, there was hostility – towards those who did and didn't wear masks – and even a few clashes that resulted in the police being called.
"There's definitely a divide," Flescher said.
Absent any governmental mandates, County Administrator Jason Brown and Vero Beach City Manager Monte Falls said they have been encouraging employees to get vaccinated and strongly recommending that everyone wear masks when they're indoors and unable to socially distance themselves from others.
They said there were currently no plans to take further action.
The same goes for Moore, who said the School District would not have imposed a mask mandate to start the academic year here, regardless of DeSantis' order.
Moore said he's hoping there's no spike in COVID cases in the schools in the coming weeks, so the district can "ride this thing out" without having to remove the opt-out clause in the district's policy and require face coverings – an action that would again spark opposition from the local anti-mask bunch.
"My goal is to have kids in school, safe and healthy and learning," Moore said, adding that switching to virtual classes last year made it more difficult for students to succeed.
"What we're doing now, which is strongly encouraging masks and giving parents the ability to opt out, allows us to do that," he continued. "If the circumstances change in relation to the pandemic, we could take a more rigorous approach."
School Board Chairman Brian Barefoot said he, too, is hoping the district's current measures will suffice, but he wouldn't hesitate to take further action if he believes its necessary to keep the county's schools open and safe.
He said he believes the other board members – "with one exception" – would do the same.
"I can't speak for everybody, but I would have no problem putting the health and safety of our students and school district employees before worrying about DeSantis' mandate, if it got to that point," Barefoot said, adding that the governor's order was "ill-advised."
Barefoot, though, didn't know what circumstances would trigger a mask mandate.
"That's a hard question to answer," he said late last week. "So far, so good. But it's very early. I think people are prepared to act, based on numbers."
He paused for a moment, then added: "Let's hope we don't get to that point, where we have to mandate masks and some parents defy it."
In the first five days of school, 31 students and 23 staff members tested positive, plus 116 students were told to quarantine. Even one case is too many when it's your loved one, but those numbers seem somewhat encouraging when compared to Brevard County public schools, which reported 837 positive tests the first five days of school and quarantined nearly 3,200 students and staff. Brevard has about four and a half times the students as Indian River.
Unless the overall local and state trends ease, however, there's a real chance we will get to "that point" Barefoot referred to.
The number of cases, hospitalizations and COVID patients in the ICU were still setting records as last week came to a close. The Delta variant has put young people, including children, at risk.
If that doesn't worry you, this should: While many of those who become infected don't require hospitalization, particularly younger people, it's still much too soon to know COVID's long-term effects on their health.
Yet, because DeSantis demands all COVID-suppression measures remain optional, not everyone is doing his or her part. Too many of our neighbors aren't vaccinated. Too many refuse to wear masks.
For our community to move past this stubborn pandemic and get back to our normal lives, we need everyone to make the best decisions for all of us.
We're seeing what happens when they don't.