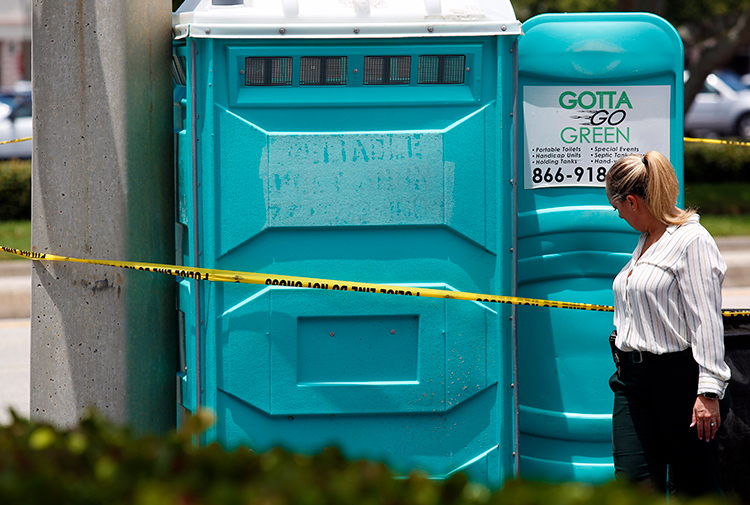 VERO BEACH — Two construction workers were shocked and saddened after discovering the body of a man inside a Porta Potty Tuesday morning.
"I'm getting chills just talking about it," said John Digiulio, an employee for Liberty Insulation and Fireproofing. "It's a sad day in Vero Beach."
The man has not been identified and his age was not available. It was unclear how long the man had been in the portable restroom.
Foul play was not suspected in the man's death, Vero Beach police spokesperson Master Officer Darrell Rivers said.
Digiulio, 44, and his work partner, Mark Gidron, 56, both of Fort Lauderdale, were performing renovations inside of West Bay Trading Company on the corner of 21st Street and 6th Avenue. Gidron said he arrived at work at 10 a.m.
Gidron said he went to use the Porta Potty located in the northwest corner of the parking lot inside the plaza.
"I saw a dark red substance on the ground before I opened the door," Gidron said. "When I opened the door, there he was on the ground balled up. I never walked up on a dead body before."
Gidron told Digiulio, who went to check on the man in the portable restroom.
"He was unresponsive. He was in a fetal position. His head was against the door," Digiulio said. Digiulio said he told West Bay Trading employees, who then called 911.
Police responded to the incident about 11 a.m., Rivers said. Officers put up crime scene tape and black borders around the Porta Potty and the man's body.
.@VeroBeachPD investigating death near 21st Street and 6th Avenue in #VeroBeach. Police put up crime scene tape around a port a potty and a light pole. #VeroNews pic.twitter.com/snwJ4m23wH

— Nicholas Samuel (@JournalistNickS) June 8, 2021
Several police cars could be seen in the parking lot of the plaza Tuesday afternoon. Medical examiners officials picked up the man's body about 2 p.m.
Digiulio said he saw the man on Monday standing in front of the same Porta Potty. Digiulio said the man was staring at the portable restroom and appeared to be "spaced out."
An autopsy will be conducted this week to determine the man's cause of death.
Photos by Kaila Jones and provided