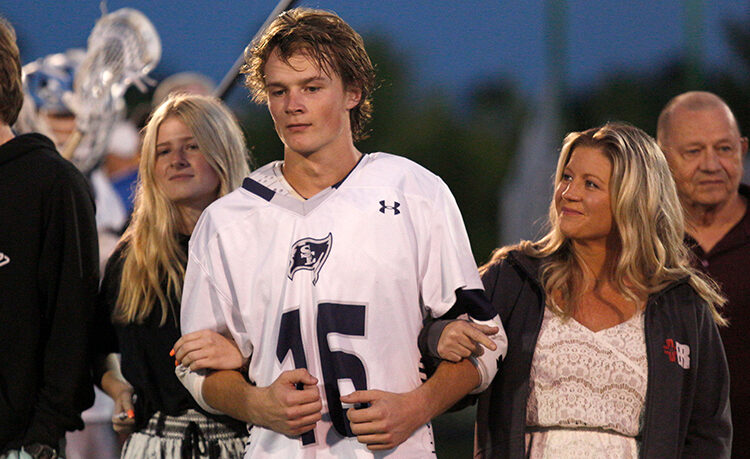 Topping the list of reasons Brennan Wolfe transferred to from Vero Beach High School to St. Edward's in the middle of his sophomore year was the opportunity to be on the varsity lacrosse team with a bunch of guys he knew from the club circuit.
Playing your favorite sport with your buddies is always attractive, but this reunion was made even sweeter when the Pirates emerged as a state powerhouse that year.
The move to St. Ed's was originally designed to offer him three full spring lacrosse seasons, with two varsity football seasons to boot. As for academics, Wolfe was already on that fast track with his classroom work at Vero High.
Injuries and the pandemic limited Wolfe to nine football games over two years, and his junior year of lacrosse was all but wiped away when everything vanished in the spring of 2020. So, he had to be gratified and relieved when this year's Senior Night – denied to seniors a year ago – went off without a hitch on April 7.
In an exciting game, the home team erased a 5-1 deficit to defeat Vero Beach High School, 12-7. Wolfe picked up a ground ball, raced upfield with Vero defenders desperately backpedaling, and fired one into the net essentially uncontested. That made it 5-4 just before halftime and was key in facilitating the comeback.
Senior Night was also the traditional vantage point to look ahead and contemplate the district playoffs.
"Senior Night was great," Wolfe said. "It was cool to play my old school and our hometown rivals. It was an entertaining game and I'm glad we could walk away with a good win.
"As we progress further into our season, we must dial in and take it one game at a time. If we continue to see success, it will have to start in practice. Our team has the potential to go very far in the playoffs, and I'm eager to see how this unfolds."
St. Ed's was 11-3 after the victory over VBHS. Head coach Doug Bailey has a well-balanced team with Wolfe an instrumental force all over the field.
"Brennan is the most versatile player on our roster," Bailey said. "He could start at attack, midfield, long stick middie or defense. He's very fast, incredibly quick and smooth. He can be relied on to create matchups we like and take the team on his back if needed.
"He's worth four points a game no matter what side of the field we put him on. And I'm not kidding."
Time still remains for Wolfe to create a few more memories on the high school lacrosse field.
He did exactly that in a big way on the gridiron last fall, including with a stand-out performance in the opener of the 2020 season.
The opening game was delayed for over a month as COVID-19 protocols were sorted out, but when everything was finally squared away, Brennan tossed three touchdown passes to his younger brother Connor in a 35-6 rout. The whole family will look back fondly on that one for a long while.
"It was fun playing with my brother," Wolfe told us. "Ever since we were young he played receiver and I played quarterback. We just had a connection. I always knew where he was going before he went there. It was just habit.
"Last year football was challenging but every situation brings its high and lows. Coach (Mark) Gowin did a remarkable job of just trying to cope with this entire pandemic. I think overall we had a pretty good year (4-1)."
As the school year winds down, coach Bailey, Wolfe and his Pirate teammates will focus on capturing a fourth consecutive district lacrosse title. Wolfe knows what must be done.
"I think our success is due to everyone buying into the program," he said. "Over the summer and fall we are on a club team. Having everybody buying into playing summer, fall, and then our spring varsity season gives us the team chemistry that we need.
"We want to get to the district championship and beat Benjamin this time. That's just the first step, of course. We want to make it to states this year, and that is realistic."
Whatever happens from here on out, Wolfe has already archived the highs and lows he mentioned while at St. Ed's. His graduation and transition to college looks to be much more orderly than it was for seniors just last year.
"I plan to study construction management at the University of Florida. I took college (prep) classes at VBHS but coming over here the curriculum took some getting used to. The help I got made the switch pretty easy.
"I'm probably going to pursue club lacrosse at UF. And I know I'm going to be watching the football games. As long as I can just go out there and enjoy the environment, that would be awesome."