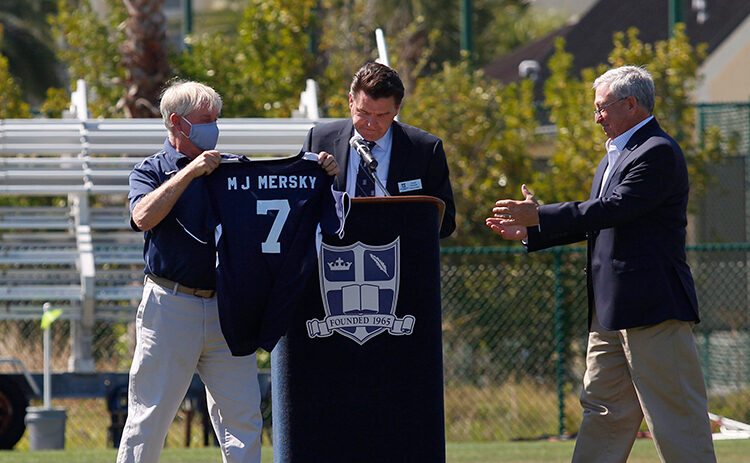 The main athletic field at St. Edward's School was officially named Michael J. Mersky Field on March 24 in a snappy ceremony honoring the recently retired head of school.
The dedication was held on the field with the entire student body and a coterie of dignitaries and friends in attendance.
Mersky was the head of school at St. Ed's from 2009 through 2020. His tenure was loaded throughout with an abundance of challenges, not least of which was the termination of in-person learning and the almost complete shutdown of the campus after spring break a year ago.
At about the same time, Mersky was informed that the athletic field would feature his name as a tribute to celebrate his departure. When virus-related restrictions forced the cancellation of activities across the board, the ritual ribbon cutting had to be delayed for nearly a year.
In June Mersky retired to Pennsylvania, then quickly returned at the end of July for the graduation of the Class of 2020. This latest trip back to Vero was but another chapter in what turned into an utterly complex scramble to do this unprecedented send-off.
Former associate head of school and St. Ed's de facto historian emeritus Bruce Wachter preceded Mersky in retirement. For almost a decade the pair seemed inseparable at athletic events home and away.
"Working with Mike for nine of his 11 years here until my retirement has been an incredibly rewarding experience," Wachter told us. "Mike was a game-changer and I'm not convinced that people can ever truly grasp and appreciate the significant positive impact of Mike's leadership.
"Through thick and thin, the most challenging of times or the best of times, his enthusiasm and commitment to the school never wavered, resulting in the rock-solid status Saint Edward's School now holds. But at the heart of Mike's enthusiasm and dedication was his commitment to the students.
"Mike was an omnipresent fixture at every play, concert, assembly or student activity and, come rain or shine, every athletic event. I fondly recall travelling thousands of miles with Mike over the years to attend sports events and equally as many hours at the games. It didn't matter that we stood in the pouring rain on the other side of the state, or on the 20-yard line, or at the fence, or in the gyms on our own campus.
"What mattered was that we were there, and it was all about supporting the students, his students. And believe me, they knew that he was and always would be there for them. I can think of no more appropriate honor for Mike than to have the main athletic field, the site of so many exciting athletic events, officially being named the Michael J. Mersky Field, dedicated to the man who was always there."
Wachter best summarized the essence of this brief but poignant event. Mersky was first and foremost an educator who astutely guided St. Ed's through hurricanes, preparations for student evacuations should that be necessary for any reason, campus consolidation and upgrades, financial concerns, and the like. Those critical aspects of the job were hardly the type you normally look forward to.
Sports fell into a separate category altogether. He told the audience what that meant for him and for his family, and for the students he mentored over the years, especially at St. Ed's.
"In a very real sense, gym floors and beautiful fields like this one are truly sacred grounds, where lessons are taught and learned, and where some of those lessons cannot be taught or learned anywhere else on a beautiful campus like ours," Mersky said.
"I suspect that many would not have my perspective as a head of school, but my roots as an athlete and coach will never leave me, and that is why the naming of this field, and not a building or the stadium, remains so important to me, now in my life."
"The school, the board and the leadership team could not have picked a better or more appropriate space for me on this campus than where I stand with you today. I did the math looking at the average time I spent at this field daily, weekly and yearly, and after 11 years I came up with a total of over 3,160 hours during my time here at Saint Edward's School."
That's a lot of time. Fortunately, his speech was a lot shorter under the high sky and midday sun. The word "finally" prefaced statements only three times.
Athletic Director Jeff Lamscha presented Mersky with a No. 7 Pirates jersey signifying his place in the pantheon of heads of school at St. Ed's. Mersky closed the proceedings by grabbing the theater prop scissors and expertly cutting the ribbon strung between two lacrosse nets.
Photos by Kaila Jones