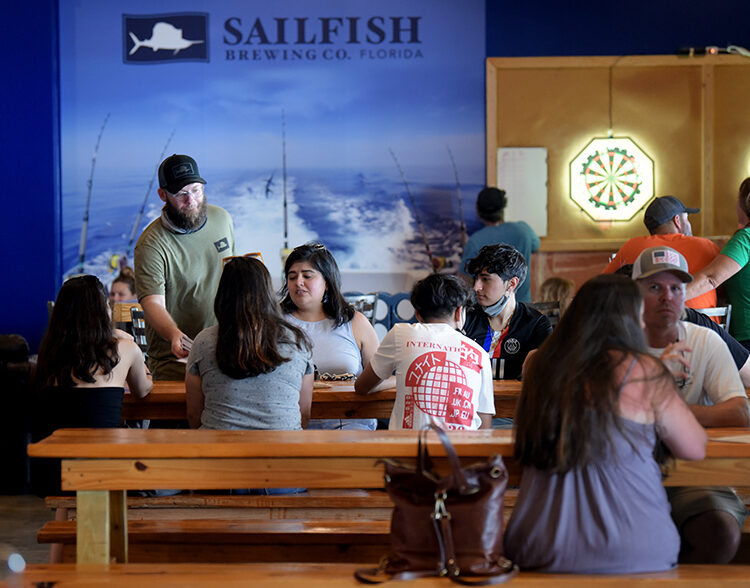 For two of the founding partners of Sailfish Brewing Company – longtime Vero Beach residents Nick Bischoff and Mike Sturgis – the opening of a second craft-beer establishment just off Vero's Ocean Drive next month will be a homecoming.
The Fort Pierce-based company, which celebrated its 8-year anniversary Saturday, is preparing to open a taproom and restaurant in the Portales de Vero building, moving into the space previously occupied by the now-shuttered Orchid Island Brewery taproom.
Sailfish, the first craft brewery on Florida's Treasure Coast, will continue to maintain its base of operations and brew its beers in Fort Pierce.
But Sturgis, construction manager for the Indian River County School District, said he's excited about Sailfish's expansion to Vero Beach, where the company's products are wildly popular.
"We will be much more convenient for our loyal fans, close friends and family that live in the Vero and Sebastian areas," Sturgis said last weekend, "as well as for the new faces we will see, due to foot traffic coming in from the local beachside businesses, the beautiful beaches we grew up on and the beachside hotels that bring in new people to our community."
In fact, Sailfish's brand promotion and events manager, Vero Beach native Taylor Hacker, said the company's ownership had been searching for a second location for the past two years, exploring sites two hours in each direction from Fort Pierce.
"Nothing felt like home," she said – until Orchid Island Brewery owner Alden Bing decided last year to close his taproom and brew only for distribution.
Almost immediately, Sturgis and his partners, including Sailfish president David BuShea, became intrigued and began exploring the possibilities, which Hacker said included a patio area, space for outdoor dining, accessible parking and convenient beach access for beers-to-go customers.
"Add in the hot bar scene along Ocean Drive and our huge fan base in Vero," Hacker said, "and it didn't take long to realize: That's our spot."
Hacker said a lease wasn't signed until four-to-six weeks ago, but the decision to definitively move forward with the expansion to Vero was made this past fall.
While the Vero Beach taproom's beer offerings will be the same as those in Fort Pierce, the food menu will be noticeably different.
The Vero restaurant won't have a pizza oven because there's not enough space in what Hacker said would be a "full kitchen" that will be expanded, closed off and include a newly installed commercial hood.
The menu will feature fresh seafood, small plates and "upscale beachy bites," she said, adding that the Vero location also will offer an extensive wine list, along with hard ciders, hard seltzers and canned craft cocktails.
"We've operated a successful taproom and restaurant in Fort Pierce for eight years," BuShea said. "We're going to replicate that model, but with a different food component."
BuShea called the move to Vero Beach "another opportunity to grow our brand and get our beer out to more people," adding that Sailfish, which is sold in cans at Publix supermarkets, continues to see its statewide distribution increase.
If the Vero establishment is successful, BuShea said the company would explore expanding to other Florida coastal locations, possibly in neighboring counties.
BuShea said he's planning a soft opening next month, followed by a "grand opening celebration," but no dates have been set because he's not sure when he'll receive the necessary licensing and permits.
A late-May or June opening would miss the height of Vero Beach's busy season, but Hacker said the beachside location will be attractive year-round, adding: "We expect a lot of people to still be here."
Bing, meanwhile, will continue to brew his Orchid Island beers onsite, adjacent to the new Sailfish location.
"We wish them the best," he said.