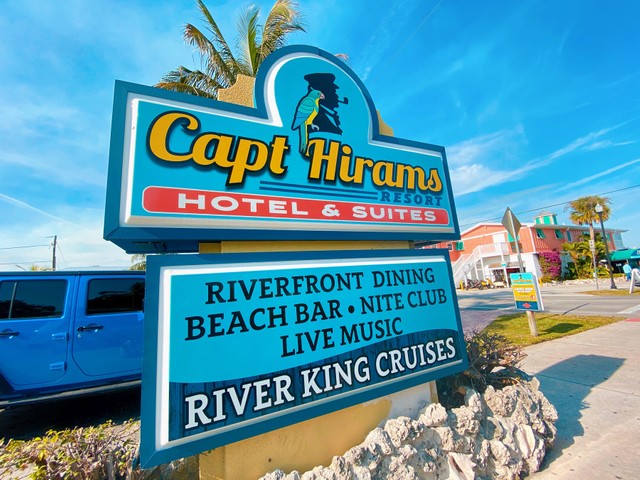 SEBASTIAN — A popular seafood eatery and resort could be closed for nearly a week after two employees tested positive for coronavirus.
In a Facebook post, Capt. Hiram's Resort said it closed its facilities this week, noting the restriction will remain in place until July 8 at the earliest. The resort, known for its Blackfins Riverfront Grill and outdoor tiki-style Sandbar, is located on the riverfront at 1580 U.S. 1, Sebastian.
The closure comes as Florida began seeing a surge in the number of new COVID-19 infections.
This is the second landmark in Indian River County to close this week. The first establishment, Bobby's Restaurant & Lounge in Vero Beach, shut its doors Sunday after a bartender tested positive for COVID-19.
It was unclear when Bobby's would reopen.
At Capt. Hiram's, guests will not be allowed on the property as staff members take deep cleaning measures and other necessary precautions.
"Doing what we can to protect our staff, our guests, and their families is our only priority at this point," Capt. Hiram's President Will Collins said in a statement. "We wish everyone a happy and healthy Independence Day weekend."
For Capt. Hiram's, resort services, including the marina and two restaurants, will reopen at noon Friday, but only for those already staying at the hotel, officials said. The resort will not be accepting any new reservations during this time.
It was unclear when the hotel and restaurants would reopen to the public.
"Moving forward, we feel that dramatically decreasing the number of guests we have on the property by limiting access to hotel guests only will ensure that all of our employees and guests will be able to observe proper social distancing guidelines at all times," Collins said.
Managers at Capt. Hiram's learned of the two cases this week. One involved a worker at the hotel while the other was at one of the restaurants, officials said.
Workers who might have had contact with the people who tested positive were removed from the schedule and advised to get tested and self-quarantine for 14 days.
The employees must provide documentation showing a negative test result before returning to work, officials said. Those who had contact with the first person to test positive did not report any virus symptoms.
The resort said Sebastian Watercraft and all charter Captains remain open and accessible.