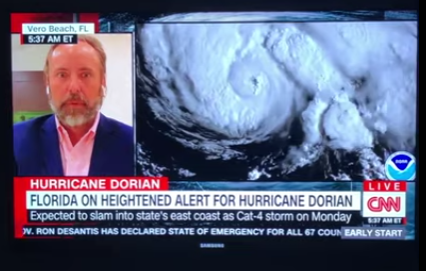 *As of Sunday, Hurricane Dorian was upgraded to a Category 5 storm
Earlier Story:
VERO BEACH — The White House is offering the city assistance as Hurricane Dorian takes aim at Florida's east coast, expected to slam the state as a Category 4 storm sometime early next week.
President Donald Trump's Special Assistant and Deputy Director of the White House Office of Intergovernmental Affairs William Crozer called Vero Beach Mayor Val Zudans Thursday night offering federal aid to the city as the municipality — and much of the state's east coast — remains in the hurricane's broad cone of uncertainty. Dorian is currently a Category 2 storm with a maximum wind speed of 110 mph, but is expected to intensify into a major Category 4 hurricane, making landfall somewhere on Florida's east coast Monday or Tuesday.
"That was very helpful to know that they were supportive," said Zudans, who appeared on CNN Friday to talk about the call. "If we have a significant problem in Vero — and who knows at this point — I'll definitely follow up (with Crozer) and ask for anything we need and also ask if they would consider having the president come to Vero."
Trump announced earlier this week he cancelled a planned trip to Poland to remain in the U.S. to monitor Dorian.
"To ensure that all resources of the federal government are focused on the arriving storm, I have decided to send our vice president, Mike Pence, to Poland this weekend in my place," Trump said Thursday. "It's something very important for me to be here. The storm looks like it could be a very, very big one indeed."
Meanwhile, the city on Friday issued a local state of emergency, allowing the city manager to activate the jurisdiction's emergency plan, place police officers on 12-hour shifts, send employees to Indian River County's Emergency Operations Center to monitor the storm and make emergency purchases, Zudans said. The emergency declaration also makes the city eligible for FEMA funds if the area sustains damage, Zudans added.
On Friday, Dorian's projected path shifted slightly south, but where exactly the storm will land still remains unclear. Dorian on Friday was positioned about 660 miles east of West Palm Beach, moving northwest at 10 mph and is expected to pummel the state's coast as a Category 4 storm, packing sustained winds of up to 156 mph. The city's emergency declaration follows similar actions by the county and state.
County officials anticipate to announce shelter openings if the area is expected to experience tropical or hurricane force winds. The announcement of shelter openings and evacuation orders will depend on the track, said Tad Stone, director of the Indian River County Emergency Services Department. 
The mayor is most concerned with storm surge which could be as high as 10 feet, he said of a briefing the city received from the National Weather Service.
"Depending on where it goes, you may get a mandatory evacuation order," Zudans said. "If you're in a flood zone or on the barrier island, you should have a plan and know where you're going to go."
Although local evacuation orders for the barrier island, low-lying areas and for individuals living in manufactured homes are still pending, Stone is urging residents who want to leave to make plans now. Hotels on the state's west coast are occupying quickly, he said.
"We're encouraging everybody if they want to go, go," Stone said Thursday.
The county was expecting at least one truckload of bottled water to be delivered by state officials sometime Friday. The water will be distributed at the North County Aquatic Center and Indian River Mall after the storm if the area takes a big hit, Stone said.
Stone has also requested personnel from the Federal Emergency Management Agency and Florida Division of Emergency Management to be present in the county during the storm.