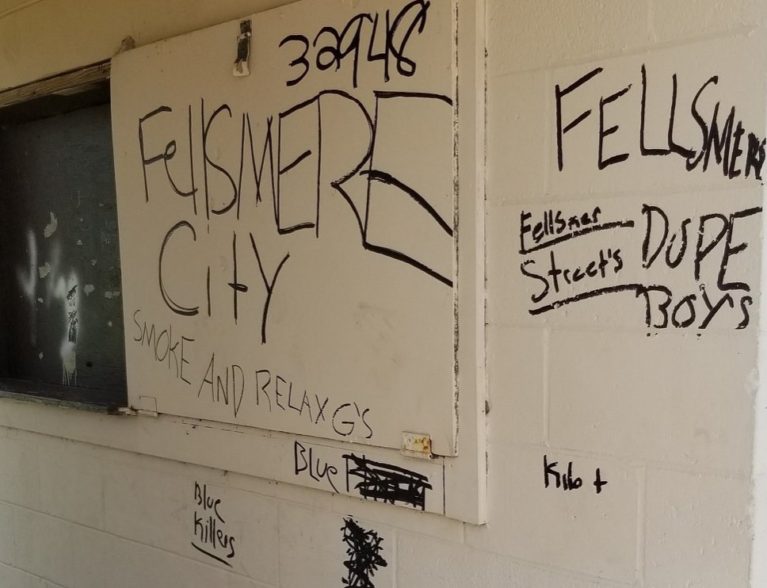 FELLSMERE — Officers are searching for one or more suspects who wrote various messages – some involving drugs – on the walls of a concession stand at a popular city park.
"We don't know how many people are involved. We are asking the public for assistance," Fellsmere Police Chief Keith Touchberry said. "Crimes like this do upset area residents. We feel it's very possible someone with information may come forward."
The incident happened over the weekend at Senior League Park, 224 S. Oleander Street, south of County Road 512, Touchberry said. A public works department worker notified authorities Monday morning after finding several messages written with what appears to be a black marker at the concession stand.
Some of the messages read, "Fellsmere Dope Boys" and "Blue Killers," police said. There are no surveillance cameras at the park, Touchberry said.
Touchberry could not speculate on if the messages are connected to any gangs in the city. The police chief said the park is used by families and residents for various activities, including exercise, softball and soccer.
It will cost under $1,000 to fix and repair the concession stand, Touchberry said. The maximum penalty for vandalism, a misdemeanor, can be up to a year in jail and a $1,000 fine, he said.
Anyone with information on the suspects should contact police Detective Adam Dean at 772-571-1360 or 772-360-5782. Residents can also call Treasure Coast Crime Stoppers at 1-800-273-TIPS or tcwatch.org.
Photos provided by Fellsmere Police Department