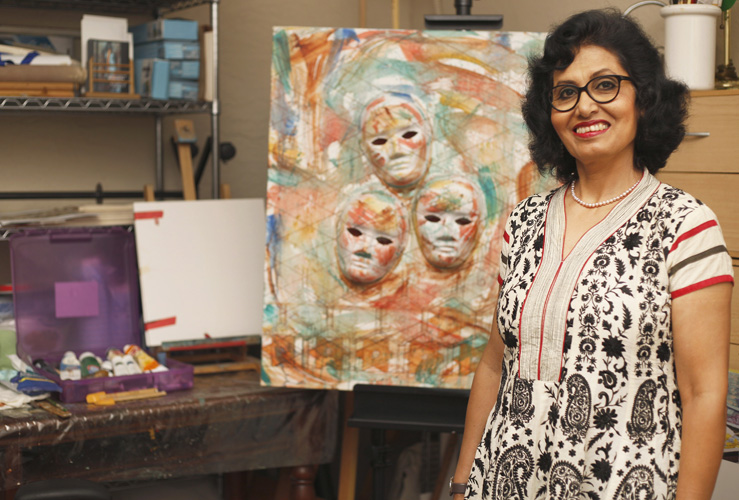 Minakshi De is a figurative painter who likes to challenge her audience as well as herself with her work. A resident of the world, her subjects are often women as seen through the lens of De's Hindu upbringing in Bangladesh, as well as the part of Bengali-speaking India of which Bangladesh was a part before Partition. The United States, where she and husband Niladri De have made their home in South Florida since 2006, has also influenced her world view, and thus her artwork.
An example of Minakshi De's work was recently seen in the New Dimensions competitive sculpture exhibition at the Marsh Island Clubhouse, sponsored by the Vero Beach Art Club.
De's painted relief assemblage "Captive," comprised a vacant-eyed mask affixed to the center of a stretched canvas. Around the mask De painted an arch complete with tromp l'oeil shadows to imply a shallow depth between it and the illusory "wall" behind it. In that space, De painted an intricate geometric pattern based on the Jali work (carved latticework) of India. The pattern continues uninterrupted over the curves of the mask.
The effect is such that the mask is simultaneously part of the pattern and apart from the pattern. For one thing, the mask's 3-dimensional aspect insists on throwing a real shadow onto the painted surface below it. For another, the mask's black eyeholes have a feeling of bottomless depth that paint alone cannot achieve. Seen straight on, the mask almost blends into its surroundings, but viewed from an angle of 45 degrees or more, the mask, as though stretching the rigid material of its captivity, protrudes into the viewer's space.
"Captive" is from De's series of the same name, which also includes paintings. The series began last year after a trip to the Indian state of Rajasthan, where she visited historic Jaipur. There she toured the monuments of that city's royal past, including the Hawa Mahal, an 18th century palace where royal women once lived in purdah, secluded from the eyes of common men. In those days, some Hindus as well as Muslims observed the custom.
An architectural marvel, the palace is noted for a five-story-high screen of intricately carved stone, punctuated by small windows through which the women could see the outside world without being seen by the public.
"I decided I could use the rich architectural motifs I saw in my art, but it made me sad to think that women were once protected to the point of being captives in their homes," says De.
Because she is known primarily for paintings, it was a coup for De to be included in New Dimensions, a juried sculpture exhibition. This year's show was specific to 3-dimensional art in the categories of fiber, wood, glass, jewelry, mixed media, pottery, stone and metal. It was a national exhibition, where members of the Art Club, like De, showed their work alongside that of sculptors from all over the U.S.
Prior to this year, the exhibition was called Art on the Island and was open exclusively to Art Club members. Sculptural categories included one called "2-D with Pizazz," a nod to Art Club painters who wanted to try their hands at a 3-dimensional artwork. The category allowed them to augment paintings with 3-dimensional elements that would qualify them as wall-mounted sculptures in relief.
It was the possibility of entering her own painted assemblage innovation that made De give Art on the Island a try in 2016. After her sculpture "Migration" won first place in "2-D with Pizazz," she was firmly committed to entering the sculpture show every year.
"I wanted to take my painting to a different level," De says.
Transforming painted surfaces into sculptural ones was no match for De's talent. She attributes her affinity for working sculpturally to the layers of technique she employs in making a painting.
"I start by priming the canvas with gesso. Then I apply colors randomly. There are no rules or regulations for this. I put all my favorite colors on the canvas. Then I start drawing. The shapes that I see emerging from the random areas of color suggest what the painting will be about."
One of the striking things about De's artistic technique is her insistence that she begin with no pre-conceived theme. Her result, however, whether in painting or sculpture, is a highly finished work of specific content and detailed form.
Her award-winning "Migration" contains not only a 3-dimensional aspect, but also a symbolic theme about De's life's journey.
The main motif is a painting on canvas of a leafing vine that grows and spirals seemingly without beginning or end. Both trompe l'oeil painted ants and glued-on ants – the plastic party-shop kind – crawl throughout the painted maze, and on four of the eight small canvases affixed to the sides of the large painting. On a riser below the painting, a hinged, book-shaped box is painted to depict ants crawling up the book's sides onto its cover, where several of the ants have found the body of a palmetto bug (aka big cockroach) legs up, on which they feed.
"I used the same process on this work as on my 2-dimensional ones. I randomly painted the canvases and book and let the patterns emerge," De explains.
But why ants?
"I compare myself to an ant, because in my life I have made three migrations, to three countries. Now I am 61. I use my experiences of the countries where I and my family have lived, both the good and the bad, to continue my artistic journey."
De refers to when she was 13 and had to flee her home in what was then East Pakistan during the war that changed the country from a satellite state of Pakistan (created during India's 1947 Partition) to the democratic republic of Bangladesh. When the fighting drew near to their home, De with her father, mother and three siblings made a three-month trek on foot to safety in India. They stayed with relatives in Kolkata (Calcutta) and returned to Bangladesh at war's end.
War came again in 1981 with the assassination of the country's president during an attempted military coup. The city of Chittagong, where in 1980 she had received her Bachelor of Fine Arts at Chittagong University, came under heavy bombardment. But by then she had returned to India where she met and married her husband.
Reflecting on her 1971 ordeal as a refugee she says, "When I was escaping to India, I thought, 'We are like the ants – we can be stepped on and killed, and nobody cares.'"
She continues, "In India, in the United States, everywhere, the migrant is a huge problem. It isn't just about my life; it is a global problem, because of religion or the shaping of new countries or whatever it is. If India had not welcomed us, we would have died in East Pakistan."
There is also an up-side to being an ant, De reminds us.
The book in "Migration" stands for knowledge, she says. It does not necessarily stand for book learning, but for the instinctual knowledge of the ant – to band together and make do with what you have.
"Unity is our goal. Like the ant, who can build mansions with the help of other ants, people need to learn that by working together, regardless of political party or religion, we can achieve great things."