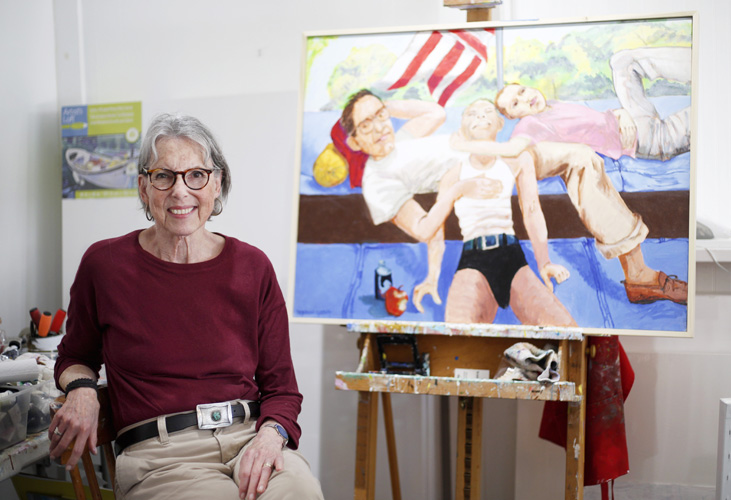 "It's my second solo show there," says artist Deborah Gooch, remarking on her upcoming exhibition, Life Illustrated, at the Center for Spiritual Care in Vero Beach. Featuring recent paintings, the show will open with a public reception at the Center on the evening of April 5 and continues through April 26.
Gooch has high praise for Carol Ludwig, the Center's director, and Ludwig's husband Warren Obluck, who together decide the schedule of exhibitions that will occupy its rooms throughout the year.
"I love what they are doing for the artists' community," she says, adding that she is frankly thrilled that the couple asked her for a return engagement.
"Carol and Warren have such a good eye for art. Rarely do we artists get that kind of encouragement," she says.
As stated on its website, the Center's purpose is to help people converse with God – not only through prayer, but also by offering them opportunities to listen for the "still small voice" within. The website further declares that "the development and appreciation of creativity is one of the main goals of the Center for Spiritual Care." It fulfills that goal through its generous public offering of creative workshops, lectures, chamber concerts and art exhibitions.
As an artist, Gooch understands the value of silent contemplation. She appreciates the prospect of sharing her art with other seekers, both artist and non-artist alike.
"I think I represent the average artist who works at her craft," says Gooch.
"My thoughts are right on the canvas; what I feel is right there for the public to see."
As expressed in her imagery, Gooch's thoughts are wide open to interpretation. You may find that her paintings contain a sense of humor that borders on classic clowning, and that is entirely intentional on the artist's part. Much of the imagery in the show comes from her family photos; she also uses photographs that her brother, artist Mark Kirby, acquired when he worked in estate dispersal in Michigan.
"When he would find photographs, he would send them to me. Especially the funny ones," she says.
A painting in her studio of a chap mounted on an ostrich is a case in point.
"It's from a vintage photo. I changed it a little bit; I just thought it was fascinating. I forgot they used to do ostrich racing back when."
A painting close to home is based on a 1939 photo of her parents, Janet and Karl. They are seen lying back against the cushions of a sailboat with their arms twined about their friend Andy, a hale young fellow in a pair of belted swim trunks.
"Here's the photo I used for that one," says Gooch.
In it, her mother is sticking her tongue out at the photographer, while Andy grins like a Cheshire cat.
Gooch explains that Andy became a submariner when the U.S. entered World War II. He was killed in action.
"They were young when this picture was taken," says Gooch.
Thinking about how her parents safeguarded the photo all their lives, she adds, "I also lost a friend when I was young. I know how that stays with you."
Her painting from the photograph (untitled at the time of this writing) shows nothing but the joy of a long-past moment. Looking at it, you might wonder if Gooch felt any sadness in painting it.
"I never knew Andy. I just know my parents cared about him," she says.
A moment of reflection later she says, "I probably haven't done anything real serious. Maybe because the act of painting is so serious, I want the result to put a smile on my face."
The most dignified portraits Gooch paints are of animals. At least two paintings of crows in the Center's exhibition endow the birds with a natural poise that is completely lacking in her depictions of the human animal.
"I try to keep the people comic," says Gooch.
A painting titled "No More Toe Dancing" combines Gooch's regard for animals with a snippet of personal history.
Occupying the upper half of the composition, the hunkered profile of a large white rabbit glows against a patch of dark green background. Below it are three small bunnies. The first of those is an anthropomorphic cartoon rabbit, also white. The second two are images of a human child in a bunny costume, compete with a helmet-like hood from which two extra-long ears sprout.
"That's my toe-dancing costume, when I was a kid," says Gooch, who recalls that a pink pajama suit with a cotton ball tail was pressed into service for the role.
The intriguing thing about this work is that Gooch has forced two separate realities, divided between the upper and lower halves of the canvas, to coexist in proximity. The top half of the composition could be said to represent the natural world, while the bottom half comments on humanity's efforts to separate itself from nature by lampooning it.
At first glance, it looks as though all four rabbits occupy the same compositional space in the painting. But the forms of the small bunnies neither overlap the larger, more naturalistically painted cottontail, nor rest in front of it by means of any other artistic convention. Instead, they exist on a plane inferior to it.
All of the works in Life Illustrated are fresh to the eyes of those who know Gooch's work, but that does not necessarily mean that all of the paintings are brand new. There are many paintings here that have been reworked, sometimes to a degree that totally changed the representations that came before.
Gooch says that painting over certain of her paintings with which she is dissatisfied or bored is nothing new for her.
"I find that a bad painting, or a painting that I stopped at and didn't finish, often makes a wonderful base for a new painting."