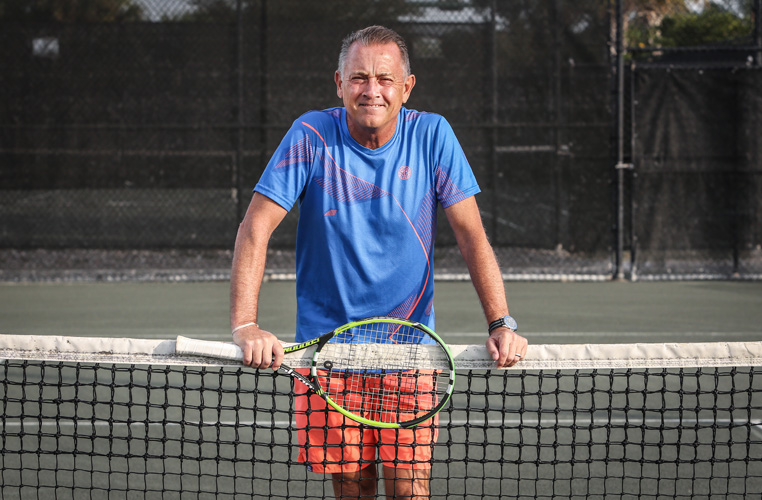 Building on the momentum generated in the two years since buying The Boulevard Tennis Club, where the membership has more than doubled, the club's owners recently announced that former top-10 player and 1986 French Open finalist Mikael Pernfors has agreed to become the club's touring pro.
In joining The Boulevard's teaching staff, Pernfors is available to give private lessons to members and non-members, and he'll occasionally participate in group clinics.
He'll play in club-sponsored exhibitions and represent The Boulevard in events, nationally and globally. He also hopes to bring in tennis camps and, off the court, be involved in the club's social happenings.
"Ever since I moved down here in 2005, I saw myself being part of the club, and I even bought a home there, so I've been a member for a long time," said Pernfors, 55, who was a two-time national singles champion at the University of Georgia before turning pro and becoming the ATP Tour's Rookie of the Year in 1986.
"Things never worked out quite the way I thought they would with the previous ownership, but, as you can see from the increase in membership and all the activity around the club, this new group has figured it out," he added. "The club is doing great and I'm excited to be a part of it."
Christophe Delavaut, the longtime Grand Harbor pro who put together the new ownership group and is now a co-owner and tennis director at The Boulevard, said he had been discussing a touring-pro position with Pernfors for more than two years – even before the purchase was completed in January 2017.
"We've wanted him to be a part of what we're doing from Day 1, but we were so busy getting organized – setting up, improving the club and growing the membership – that we just finally got around to finalizing things," Delavaut said.
"We are a tennis club to the core, so Mikael is the perfect fit for us," he added. "To have him as part of our staff and representing our club around the world is a win-win situation for all of us."
To arrange private lessons with Pernfors, local tennis players can either call The Boulevard at 772-778-4200 or call him directly at 772-584-1009. He said he charges $125 per hour, but club members get a $25 discount.
In addition to reaching the 1986 French Open championship match, where he lost to Ivan Lendl – also a longtime Vero Beach resident – in straight sets, Pernfors reached the Australian Open quarterfinals in 1990, and the Round of 16 at Wimbledon (1986, '87) and the U.S. Open (1989).
Pernfors won three ATP Tour singles titles, taking home the trophy from the Canadian Masters in 1993, when he was named the Tour's Comeback Player of the Year. He also played Davis Cup for his native Sweden.
His Tour career included victories over Hall of Famers Pete Sampras, John McEnroe, Andre Agassi, Boris Becker, Mats Wilander, Stefan Edberg and Michael Stich.