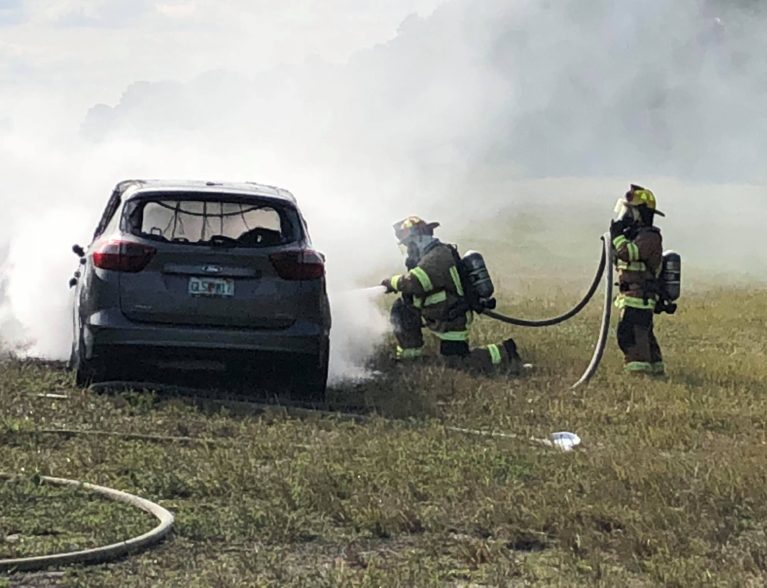 Photo provided by Fellsmere Police Department
FELLSMERE — A motorist called 911 Friday afternoon after her car suddenly burst into flames while she was driving, police said. Police and fire rescue crews went to the scene and quickly extinguished the blaze.
"She said all the dashboard lights started flickering," Fellsmere police Sgt. Scott Newsom said.
The woman was not injured. The flames originated in the engine compartment and did not spread to the grass, police and fire rescue crews said.
Video provided by FPD. *Click the audio icon in the lower right hand corner for sound.
FPD and IRFD are on scene of a vehicle fire at 87th Street and CR512 west of downtown Fellsmere. Traffic is reduced to one lane until further notice. Expect delays.

Posted by Fellsmere Police Department on Friday, November 30, 2018
The incident happened about 1 p.m. Friday in the 8700 block of County Road 512 in Fellsmere, Indian River County Fire Rescue Battalion Chief Kyle Kofke said. The woman pulled her Ford C-Max Hybrid into a grassy area before calling law enforcement, Newsom said.
Traffic on CR 512 was temporarily reduced to one lane as authorities battled the flames. Fire rescue crews extinguished the fire shortly after arriving at the scene, Kofke said.
Fire and smoke damage left the car totaled, Newsom said. The car was towed to an unknown location.
No further details were available.