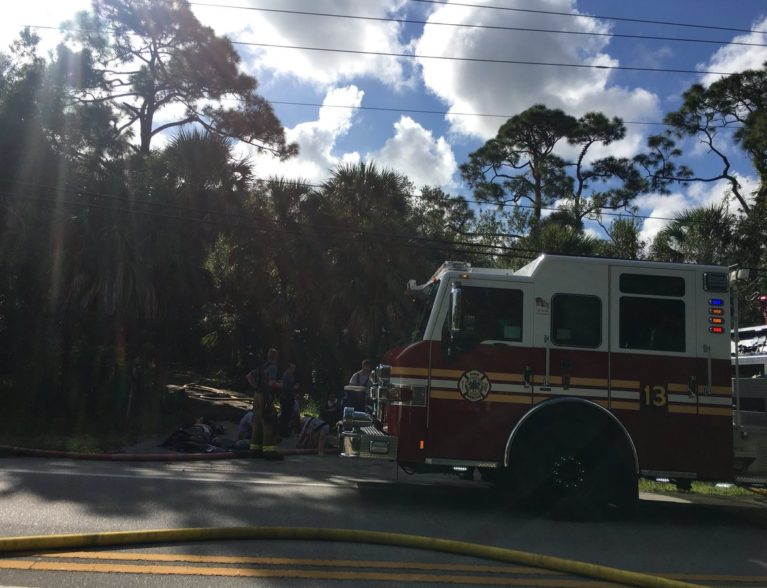 INDIAN RIVER COUNTY — He was a doctor whose patients remembered him for his passion – and even his quest to compete in sled dog races – long after he opened his Vero Beach practice.
On Wednesday, sheriff's deputies identified 83-year-old Dr. Robert Moore as the man killed after a Tuesday house fire.  Moore was a family practice physician, his friends and family said.
"It's a tragedy. I'm extremely saddened it happened," said Vero Beach resident Kim Durrell, 50, whose family had been patients of Moore for more than 40 years. "He always went the extra mile to find out how you were doing and made you feel like you were part of his family. He was genuinely loved."
In a Tuesday Facebook post, Moore's wife, Irene Moore, said her husband was a doctor for more than 40 years in Vero Beach. Several people left comments under the post where many described Moore as a "great physician and teacher who loved all of his patients."
The house fire was reported about 3:30 p.m. Tuesday at the residence in the 700 block of 43rd Avenue, Indian River County Fire Rescue Battalion Chief Kyle Kofke said.
Moore was the only person home when the blaze ignited. Sheriff's detectives and the state fire marshal continue to investigate what sparked the flames.
Neighbor David Whipp, who tried to rescue Moore, told deputies the 83-year-old had an extensive medical history and a history of falling, a sheriff's case report shows.
Whipp, 52, said he rushed inside Moore's home after he came home and saw black smoke coming from Moore's residence. The neighbor said he initially kicked in the back door to try and find Moore, but the flames inside were too intense.
Whipp went to the front of the home and kicked in the door. He saw Moore sitting up against a wall and unresponsive, reports show.
The neighbor then pulled Moore from the home and into the front yard, where he tried to resuscitate the man until emergency responders and fire rescue crews arrived.
Fire rescue crews went to the home and continued performing CPR on Moore, according to Kofke and reports. Moore was taken by ambulance to the Indian River Medical Center, where doctors pronounced him dead.
Nearly 25 firefighters and about seven engines helped to extinguish the blaze, which was completely out about 8 p.m., Kofke said. The flames left heavy fire and smoke damage to the residence, leaving it uninhabitable.
Fire crews shut down power in the area for about 20 minutes. Crews also blocked 43rd Avenue from 8th Street to 4th Street for about five hours, Kofke said.
Irene Moore learned what happened and went to the hospital where her husband was taken. Authorities said she declined assistance from Red Cross South Florida Region.
Moore received his medical degree from Wake Forest School of Medicine and worked as a physician for more than 20 years, reports show. 
Community Reaction
Those who knew Moore remember him as a likable, caring man who was "few and far between."
Vero Beach resident Billy Barnes said he was thinking about calling Moore on Wednesday morning because he had not spoken to the doctor in a while. Then, Barnes learned of Moore's death.
"He was the most thorough doctor I have ever had when he went over my blood reports," said Barnes, 73, whose family were patients of Moore for more than 30 years. "He was like a minister. If we had personal questions about anything, he was the guy to go to."
Durrell said her husband, Corbin, 49, had been going to Moore's office since he was a kid. Durrell started going to Moore's office for medical appointments after she married Corbin 30 years ago.
Durrell and Barnes said the doctor temporarily closed his office about 20 years ago to compete in the Iditarod Trail Sled Dog Race, held held annually in Alaska. Moore had went to Alaska for about a year to train and compete in the race, which he finished.
Barnes said Moore was one of the oldest men to compete in the sled dog race
"I remember him bringing his dogs and Huskies to the office," Durell said. "He had such a bond with them. They were so friendly."
This story will be updated.