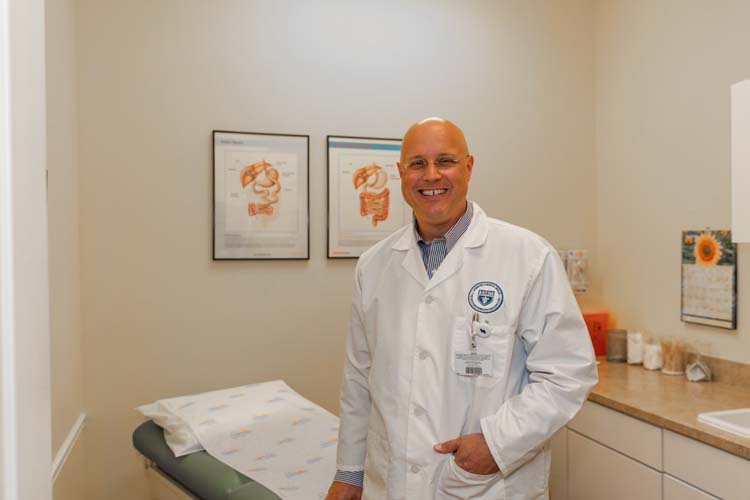 When Diane Muller went looking for a bariatric surgeon to help her overcome her serious obesity problems – including a body mass index of 55, hypothyroidism, lymphedema and fatty liver disease – she probably didn't expect to find a self-described "four-handed surgeon."
But she did.
The tall, genial Dr. Patrick Domkowski graduated from Washington, D.C.'s Georgetown University's medical school and served his internship, fellowship and residency at Duke University. He also happens to be chief of surgery at the Sebastian River Medical Center – this area's only "Bariatric Center of Excellence" as designated by the American Society for Metabolic and Bariatric Surgery and the American College of Surgeons.
Not impressive enough? SRMC is also one of only three hospitals in the state to receive Healthgrades' 'Five Star' rating four years in a row for bariatric surgery.
But awards aside, there is a spoiler alert here: Domkowski doesn't actually have four hands.
What he does have is the ability to perform bariatric and other surgeries both laparoscopically (using a slender, flexible tool called a laparoscope equipped with a miniaturized video camera to see inside the body without having to make major incisions) and robotically, using another minimally invasive technique – the DaVinci robotic surgical system.
"The robot," Domkowski says with a smile, "adds a lot of technical ability in terms of 3-D visualization and dexterity. It makes me a four-handed surgeon.
"I put my head into the console and I put my two fingers into the controllers. My feet also control several things. And so, I have a camera and three arms at my disposal. So I am transformed into a four-handed surgeon with 3-D visualization and all the points of dexterity. I'm right- or left-handed. I'm totally ambidextrous with the robot. It makes me a better surgeon."
Diane Muller of Melbourne certainly agrees. She says Domkowski performed a bariatric sleeve procedure or sleeve gastrectomy on her in December 2017.
As of early August, she had lost 140 pounds. "I'm off my hypertension meds," Muller exclaims. "I don't have to take them anymore. I'm also off of insulin and diabetic meds."
The University of Maryland Medical Center describes the sleeve gastrectomy procedure this way: Approximately 85 percent of the stomach is removed entirely. The remaining 15 percent holds considerably less food which radically restricts calorie intake. The greater impact, however, may be the effect the surgery has on certain hormones that regulate hunger and blood sugar control. Less food feels like more.
Asked if she has any advice for other people considering bariatric surgery, Muller's eyes light up.
"I would tell them just don't hesitate. Go ahead and do it. A year ago I could not keep up walking with my husband. We'd have to walk really slow and take lots of breaks. Now, it's like I can go to Disneyland all day, walk around and keep up and just be more active. It's like I'm a whole new person. So, yes, I would say don't hesitate. Just go for it."
Domkowski, meanwhile, acknowledges SRMC's growing reputation for bariatric surgeries, saying, "I think [in terms of the number of procedures done] we're up about 35 percent this year. And, I think it's because we concentrate on two things. We concentrate on people and the relationships we're making with those people. And we concentrate on their outcomes.
"We believe this is a five-star service," Domkowski continues. "We take great pride in this. We are passionate about helping people with their obesity disease and we're blessed to take care of a lot of people that come from [both] inside and outside our community."
Dr. Patrick Domkowski is with the Riverside Surgical & Weight Loss Center and the Steward Medical Group at Sebastian River Medical Center where he is the chief of surgery. His offices are at 14430 U.S. 1 in Sebastian. The phone number is 772-581-8003.