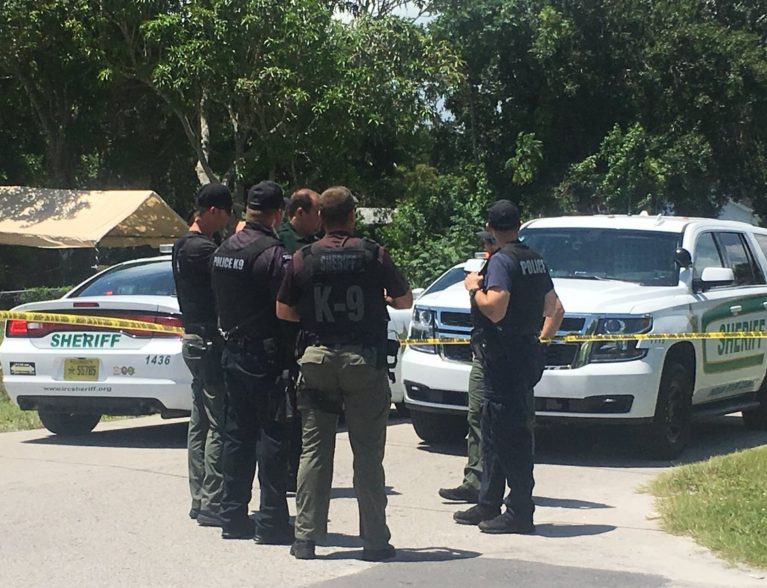 GIFFORD – A man has died and a suspect is in custody following an early Wednesday fatal shooting that placed local schools on a temporary lock down, officials said.
The shooting was not related to the schools, deputies said. This is the sixth reported homicide in Indian River County to take place this year.
Detectives had a suspect in custody by 2 p.m., Indian River County sheriff's spokesman Maj. Eric Flowers said. The incident took place about a half mile down the road from Gifford Middle School, Flowers said.
Neighbors stood nearby and watched officers walk to the shooting scene. Some neighbors said they heard several gunshots, but declined to comment further.
The man was taken by ambulance to the Indian River Medical Center, where doctors pronounced him dead, said Flowers and Fire Rescue spokesman Cory Richter. Flowers said the man's name would probably be released sometime Wednesday afternoon.
A motive for the shooting and further details on the suspect have not been released.
The incident caused Dodgertown Elementary, Gifford Middle School, and St. Peters Academy to be placed on a 15-minute precautionary lock down Wednesday morning.
*Note for videos – Click the audio icon in the lower right hand corner for sound.
Live from scene of shooting in Gifford that led to several area schools to be placed on temporary lock down.

Posted by Nick Samuel on Wednesday, August 15, 2018
The man was found with a gunshot wound about 10 a.m. in the area of 28th Court and 43rd Street.  The shooting prompted the schools to be placed on Code Yellow – lockdown – as a precautionary measure, according to the School District of Indian River County.
Indian River County sheriff and Vero Beach police K-9 units combed the area for evidence in the tree-lined neighborhood. Detectives had left the scene shortly before 2 p.m.
Further details on the shooting were not immediately available.
Parent's Reaction
Gifford Middle School parent Ruben Bermudez went home shortly before 3:30 p.m. Wednesday and saw his kids, who had taken the bus home from school. Two of his children attend the middle school – one of three campuses placed on the temporary lock down – following the fatal shooting.
Bermudez said the shooting is unfortunate. However, the school board candidate said he has full confidence in the school district and sheriff's office to ensure that students are safe.
"The violence is horrible," Bermudez said. "I'm happy we have school resource officers."
Photos by Nick Samuel
This story will be updated.