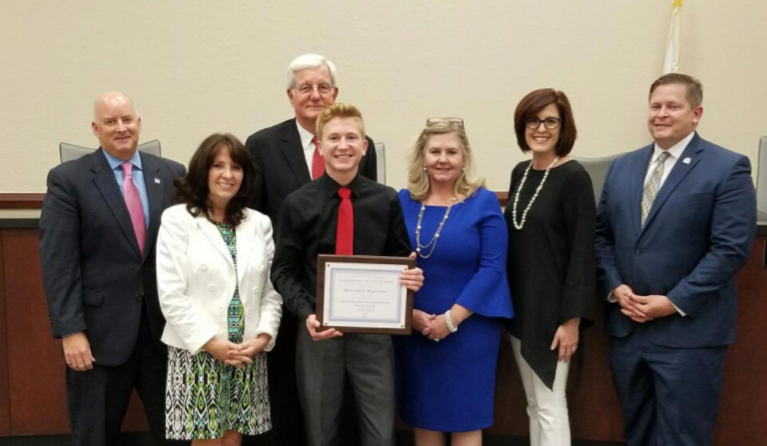 SEBASTIAN — A local high schooler was one of 34 Florida students who received the National Merit Scholarship for their efforts in excelling academically and improving the community, authorities said.
"I am extremely thankful for the opportunities that this scholarship has created for my education and future career," said Sebastian River High School student Matt Maloney. "It is very rewarding to see all my hard work and effort pay off. I'm glad I listened to the encouraging words of my parents who convinced me that all of this was possible."
The National Merit Scholarship awards are funded by 200 corporations, company foundations and other business organizations.
Most of the scholarships are renewable for up to four years of college undergraduate study and provide annual stipends ranging from $500 to $10,000 each year, officials said. Some scholarships provide a single award amount between $2,500 and $5,000.
Recipients can use their award at any regionally accredited U.S. college or university of their choice, according to officials. Maloney will be using his academic skills at the University of Florida, where he will major in civil engineering.
Maloney's favorite subject is math. He is on the math competition team at Sebastian River High School, 9001 Shark Boulevard.
For community involvement, Maloney serves as president of "It's in the Bag," a student operated initiative that gives meals to more than 400 students in the school district each week, officials said.
"Matthew's accomplishment is the result of many years of community involvement, rigorous International Baccalaureate curriculum, and the ability to stay focused on his goals," Principal Todd Racine said. "Matthew demonstrates outstanding character and a desire to chase perfection that has enabled him to meet the rigorous standards to qualify as a National Merit Finalist."
Maloney's IB English teacher, Whitney Barnes, said the student is brilliant, focused and self-disciplined; traits she said are equally matched by his kindness, compassion and strength of character.
"He's the young man who delivers the perfect literary analysis of a rigorous text at the end of a long day of IB classes, then works tirelessly organizing and distributing vital meals to hundreds of food-insecure children in the area," Barnes said. "…then finds his restoration fishing with his buddies after his other obligations are met."
To be considered for a Merit Scholarship Award, students must fill out an application that details their school academic record, participation in school and community activities, leadership abilities and honors and awards received, officials said. Students must also be endorsed and recommended by a high school official, write an essay and earn a high SAT score.
The National Merit Scholarship Corporation, a not-for-profit established in 1955, runs the scholarship program.
"In Florida, we are proud to offer students a high-quality education that prepares them to succeed in college, career and throughout their lives," Commissioner of Education Pam Stewart said. "I appreciate the scholarship's sponsors for recognizing the importance of investing in our students' futures and making it even more affordable for these students to pursue post-secondary education in Florida."
For more information on the scholarship program, visit its website.
Photo provided by School District of Indian River County