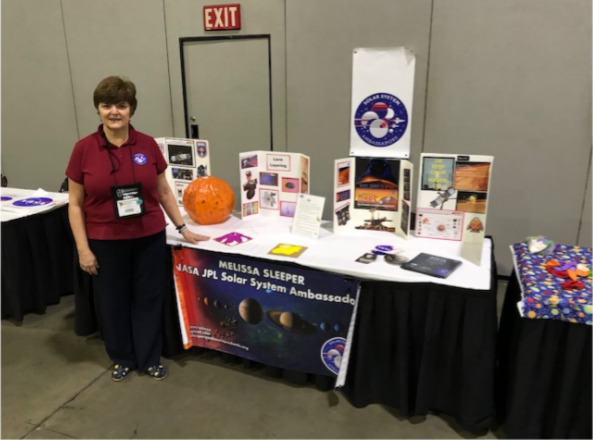 A Gifford Middle School science teacher was recently chosen as a Solar System Ambassador in an effort to educate schools and the community about NASA's missions in space, authorities said.
"I am very honored to have been selected as a Solar System Ambassador by NASA JPL," Teacher Melissa Sleeper said. "I am looking forward to learning more about NASA and sharing the excitement of NASA's space exploration programs with others."
NASA's Jet Propulsion Laboratory (JPL) selected Sleeper to be part of the Solar System Ambassador Program. Under the program, Sleeper will be regularly invited to attend teleconferences with NASA mission scientists to learn about current space operations and research, officials said.
Sleeper also will have access to NASA database materials and social media groups. The teacher will help with NASA events as well as host her own events for the local public.
Sleeper already gave one presentation in March at the National Science Teachers Association Conference, officials said. To keep the ambassador title, Sleeper is required to give four presentations a year.
The road to becoming an ambassador is competitive, according to officials. Volunteer ambassadors nationwide are chosen by the Jet Propulsion Laboratory based on their backgrounds and plans for public outreach activities.
In addition to the common application process, applicants must also answer essay questions, provide plans on hosting Solar System Ambassador events and give five references.
Applicants consist of planetarium heads, museum curators, university professors, TV meteorologists, teachers and more. A group of 30 to 50 people are chosen to become ambassadors, officials said.
Within the 20 years the program has been active, less than 1,000 applicants have been selected.  JPL gives the ambassadors educational materials and training, officials said.
For more information on the Solar System Ambassadors Program, visit the NASA site.