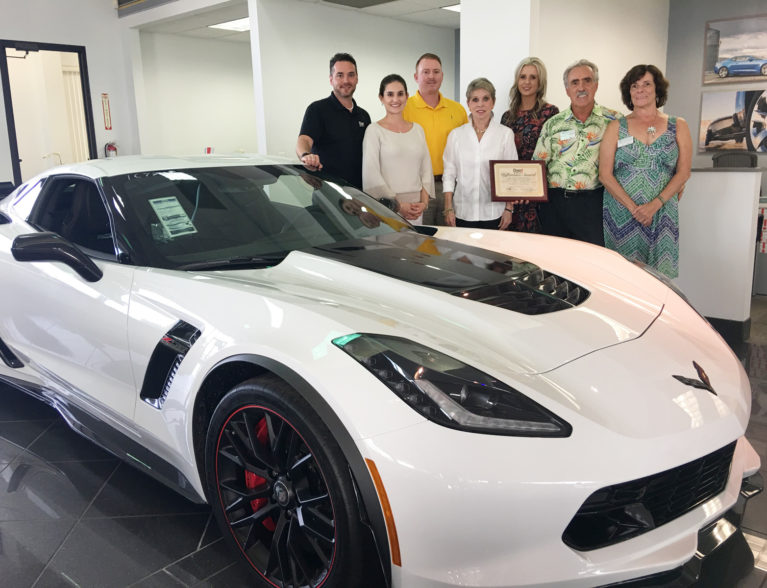 INDIAN RIVER COUNTY — The November Dyer Difference Award and a $3,000 check were recently presented to the Rotary Club of Sebastian Recreation Foundation to assist with the organization's participation in the 2018 ShrimpFest and Craft Brew Hullabaloo festival. The festival benefits local youth sports teams and a host of participating nonprofit organizations throughout north Indian River County.
Each year, the festival draws thousands who enjoy vendors, food, kids' events, music, merriment, and of course shrimp and craft brews to enjoy.
The 2018 ShrimpFest & Craft Brew Hullabaloo will take place Friday March 16 at Riverview Park on US 1 in Sebastian; and the party won't stop until Sunday, March 18.
This year's event, which will add dessert vendors to the mix, will also celebrate St. Patrick's Day throughout the three-day festival, and every minute of the fun is to help support children and several great causes and organizations in the community.
Since relocating to the area in 2008, each month, Dyer Chevrolet staff members at Dyer Chevrolet Fort Pierce and Dyer Chevrolet Mazda Subaru in Vero Beach meet to review the applications which have been submitted in their respective counties and select one non-profit organization to receive that month's recognition and a $3,000 award in each county.
For the Dyer family and the members of the Dyer staff, the award and the $6,000 in donations between Indian River and St. Lucie counties are all about helping to make a positive difference in the community.
For the recipients, it's an acknowledgement of their tireless efforts to do the same and a much-needed financial boost to help further their missions.
If you'd like to nominate a non-profit organization for the Dyer Difference Award, please visit www.dyerdifference.org or find Dyer Difference on Facebook.