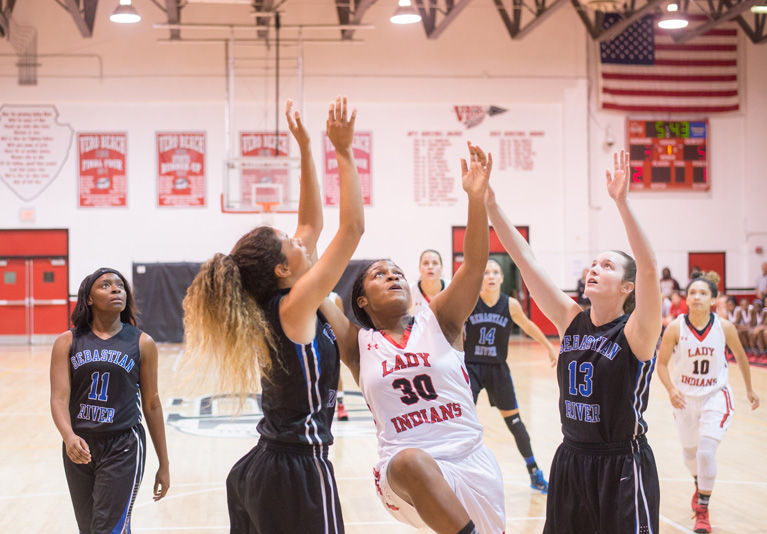 It was something the girls on the Vero Beach High basketball team talked about doing all season long, and then they went out and did it.
They won the Class 8A State Championship!
It took two overtimes to defeat Boca Raton 77-68 for the title last Saturday night in Lakeland. The Fighting Indians had four players in double figures with Megan Gorman once again pacing the attack with 24 points and 15 boards. The Yale bound guard-forward had 25 double-doubles in her final high school season.
Kourtney Harris added 16 points, Caitlyn Smith 15, and Jordan Wade 12 in a game that was essentially won in two categories. Vero sank 18 more free throws than Boca and shot over 50% from beyond the arc. Smith was particularly hot from long-range during the playoffs, capping it off with four more treys in the big game.
The Final Four weekend was jam-packed with drama throughout. Vero barely survived a furious comeback by Miami Ferguson in a semifinal game on Friday night. A late 12 point lead was shaved to one before Gorman and Company prevailed 44-43.
The girls built a substantial first half lead against Boca but suffered through a fourth quarter scoring drought that sent the contest into overtime. They finished in style however by scoring the last 13 points of the game to claim the first state championship in the history of the program.
The girls wrapped-up a truly memorable and exciting campaign by going 26-1 and bringing home the championship trophy for Head Coach Rahshard Morgan, Vero Beach High School and the Vero Beach community.