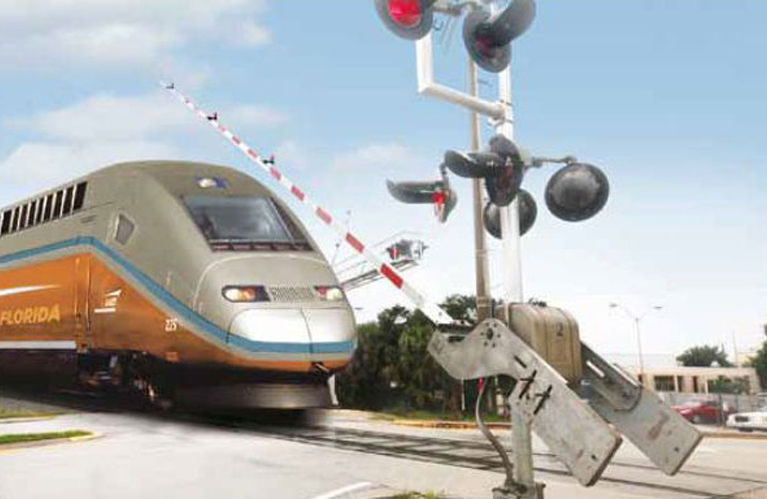 INDIAN RIVER COUNTY — County Attorney Dylan Reingold announced Tuesday that the county has filed the promised federal lawsuit to challenge the issuance of $1.75 billion in government bonds that All Aboard Florida needs to make its high-speed rail project a reality.
The project would mean 32 trains per day barreling through Indian River County's downtowns and residential neighborhoods at speeds of up to 110 miles per hour. Indian River County last year strongly opposed the train and has committed $2.7 million over the next three years to fight it.
"Today, Indian River County filed a complaint in the United States District Court for the District of Columbia challenging the United States Department of Transportation's approval of the allocation of $1,750,000,000 in private activity bonds to finance the proposed All Aboard Florida project," Reingold said.
The suit names as defendants Peter M. Rogoff, in his capacity as the Under Secretary of Transportation for Policy of the U.S. Department of Transportation; and the U.S. Department of Transportation.
This complaint alleges that Rogoff's determination that the bonds met all the criteria for issuance was "arbitrary, capricious, an abuse of discretion and unlawful."
The three plaintiffs take the position of protecting county residents, access to roadways for fire and medical services and the preservation of priceless historic resources located perilously close to the tracks.
"Indian River County, along with the Indian River County Emergency Services District and the Old Vero Ice Age Sites Committee, Inc., are seeking an injunction to require the United States Department of Transportation to fully comply with the National Environmental Policy Act, the National Historic Preservation Act and Section 4(f) of the Department of Transportation Act of 1966 and prevent the issuance of such bonds for the proposed All Aboard Florida project until these statutes have been properly followed," he said.
The Board of County Commissioners voted unanimously on March 17 to pursue this legal avenue of stopping the train, with costs of litigating the case estimated to be around $600,000.