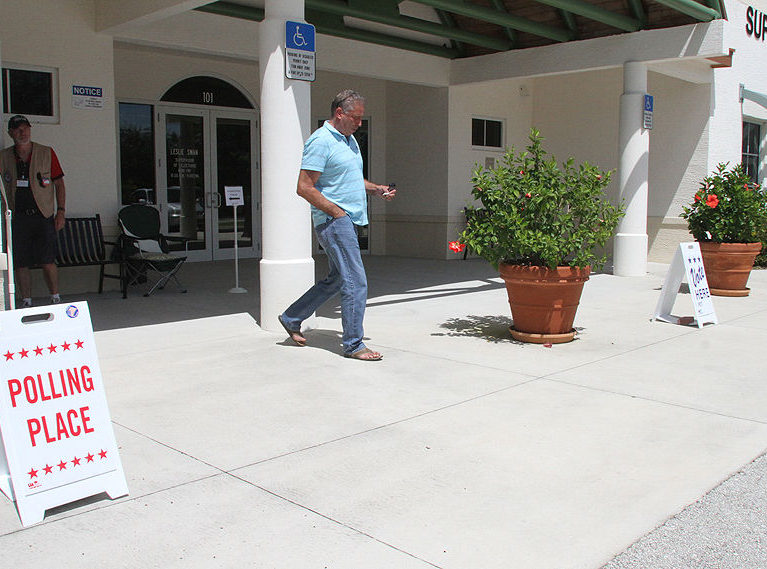 INDIAN RIVER COUNTY – About halfway through the first day of early voting and a mere 300 ballots have been cast, selecting the Republican and Democratic governor candidates, State Senators, Circuit Judge, Attorney General, and locally, two School Board members.
"It's going good," said Supervisor of Elections Leslie Swan of early voting. "We just want more people!"
Registered voters can go to one of three sites to cast their ballots ahead of the Aug. 26 Primary election. The early voting sites are: the Supervisor of Elections Office, the Main Indian River County Library, both in Vero Beach, and Sebastian City Hall.
Though turnout has been slow, voters are encouraged to visit the Supervisor of Elections Office website, www.VoteIndianRiver.com, to check the wait time at the sites. So far, they've all been in the green – less than 15 minutes.
Under the status block on the website, the elections office has implemented a "Voter Turnout" tool, which tracks in real time the number of ballots cast – by what party, by date, and by precinct.
So far, Republicans have cast more ballots than Democrats by not-quite triple – most of which have come through mailed absentee ballots rather than early voting.
More than 4,000 absentee ballots have been returned. The deadline to request an absentee ballot is Wednesday, Aug. 20. Absentee ballots may be requested online, in person, by phone, fax, mail, or email. Those wishing to request a ballot are encouraged to call (772) 226-3440 or visit www.VoteIndianRiver.com and click "Request Absentee Ballot."