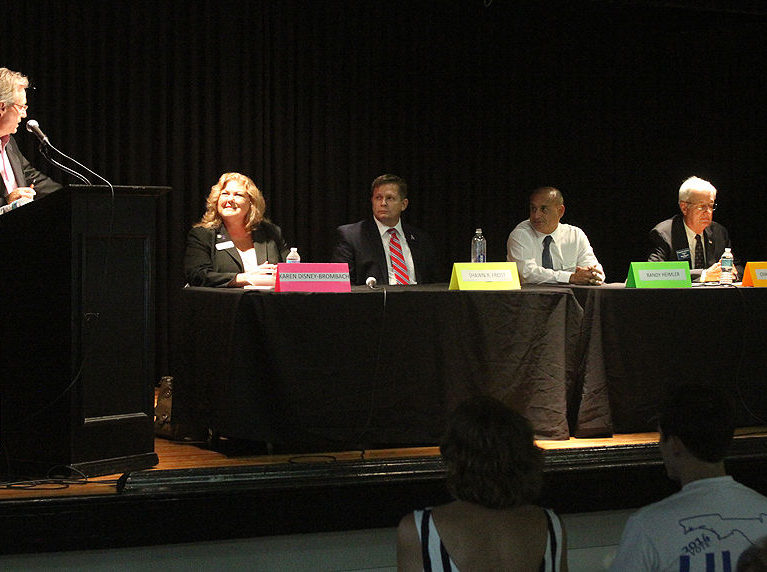 INDIAN RIVER COUNTY — With a couple days left before early voting gets underway, the four candidates seeking two seats on the Indian River County School Board made one last pitch for votes during the Indian River Tea Party's candidate forum at the Heritage Center Wednesday evening.
Those seeking election include District 1 candidates incumbent Karen Disney-Brombach and Shawn R. Frost and District 4 candidates Randy Heimler and Charles Searcy, who previously served on the School Board.
Early voting begins Friday and will be held at three locations – the Main Library in Vero Beach, the Supervisor of Elections Office in Vero Beach, and Sebastian City Hall in Sebastian. The election will be held Aug. 26 and is voted on countywide.
The candidates fielded a barrage of questions from not only the Tea Party but also those in the audience ranging from their plans to hire a new superintendent, their stance on Common Core, the reason they believe charter schools are growing, and their support – or lack thereof – of the new Administration Complex.
They were also questioned on their philosophies behind sharing – or not – capital funds with charter schools and what they envision their day-to-day activities as a School Board member to be.
From the audience, questions ranged from textbook review and selection and what topics are taught to the current evaluation system used for teachers, as well as their thoughts on early childhood education programs for those three and four years old.
Candidates differed on how they would approach finding a successor for Schools Superintendent Dr. Fran Adams, who recently gave notice she would retire at the end of the 2014-15 school year.
Disney-Brombach said she would recommend not using a national firm to conduct the search but would not commit to finding a leader from either within or outside the District. Frost, however, was firm in saying that he believed the best candidate would come from within – someone who knows the culture, the terrain and the politics.
"We need to go outside," Heimler said, pointing to criticism the current School Board faced when it hired from within for Dr. Adams. He explained that the leadership team Dr. Adams has in place should not be disrupted, which would be the case if the Board hired from within.
Searcy, like Disney-Brombach, did not commit to one method or the other, leaving it open and at the discretion of the five Board members. Regardless of where the superintendent came from, Searcy said that person would have to be the cheerleader for the District and have to challenge every teacher and principal to motivate students to achieve at their highest level.
This article will be updated with video from the forum once VeroNews.com staff finish processing it.