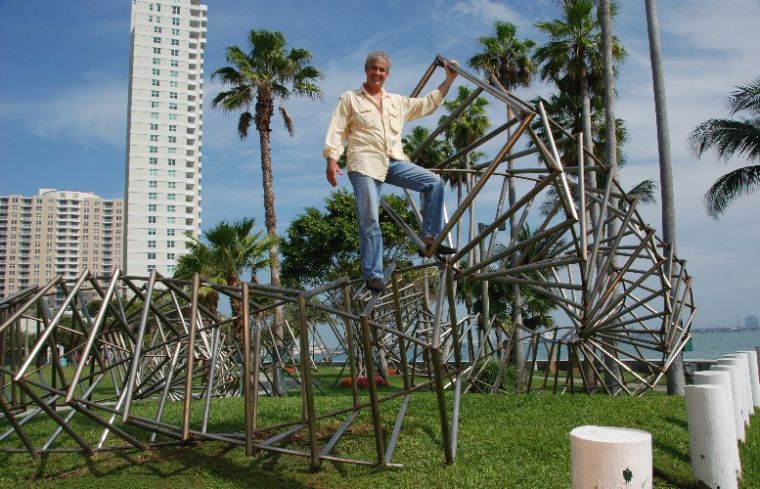 If the old diesel power plant were ever to reopen as an arts center downtown, it wouldn't take much of a name change to honor one of its advocates. Ross Power, a Miami sculptor and real estate entrepreneur who moved to Vero's Central Beach neighborhood ten years ago, has joined the effort to turn the hulking city-owned brick building into a not-for-profit arts center.
Power was one of the first investors in a run-down neighborhood that has since become Miami's glittering Design District, when he turned an old warehouse into Power Studios, a club and café complex considered iconic in the 1990s.
While Vero's defunct power plant is still mired in a legal dispute between its tenants and the city, Power is bringing his South Florida-infused vision and industry connections to an ad-hoc Vero group content to hatch ideas while attorneys hash out the plant's availability.
And if it all goes under water, well, Power can make the most of that too. In 1985, near Key Largo, Power submerged seven steel sculptures he called "Treasures of Atlantis," as a year-long installation for divers and tourists in glass bottom boats, in 35 feet of water just outside of John Pennekamp State Park.
Ross was drawn into the diesel plant project when he met Cultural Council executive director Barbara Hoffman for the first time at Blue Star Wine Bar one Saturday night, a few months ago. Ross listened to her notion of turning the plant into an arts center, and went for it like a barracuda on a steel statue.
"I'll do whatever I can to make this succeed," he told her.
Since then, Power has brought fresh ideas to the concept that was quietly floated more than a year ago and has only now surfaced for public scrutiny in recent weeks.
Among Power's ideas is one straight out of South Beach: While the group raises the $5 million estimated to fix up the space and mulls over just how to spend it, Power suggests hauling in portable AC, power and water (the plant is not plumbed or wired) and turning it into a location for fashion shoots and film production.
He also envisions turning the plant's grounds into a national marketplace for monumental sculpture, where sculptors from across the country could display their works together, and art collectors would fly in for a shopping spree.
Power, who has created numerous commissioned works for collectors, hotel chains and banks, claims to have the contacts to make all that happen.
In 1989, Power bought a derelict 1925 warehouse near Biscayne Blvd. and I-195, just over the causeway from Miami Beach. It was a time when the hot real estate market was South Beach, where Power had recently relocated from Laguna Beach, CA.
"I wanted to create my own little sanctuary," he says. "I was meeting photographers and models and production-oriented people, and I started to develop an eclectic group of friends. But I didn't really have a place that I felt was mine."
People thought he was nuts when he invested $90,000 in a beat-up, long-abandoned building in a bad neighborhood north of downtown Miami. But before long, with his South Beach connections, the space caught the eye of location scouts for fashion shoots, music videos and movies.
Power didn't stop there. Seeing all the catering trucks called in for the shoots, he decided to put in a kitchen. That turned into a café, which eventually begat a nightclub, and soon, Power Studios was a destination, one of the few sparks needed to ignite the entire district. Architects, interior design shops and galleries filled the surrounding blocks, along with restaurants and the occasional live music venues.
Gloria and Emilio Estefan shot a music video at Power Studios; Gianni Versace shot what would be his last catalogue there, using Power's son Pablo as a model.
Power expanded into the neighborhood ten blocks north, building a complex called the Annex. That area, known as Wynwood, was initially far worse off – Power himself had kept a studio there to fabricate his large sculptures.
"Let me tell you, it was a rough, rough neighborhood."
The Annex had a precedent not unlike the diesel plant concept. In the 1980s, a group of benefactors had bought an old bakery in Wynwood so that artists dislocated by rising rents in Coconut Grove could have affordable space.
Unlike the diesel plant concept, the Bakehouse founders could draw on a population of 2 million people for support. It formed a non-profit that has run on funding from literally hundreds of donors and government agencies, including the National Endowment for the Arts and some of Miami's most prominent art collectors.
Since the Design District first filled up with designers, it has revamped into very high-end retail like Prada, Dior and Cartier, rivaling Bal Harbour Shops to the north.
In 2000, Power took on a partner and did an extensive renovation on Power Studios. It was put on the market in 2006, and finally sold last year for $8 million. The new buyer is razing the building to put in luxury retail space. Last June, Power told a Miami neighborhood paper that he had moved to "the Hamptons of Miami," a phrase he clarified for a Vero audience.
"It's friendlier than the Hamptons," he says. "I always said Vero is like the Keys with art museums. There's an intelligence here."
Meanwhile, Power is still dreaming of the sea. His Key Largo sculptures ended up on dry land a year later, leased to South Pointe Towers, a luxury condo complex on the southern tip of Miami Beach.
"It was a big media event and the mayor gave me the key to the city," he says, laughing off his success. "At that time, South Beach was very much not happening."
Today the sculptures are installed at the Biscayne Bay campus of Florida International University. "Maybe someday it'll make it Vero," he says.
With his next project, his exhibition will stay under the sea, insinuating itself into the habitat of marine life and the alchemy of the elements. The sculptures he intends to submerge, "Focus," are steel pods on legs, measuring 8 by 14 feet. He says he has all the permitting in place for a spot three miles off Miami Beach, though the installation could be up to two years off.
Designing the piece to entice marine animals led him to the scientists of Harbor Branch Foundation, south of Vero. And it was Miami native Cindy O'Dare, now a realtor at Vero's Premier Properties, who urged him to visit.
Power and O'Dare met a decade ago on a boat in Biscayne Bay, the site of a 50th birthday party for a mutual friend. "I heard her talking to somebody about Harbor Branch and my ears perked up. One thing led to another, and I told her it's really getting squashed here in Miami and I'm more interested in that old Florida feeling. She said, 'You have got to come to Vero.'
"I had no idea she was a realtor."
He bought his house his first day here. That was ten years ago.
At last week's Cultural Council presentation, Power spoke up about that old Florida feeling.
"I don't want Vero to grow either," he told the group of a 100 or so. "I only want the artists' community to grow."