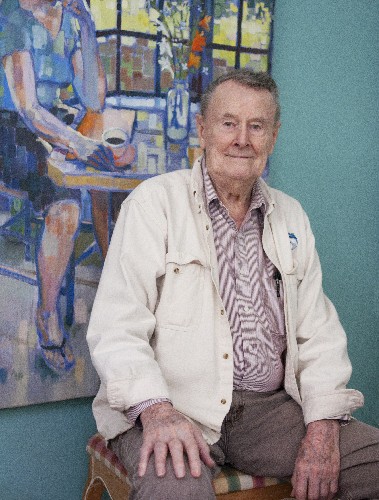 Ralph "Dutch" Feuchter, 91, picks up his ukulele to play a ditty he wrote five or six months ago. He strums the first chord and then thinks better of it.
"Aw, I don't want to play this for you. You don't want to hear it," he says.
A sincere reassurance is all it takes to restore his confidence.
"I play my ukulele every single day," he croons. The humorous tune concerns the vagaries of aging and the singer's sure-fire remedy for them: "Keep your head down low and let happy thoughts flow, toss your worries in the air."
"That's more or less my philosophy" he says. "Nothing gets me down."
The resilient Feuchter is a painter and sculptor whose life revolves around his art.
His Summerplace house is filled with his paintings and sculptures of a beloved subject: the human figure. In the living room a painting of an identical trio of women titled "Tres mujeres lindas" (Three beautiful women) presides over the sofa. A painting featuring the string section of an orchestra hangs on the opposite wall. Near it, a female cellist of carved and painted wood silently plies her craft.
Feuchter's oil portraits of his late wife, Barbara, are displayed throughout the house. The one to the left of the front door shows a pretty redhead daydreaming over a dainty cup of tea.
"I love figures. I love women. Let's put it that way," says the proud paterfamilias of four daughters and four granddaughters.
A latter day Renaissance man, Feuchter paints, writes music and poetry and plays musical instruments that include a psalter (a medieval harp) and an electric keyboard, as well as his trusty uke. He also reads a lot; in German, in which he is fluent, as well as his native English.
Born in 1922, Feuchter was raised in Valley City, "The Frog Jump Capital of Ohio," a scant 22 miles as the crow flies southwest of Cleveland.
"It was a tiny little town – perhaps 500 people," he recalls. Feuchter's father, Ralph Sr., served as the hamlet's postmaster, garage and gas station owner and sometimes embalmer. He was also the organist at the Lutheran church.
"He's the one who inspired me most for music. I remember him sitting there playing the organ with both his feet going, both his hands going, having to move the stops and things around," says Feuchter.
His father also painted a little, in a decorative style. When Feuchter realized that he wasn't coordinated enough to play the keyboard as well as his dad, art became his avocation.
The first artwork Feuchter remembers taking special pride in was a self-portrait in pencil, done when he was in his late teens. Because he portrayed himself in a sailor's cap, he thinks it must have been done soon after he entered the Navy at 18.
Thereafter he did not have time for art until his discharge in 1946, when he entered the University of Miami on the GI Bill. He majored in art (with a minor in German) receiving a B.A. in 1951. His art teachers were Richard Merrick (1903-1986) and Denman Fink (1880-1956). Merrick, a painter and printmaker, was a native Floridian who studied at the Art Students League under Henri, Sloan, Luks and Pennell; Fink was an illustrator and painter who specialized in portraits and tropical scenes.
It was in Fink's class that Feuchter painted a moody portrait of a raven-haired model dressed in a peasant blouse and skirt, a work that today hangs in his bedroom.
In addition to receiving an education, Feuchter met his wife, Barbara (née Zimmerman) in art school. They had been married two days shy of 52 years when Barbara died in 2002.
It's no secret why Feuchter has been able to sustain his production of art for more than 65 years.
"Part of it was my wife, being an artist, could understand and didn't press me to stop," he says.
The other part of the equation is that Feuchter has always created his art to please himself. He's not a social animal, not a joiner. He's used to going his own way alone, he says.
"I'm kind of a modest guy," Feuchter says. Although his rosewood sculpture "Leaving Haiti" is in the permanent collection of the Vero Beach Museum of Art (it was donated by the Vero Beach Art Club in 1993), Feuchter is reluctant to blow his own horn.
"I don't get into all that stuff," he says, meaning he doesn't do much to promote his art.
As far as staking a career on art, Feuchter admits that he didn't have the slightest idea of how he would earn a living after he graduated from college.
"Life came upon me just as it came, and I didn't plan anything," he says.
Newly married, he and Barbara lived in Hollywood, FL, where he held jobs as a worker in a decorative tile factory and as a mail carrier. In 1952 he was hired by the National Security Agency as a cryptologist, having been a signalman in the Navy, and having language skills that helped him land the job.
"Don't get too fancy with that," he warned. "According to when I left there, you couldn't even say where you worked. You worked for the Defense Department."
Feuchter's first venture into the business of art was in 1963, when he and a partner each put up $250 to start a framing and art supply business they called The Gallery in Laurel, MD, not far from NSA headquarters in Fort Meade. Because both partners had full-time jobs, they processed picture framing orders in the evening and hired someone to mind the shop during the day. The successful venture eventually employed a staff of 11 people. When the The Gallery began to offer stone and wood blocks for carving, Feuchter made his first sculpture, a female nude, in light green steatite.
He left the business for three years in 1966 when the NSA transferred him to Munich, Germany. He retired in 1971 after 19 years with the NSA.
Ready for a new adventure, the Feuchters moved to Florida and opened Studio 100 in Boca Raton. Like the earlier venture in Laurel, Studio 100 offered picture framing services and sold art supplies, but it was also a gallery where the Feuchters exhibited and sold their artwork, including Barbara's hand-painted furniture.
It was during that time that Feuchter began to carve figural sculptures from pine boards that he bought from the hardware store and laminated himself. This became his primary sculpture medium for a number of years, although he also enjoyed carving driftwood that he found on the beach. The Feuchters operated Studio 100 for a dozen years before turning the business over to daughter Becky. They moved to Vero Beach in 1992.
Despite his skill in carving, painting in oil on canvas has always been Feuchter's medium of choice.
"Most of my life I painted on linen. You call it pride – you say, 'Oh, I want this stuff to last so somebody will recognize it a hundred years from now.'"
Feuchter estimates that he still has upwards of 200 of his paintings in his possession. Nearly all are in storage.
If someone came to him and asked to buy a painting, "I'd give it to them," he says. "My kids' houses are filled with them, and I've got more than I want here."