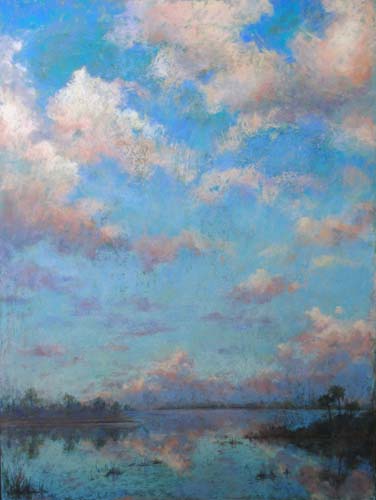 VERO BEACH — After a six month teaching and painting tour of the northeast, Dawn Miller returned to the Treasure Coast with new inspiration for specialty painting workshops.
Based in Vero Beach, Ms. Miller is a popular instructor at the VBMA as well as an award winning artist, most recently winning Best in Show at the Eau Gallie Fine Arts Festival in Melbourne, FL.
In February, she launches a series of 3 Specialty Saturday Workshops on topics that can challenge artists no matter their expertise or media. Her goal is to simplify and clarify the" how-to" process for participants.
All workshops are open to artists in any media and run from 9 a.m. to 4 p.m. The cost for each is $85 per person.
Workshop Topics:
Paint the Sky – Feb. 9. Step back and reconsider nature's basic principles governing skies and clouds. Then learn how to best incorporate these elements, through the creative lenses of shape, value, color, and design, into your work.
Go Green! – Feb. 16. The color green can be a challenge to landscape painters because of its enormous variation in nature. This workshop focuses on discerning and recreating the abundant greens in nature through an exploration of shape, value, and edges. Then applying this knowledge to more accurately represent trees, shrub, forests, and meadows, etc.
Luminous Landscapes – Feb. 23. Investigate how to create luminous light effects in landscape paintings by altering color, value, and temperature to capture a radiant glow. 
Sunday Studios: Feb. 10 & 17
Students will enjoy 3 hours of independent and meaningful easel time with personalized, one-on-one instruction offered by Dawn Miller, enabling them to gain fresh insight and perspective on their work.
Open to artists of all levels in any media, participants work on their own projects in a stress-free, warm environment where creative experimentation is encouraged to answer the "what if" in art. Cost: $25 per studio.
All workshops and studios are held at 2525 Granada Ave., between US 1 and Indian River Dr., in Vero Beach.
Registration for workshops or studios can be made by calling Ms. Miller at (772) 559-7854 or by email to DawnEMillerArt@gmail.com.
To view some of Dawn's works, please visit her website at www.DawnMillerArt.com.
Additional Sunday Studios and Saturday Workshops are in the works for April and May.
Meet The Artist:
March 2, 2013
Ms. Miller is a judge at the Blooming Arts Festival in Bartow, FL 
March 8–10
Vero Beach, FL – Under the Oaks Arts Festival, Riverside Park
March 16 & 17
Winter Park, FL – Winter Park Sidewalk Art Festival
Additional photos of Ms. Miller's work are available in high and low resolution by contacting Edwina Arnold at (917) 741-9749.