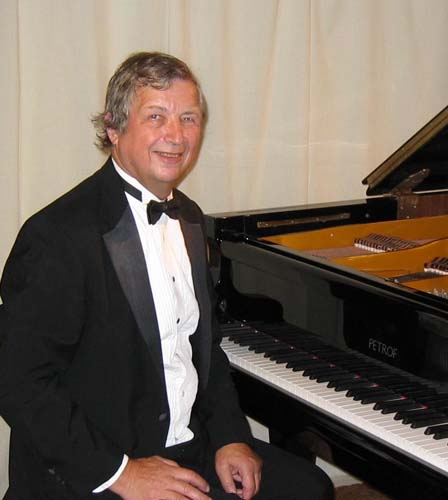 VERO BEACH — A special evening awaits you and your favorite date on Valentine's Day at The Emerson Center.
Back by popular demand is "Ragtime, Romance, & Roses" featuring highly regarded Ragtime pianist Bob Milne. For that Thursday's 7 p.m. performance, Milne will build a diverse show which also incorporates romantic melodies spanning the decades.
"You'll want to grab somebody's hand and give it a squeeze. If you feel like tapping your toes, go right ahead. And if you want to dance in the aisles, enjoy yourself. We will have no shortage of fun at this Valentine's concert," Milne will advise the audience.
Considered by many to be the best Ragtime/Boogie-Woogie pianist in the world, Bob Milne specializes in the music style that developed in America in the late 1800's and early 1900's.
Although Milne comes from a classical background, having excelled as a French horn virtuoso at the Eastman School of Music, he is completely self-taught as a pianist, playing totally by ear.
He became fascinated by Ragtime music and naturally progressed to the concert stage, becoming acknowledged by many as one of the best pianists of our time.
Bob Milne brings endless enthusiasm, enchanting ease of playing, and an engaging manner while telling stories about Ragtime and Boogie Woogie music with warmth and humor.
He was filmed and documented for future generations in 2004 during three days of interviews at the Library of Congress and was declared a "national treasure" at the conclusion.
Advance tickets of $20 may be purchased online at www.TheEmersonCenter.org or by calling the box office at (772) 778-5249. Tickets at the door are an additional $5.
A complimentary rose, sponsored in part by Monti's Flower Market, will be offered to the first 100 ladies.
The Emerson Center, at the Unitarian Universalist Fellowship of Vero Beach, is conveniently located at 1590 27th Ave., on the SE corner of 16th St. and 27th Ave., and has more than 300 parking spaces, an auditorium that seats over 800 people in comfortable padded seating, a raised stage that offers everyone unrestricted views, and professional state-of-the-art sound and lighting systems.