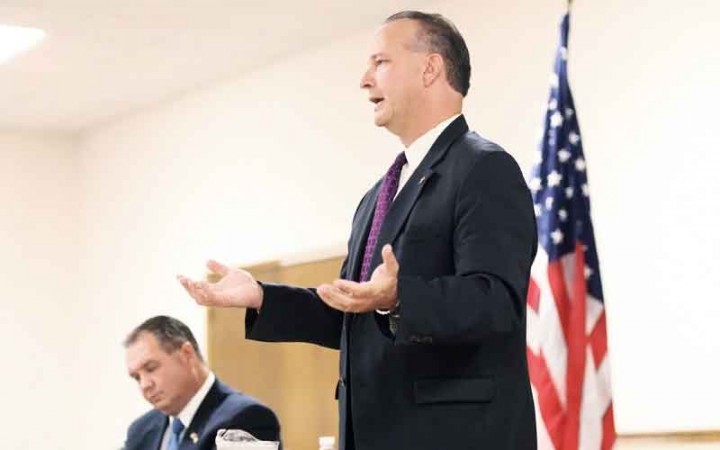 Name: Deryl Loar
Age: 44
Party: Republican
Contact Info: LOAR2012@ATT.NET, (772) 528-1856
How long living in Indian River County: 12 years
Place of Birth: Tampa
Occupation: Indian River County Sheriff
Family: Married to Jennifer Loar for 23 years; Two boys ages 15 & 10
---
Please list Civic and Volunteer Leadership Experience including title & position and Organization including dates and locations.
United Way- Fund Raising Coordinator
Indian River County Mental Health Association, Board member
Dasie Hope – Chairman, past Vice-Chair, past Board member (6 years)
Substance Awareness Council – Past Chairman & Board Member (10 years)
Mothers Against Drunk Drivers (5 years)
Hibiscus Children's Center (advisor) (2 years)
First United Methodist Church – Finance Committee (2 years)
Boy Scouts of America – Eagle Scout Review Board
Indian River County Chamber of Commerce (4 years)
Indian River County Executive Roundtable – Board member (6 mo)
Indian River County Pastoral Association – advisor (4 years)
State of Florida Law Enforcement Accreditation (volunteer commissioner) (2 years)
What issues motivated you to run for this office and what do you hope to accomplish during your term?
As a professional Law Enforcement Officer, I was encouraged in 2006 to run for Sheriff in 2008 (my first term). My experience and reputation within the State of Florida, Treasure Coast and Indian River County allowed me the ability to garner the support and success to be elected in 2008. I was motivated by my peers and my strong desire to enhance the Indian River County Sheriff's Office. In my second term, I expect to continue to lead the Sheriff's Office through the most difficult economic times in recent history. It takes courage to make tough personnel changes and financial decisions. I have done that. I feel that we have accomplished many positive things in my first term, and I look forward to many more positive years!
Why do you feel qualified to lead the Indian River County Sheriff's Office?
I have demonstrated that I am qualified to lead the Sheriff's Office. We have achieved local, state and national recognition in many areas of our agency. I have lead the Sheriff's Office while reducing our budget by over $5 million, providing outstanding customer service and enhanced our image. As the spouse of a small business owner, the father of two young boys, and current Sheriff of Indian River County, I have the experience to lead the agency.
What, if any, changes would you make to how the Sheriff's Office is run and operated?
Leading a large agency requires that you be flexible to crime trends, financial trends and social trends. I will continue to modify policies and practices as these needs arise. As the economy improves (and there are positive indicators that it will), our agency will be poised to operate at a remarkable level. We have established the foundation for an agency that is prepared for the future.