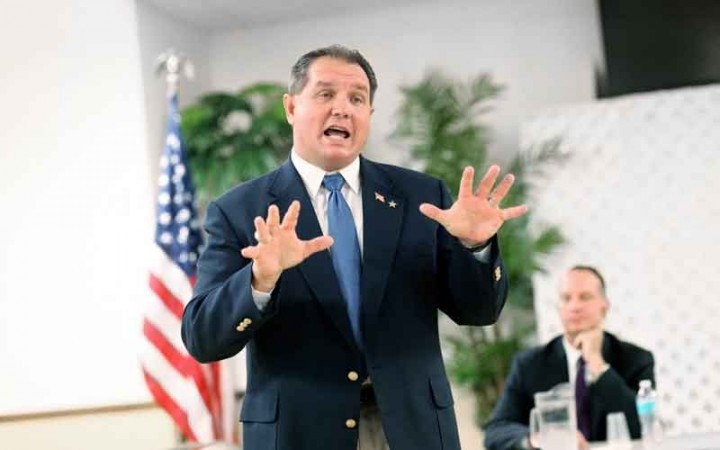 Name: William E. "Bill" McMullen, II
Age: 49
Party: Republican
Contact Info: 365 Nieuport Drive, Vero Beach, FL, 32968; (772) 453-9046 – Campaign; mcmullen@mcmullenforsheriff.com
How long living in Indian River County: 30 Years
Place of Birth: Deland, Fla.
Occupation: 29 Year Veteran, Indian River County Sheriff's Office
Family: Married; 3 children
---
Please list Civic and Volunteer Leadership Experience including title & position and Organization including dates and locations:
Memberships/Affiliations:
National Sheriff's Association Past
Southern Police Institute Alumni, Past
Indian River County Criminal Justice Planning Council, Past
Indian River Community College State Region XI Training Council Past;
Treasure Coast Chief's and Sheriff's Association, Past
Indian River County Substance Abuse Council, Past
Indian River County Mental Health Collaborative, Vice-Chair, Past
Keiser College Advisory Board, Past
Indian River Community College Advisory Board, Past
Florida Region XI Training Advisory Council, Vice-Chair Past
Indian River County Public Safety Coordinating Council, Vice-Chair, Past
20th Avenue Church of God,
Vero Beach Lodge #250 F&AM; Master Mason,
Azan Temple Shrine Melbourne, Florida,
American Correctional Association, Past
American Jail Association, Past
Indian River State College Adjunct Faculty, Past
What issues motivated you to run for this office and what do you hope to accomplish during your term?
I am running for the Office of Sheriff because many of Sheriff Loar's past supporters, Current and past Sheriff's employees and community members alike have asked me to run for the Office again; including the complete and full endorsement of recently retired Sheriff Roy Raymond, County Commissioner Joe Flescher, Retired Police Chief Jim Davis, Retired Police Chief Randy White, Retired Police Chief Larry Tippins and numerous other respected members of our community.
I, along with many, many others recognize the serious shortcomings and ability of the current Sheriff that continues to negatively impact public safety in our community caused by, inept leadership, poor efficiency and effectiveness, failures in integrity and honesty in the agency.
Endangering our Citizens and Deputies for instance: Citizens lost 28 percent of our police enforcement capacity because Deryl Loar instituted 10 hour shifts (against the advice of numerous, more experienced recommendations). Loar's shift change is routinely causing neighborhoods and areas in the County to be left without an assigned deputy (as reported in Vero Beach 32963), we experienced record setting crime increases when Florida Crime rates were falling. These policy decisions place the Citizens and officers in danger because simple time and distance issues.
Frivolous spending is another matter; the economy is depressed and everyone is feeling the pinch. Spending public funds for unnecessary purchases such as: new office furniture, remodeling the jail lobby and other areas, granite counters, wood flooring, an extravagant $182,000 prisoner transport bus (School Buses are good enough for our children, and they should be good enough to transport prisoners in. They were for the 25 years before Deryl Loar), buying 50 patrol cars and all new equipment inside them, stockpiling computer equipment, new executive office furniture, and installation of flat screen televisions in executive offices combined with other significant unnecessary spending accomplishes nothing to enhance the safety of our families and businesses.
Having a Century of Law Enforcement service in my blood and having served our community for 29 years, I am compelled to run because of my strong concern for the safety in our families, our neighbors, our visitors, our businesses, and the officers that protect us.
My close to 30 years of experience with our Indian River County Sheriff's Office, and having held ranking management positions within the agency for 25 years, I found it impossible to refrain from trying to fix the problems plaguing the Sheriff's Office under the non-existent leadership of Deryl Loar. His policies have endangered our families and our community, tarnished the reputation of our County and left hundreds of victims in the wake of poor policy and implementation of failed theories. Deryl Loar has credited himself for the diligent work of others in our community, taking credit for $5 million in budget cuts (the work of Our County Commissioners whom cut vacant positions from his budgets). Additionally Loar claimed success in budget reductions from significantly lower Jail Inmate Populations (not so successful when you consider the criminals should be in jail, not victimizing our community).
Why do you feel qualified to lead the Indian River County Sheriff's Office?
THREE DECADES of Local Experience with Our Sheriff's Office.
I am a now retired Patrol Commander with the Indian River County Sheriff's Office and the only candidate holding State of Florida certifications in both Law Enforcement and Corrections disciplines; an Associate of Arts in Computer Science, and a Bachelors of Liberal Studies from Barry University in Miami.
Educational Background:
Florida Public Schools, De Soto County, Fla., Associate of Science in Computer Electronics, Bachelor of Liberal Studies from Barry University Miami, Florida, Florida Law Enforcement Standards, Florida Corrections Standards, University of Louisville; Southern Police Institute, 95th Administrative Officer's Session (Par with the FBI National Academy), National Incident Management Command school along with hundreds of career development and specialized training course hours.
A Century of Law Enforcement Service. I am a third generation public servant; began my career in 1982 with the Florida Department of Corrections and moved to the Sheriff's Office in1983. My grandfather was the Chief of Police in Clearwater, Fla., in the 1920s and served the Pinellas County Florida Sheriff's Office for over 34 years before his retirement. My father served the State of Florida retiring as a Florida Prison Superintendent after 33 years of service and retired from public service with a Building dedicated in his Honor at Indian River State College, Mueller Center (Vero Beach).
I have served in many capacities within the Sheriff's Office during my career and held command, administrative and a management positions with our Sheriff's Office for over 25 years.
1982 – 1983 Corrections Officer, Florida Department of Corrections
1983 – 1986 Corrections Deputy, Indian River County Sheriff's Office;
1986 Administrative Sergeant, Indian River County Sheriff's Office Corrections Div.;
1986 Lieutenant, Deputy Division Director, Corrections Division;
1989-1991 Lieutenant, Sheriff's Services Division / Professional Accreditation – I.A.
1991-1992 Lieutenant, Watch Commander, Corrections Division;
1993-1996 Lieutenant, Deputy Division Director Corrections;
1996-2001 Lieutenant, Deputy Division Director Information Services
2001 to 2009 Captain, Director Corrections Division
2009 to June 2012 Lieutenant – Patrol Commander – Uniform Patrol Division
Career Highlights: Involved in the planning, development, budgeting, management and implementation for a wide variety of projects during my career that address both short and long range services, operational, budgetary and manpower needs over 25 years and four different elected Sheriff's.
Oversight of the Sheriff's Office transition from main frame based information systems to network based workstations and systems that provide the platform for improved information accessibility to both the community, agency members and other Law Enforcement agencies;
Introduced, planned, and provided guidance and oversight for the implementation of today's Law Enforcement Mobile Computing Systems in every Patrol Car and the interfaces to internal, State and National databases that placed lifesaving and critical information in the field with patrol units;
Provided guidance and oversight in the development and multiple expansions of the Sheriff's Office Internet site that supplies valuable information to the public and development of the Intra-Net services systems for internal and external access to electronic informational resources and workstation applications for Sheriff's Office employees as well as other law enforcement agencies;
Coordinated the transitional planning and implementation for conversion to the 800 Megahertz Radio System that improved inter-governmental agency communications;
Provided Oversight for the renovation of the Sheriff's Office 911 center;
Sought integrated electronic records management systems across computer systems used in the 911 Dispatch center, Criminal Records, Warrants, Jail Administration, Inmate Classification, Digital Mug shots, Digital imagining used to archive Agency Records;
Coordinated the utilization of Fiber Optic Video systems for Court Arraignment; Digital Fingerprint Capture systems; implemented automated Victims Notification Systems interface; Video conference system for inmate visitation services;
Assigned to Sheriff's development of Policy Development and General Order implementation for Accreditation through the National Commission for Accreditation of Law Enforcement Agencies.
County Corrections: Facility planning, development and construction liaison to the Sheriff, staff development and training for:
The modern Indian River County Jail operations center in 1985, a $4.1 million dollar project providing incarceration and services for an inmate population of 143 that opened in 1987;
The 1988 Phase II Jail expansion that added an additional 120 inmate beds, a $2.2 million dollar project for an inmate population servicing 263 inmates;
The 1989, $5.4 million dollar Phase III Jail expansion, opened in 1991 providing an additional 148 inmate beds for a combined total operational square footage of approximately 78,000 square feet, 411 total inmate beds.
Correctional Facility Administrative Management and Operations;
Development of Operational standards and policy guidelines
Laundry service operations that produce approximately 500,000 pounds of clean laundry annually,
Food service production facility that serves in excess of one half million meals annually,
Medical and mental health services clinic employing physicians and licensed health care professionals and providing a range of medical and mental health services, medical infirmary
Commercial grounds maintenance operations,
Inmate educational and religious programs,
Implemented the inmate work crew program, putting incarcerated inmates to work in the field of landscape maintenance, and equipment operation/maintenance. Saving taxpayers hundreds of thousands of dollars since inception in 1988, while providing useful skills to inmates during their incarceration.
UI field sobriety examinations where approximately 400 DUI cases annually.
Participated in the 2002 Public safety land acquisition for Jail expansion Phase IV and future expansions of the Indian River County Jail a project that reserved 27 acres adjacent to the existing operations center;
In 2004, I was assigned to the Emergency Operations Center, and directed Law Enforcement Services and deployment of National Guard and State Law Enforcement resource services to our county during and immediately following both Hurricane Francis and Hurricane Jeanne.
Implemented a local alternate inmate housing complex that saved taxpayers in excess of $2 Million dollars over approximately 18 months
Implemented programs housing hundreds of inmates from other jurisdictions while utilizing available manpower and resources and earning in excess of $13 million dollars for Indian River County between 1993 and 2004. Revenue from this program provided to Indian River County. Funding used to establish and operate the Sheriff's Office Helicopter/Aviation Unit we have today and provided non tax base funding for patrol car radar units, patrol car video systems equipment, and computer equipment.
Participating panel member of the Indian River County for the development of impact fees and long range capital facilities planning;
Development, oversight and supervision of the Corrections Emergency Response Team that has consistently ranked 4th in the Nation during National Competitions;
Oversight and planning for the Phase IV Jail expansion, that opened in 2007 adding 256 multi-custody inmate beds, new inmate intake processing center, DUI testing center, Medical and Mental Health Clinic, Warehouse, video conference visiting center.
Developed and implemented numerous cost saving factors that provides an ongoing taxpayer savings of close to $1 Million annual savings, and over $3 million to date.
What , if any, changes would you make to how the Sheriff's Office is run and operated?
Leadership begins at the Top and transcends throughout the rank and file of every organization. Installation of simple values that are upheld at every level are paramount. Those values include; Honesty, Integrity, True Transparency, Eliminating Wasteful Spending and restoring Community Confidence in our Sheriff's Office.
As your Sheriff, I will reinstitute Proactive Law Enforcement in our Sheriff's Office, using steady, around-the-clock, routine patrol presence to deter crime, and ensure the safety of our families, businesses, and visitors.
Staffing patrol shifts based around the peak calls for deputies the way traffic safety/control measures are implemented does not provide for adequate coverage in all patrol areas, proactive law enforcement operations, nor enough staff to facilitate routine patrol presence in our neighborhoods and throughout our business community.
~Simply Put ~ "Would Our Community Prefer our Law Enforcement work to Deter Crime, versus be "available" to come take a report after being victimized and robbed." ~ The difference between Proactive and Reactive Law Enforcement.
Evaluate and adjust all of the existing sheriff's patrol police beats/zones commensurate with the population served and accessibility. For instance, 1103 is a very large zone, from Vero Lake Estate to the Sebastian Inlet to the City of Indian River Shores. Where time equals distance, this zone is substantially large for a single deputy to adequately manage and provide a quality level of service to the community.
Establish a Selective Enforcement Team that is immediately responsive to criminal analysis data developed through service data and trends throughout our county to end repeated victimization of our community.
I will reinstate 12 hour shifts within the Sheriff's Office, as they provide the most effective and efficient manner to provide consistent patrol coverage with available manpower. The Indian River County Sheriff's Office attempted to institute 10 hour shifts in the 1980's and realized they were ineffective. That mistake was repeated in the 1990's with the same result, and again repeated and is failing under this Sheriff's Administration.
A 12-hour shift Does Not cost any more to operate than 10 hour shifts ~ An 80 hour paycheck is an 80 hour paycheck. Deryl Loar's continuous lies to the community of saving overtime, is just that, a lie. Deputies did NOT receive $400 in automatic overtime each month working 12-hour shifts. Their hours were flexed out avoiding overtime. Additionally, law enforcement officers are subject to the Federal "Fair Labor Standards Act", a law that stipulates that they must first work 86 hours before being eligible for overtime. I strongly urge the community to do the research, "Ask any Deputy."