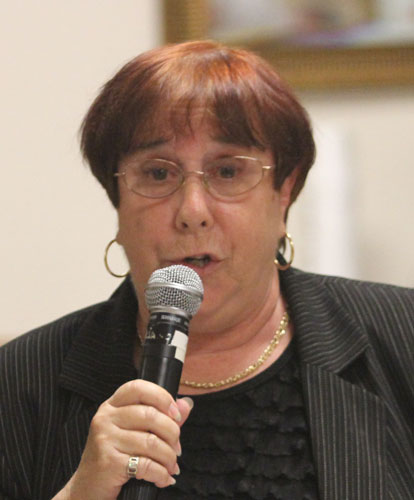 Name: Bea Gardner
Age: 71
Party: Republican
Contact Info: www.beagardner.com
How long living in Indian River County: 22 years
Place of Birth: Canton, Ohio
Occupation: Candidate
Family: Husband, Steve Blum, Bill Gardner, Glen & Christine Gardner, Darren Blum, and granddaughters, Kelsey and Lili
---
Please list Civic and Volunteer Leadership Experience including title & position and Organization including dates and locations.
Downtown Vero Beach Association…The precursor to the Main Street Organization. While serving on the board I spearheaded and chaired the Downtown Friday event, the cornerstone event/fundraiser for the Main Street organization. I am happy to say that this event continues to be a successful event for the Vero Beach Downtown.
Member of the Vero Beach Parks and Recreation Commission for over 16 years and was a member of this commission when it was a combined Recreation Commission with the County.
Keep Indian River Beautiful…K.I.R.B. – I was a founding member of KIRB and chaired the first County wide clean-up called the County Sweep.
Taxpayers Association of Indian River County – While serving on the Board of the TPA for about five years, I created and edited the TPA newsletter.
President of the Republican Club of Indian River County for four years and past board member of Republican Club of the Treasure Coast. I also serve on the Republican Executive Committee as a precinct captain for precinct 312.
I presided over the Rule of Five Investment Club for seven years. This local investment club, made up of sixteen women from Indian River County was affiliated with The National Association of Investment Clubs – NAIC.
I am an active member of the Vero Beach Beachsiders Toastmasters Club and the Sebastian- Fellsmere Toastmasters Club. I have my gold certification from Toastmasters International and have won many local area speech contests.
Member Vero Beach Theater Guild and volunteer usher at Riverside Theater
What issues motivated you to run for this office and what do you hope to accomplish during your term?
I love the landscape of Indian River County…the low rise, low density manner in which this county has developed and I want to continue with that form of development.
I love the diversity of land uses such as agriculture and urban living running side by side with one another. All one need do is take a ride along Route 60 heading towards Yeehaw Junction and see what I mean. You will see every type of development that can be imagined as well as seeing citrus groves abutting next to cattle grazing.
I want to make our county a place that your children and your grandchildren will want to stay and a place where they can thrive while maintaining the very things that I have described.
I know I will be able to manage growth in a responsible way because I am not involved with any special interest groups that try to steer things in different directions.
When elected, I hope to re-establish the Utility Commission. There is a plethora of brain power in the county, and the board should tap into this resource. These committees and commissions are made up of volunteers…, a government for the people, by the people. I would much prefer this kind of government than one that pays high priced consultants who do the work of the people behind closed doors.
I would hope to dig into the task of making our county more users friendly for business, especially for the small businesses which are the backbone of the county. It appears to me this will be a long arduous task of streamlining the permitting process in order to make it more users friendly. Sometimes I get the sense that our elected officials are clueless about the impact that their rules and regulations have on a small business expansion or start up.
I want to bring some common sense to the Board. There seems to be a disconnect where it concerns what is and what they tell us it is.
What makes you qualified to run for this position?
I've been watching and participating in local government most of the twenty plus years that I have lived here and I get very frustrated with the political scene…..you know what I mean, "the good old boys" with agendas. I have no agenda. I am beholden to no one – no special interest groups will be pulling my strings.
Some of my accomplishments with local governments:
Parks and Recreation advisory board for 16 years
I was the first person in the county to urge the elected officials to prod the governor to place an Indian River County member to the board of the St. Johns Water Management District. A few years later Doug Bornique was placed on the board of SJWMD.
In 1999 (see editorial in PJ) I recommended the advisory boards should not be headed up by elected officials….they needed to be chaired by the volunteers that made up the boards. It took six years but finally in 2005 the BOCC voted to stop the practice of chairing their own advisory boards.
I am familiar with the departments and most of the staff in the County therefore, when elected, I could be up and running from my first day on the job.
The job of County Commissioner requires discipline, especially fiscal discipline and I have shown my ability to be a fiscally responsible person by the way I have always managed my own finances. I have been a successful business woman and I am proud to say I owe not a penny to anyone. My house and car are paid for in full.
The job of County Commissioner also requires someone with a lot of common sense and someone who has the ability to think outside the box. I am that person.
People who know me know that I am a hard worker. I am someone who will do the homework that needs to be done in order to do a good job as your commissioner. I will not be a rubber stamp for staff.
I believe this seat has been underserved for far too long and when I am elected I will be right here for you. My door will always be open.
What is your position on the potential sale of the City of Vero Beach's electric utility to Florida Power and Light? What, if anything, could or should the Board of County Commissioners do to influence the process one way or the other? What should the commission do for those electric customers who live outside the city in the unincorporated portion of the county?
The sale of the Vero Beach Electric Utility to FPL is underway. The City of Vero Beach and FPL are in the midst of some very high powered and high priced negotiations regarding the sale and during this phase the BOCC should be patient and let the negotiations move along.
If negotiations become stymied because of the difficulty if not the impossibility of City of Vero Beach shedding themselves of obligations to the FMPA this board might want to consider an appeal to the State to set up a legislative committee to look into the FMPA.
I believe the board should re-establish their Utility Advisory Board. I thought it was irresponsible of the current board to dismantle this particular advisory board when Utilities are such a hot topic…both the electric and the water and sewer.
An advisory board, made up of volunteers, would allow us to tap into the brain power that is available throughout the county with expertise in the area of Utilities. And remember, volunteers serve at no cost to the county. The only cost to the county would be to take minutes at the meetings. Even a digital tape recorder could do this at little or no cost to the county.
A Utility advisory board makes more sense to me than for the county to find themselves in need of high priced consultants to advise them in areas that an advisory board would be able to do. Citizens participating in their local government in this capacity is truly a government by the people, for the people. Another thing I like about advisory boards is that their meetings are held in the sunshine.
Something the BOCC might want to consider doing away with is the 6% franchise fee in order to ease some of the high cost for County residents who are on City Electric.
But, as I said at the beginning of my answer, the time to sit back and be patient is right now in the hopes that the City of Vero Beach and FPL can agree to a fair price – and if the City of Vero Beach can extricate themselves from existing contracts that are costing them millions of dollars a year.
With unemployment at about 10 percent, what do you believe is the County Commission's role in bringing more jobs to Indian River County? Do you support tax abatements and jobs grants to attract new businesses and encourage expansion of existing businesses?
I would hope to dig into the task of making our county more user friendly for business, especially for the small businesses, which are the backbone of the county. It appears to me this will be a long arduous task of streamlining our permitting system in order to make it easier to navigate your way through the process. Sometimes I get the sense that our elected officials are clueless about the impact that their rules and regulations have on a small business expansion or start up.
I want to bring some common sense to the Board. There appears to be a disconnect between the public and the government when it comes to "how to" open or expand a business in IRC.
There are some things that are in place to entice jobs to the area such are our enterprise zones along with some State mandated tax abatements and jobs grants. I believe the Indian River County Chamber of Commerce in concert with the Board of County Commissioners do a good job in this area.
One must remember, jobs are scarce all over the country and Indian River County is challenged with a lot of competition.
We can't just say, "We're open for business" if we don't understand the why and how of opening a business in our county. How profound when Ronald Reagan delivered the line, "Government is not the solution to our problem, government is the problem."