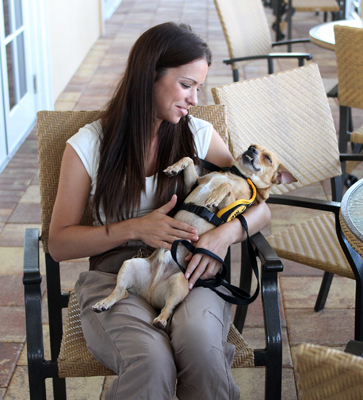 SEBASTIAN – HALO Rescue in Sebastian strayed off campus to Pointe West in Vero Beach to reach out to those who might want to bring home a fur ball – or at least play a game or two of Bingo.
"Turnout has been incredible," event organizer Kim Kern said, adding that they had more than 70 RSVP and several others who didn't.
"Everyone's looking for good homes," Kern said of the several dogs, pups, and cats who were brought out to the first-ever Bonz & Bingo awareness- and fund-raiser. "This is more for exposure than raising money."
HALO founder Jacque Petrone said that the more they can adopt out the animals they have, the more animals they can rescue, like Oliver.
Oliver, a 9-month-old mixed-breed from Fort Lauderdale, had fallen off the couch at what was supposed to be his forever home. The fall broke his leg and required surgery his human could not afford.
He was scheduled to be put down.
"I'll take the mutt," Petrone recalled saying when one of her HALO helpers came across him and relayed his story. "He's a great, great dog – a great little man."
Angela Conti was that helper who learned of not only Oliver, but also Riley, a 6-month-old Italian Greyhound who had also suffered a leg-break.
"Their legs are real fragile," Conti said of the breed.
Veterinarian orthopedic surgeon Dr. Latimer in Stuart set the dogs' legs, inserting pins and plates – a procedure that would have cost at least $2,200 for just one of the dogs – for $1,800 total.
It's that kind of assistance and compassion that HALO runs on and it is those types of fees that the organization strives to raise funds.
Inside the Pointe West Clubhouse, dozens of people took their seats – dauber in hand, ready to mark their boards with the called numbers.
But it wasn't as simple as getting a single vertical, horizontal, or diagonal line – that would have been too easy.
Instead, the players had to come up with four corners, the letter "I," two lines, and other, more unique boards.
"Let's play Bingo!" announced MC Joe Kern.
The first to win was Sean Verne, of Paw Prints in Vero Beach. His prize – a donated $100 gift certificate to Paw Prints.
After the audience got a chuckle, Verne was awarded a $40 gift certificate to Pizza & Pasta House.
The next game, which required the "I"-shaped board, drew a false Bingo. And while the man who erroneously called out "Bingo!" turned red-faced and the game continued, the audience appeared happy that they still had a chance to win.
"I have been in a lot of bingo halls," Joe Kern said, teasing the player, "and they were very nice to you."
All funds raised from HALO's boarding, grooming, and boutique go directly into the care of the animals there.
HALO Rescue is Indian River County's only no-kill animal shelter and is a Florida not-for-profit 501(c)(3) corporation.
For more information about H.A.L.O. Rescue, please visit www.halorescuefl.org or call (772) 589-7297.