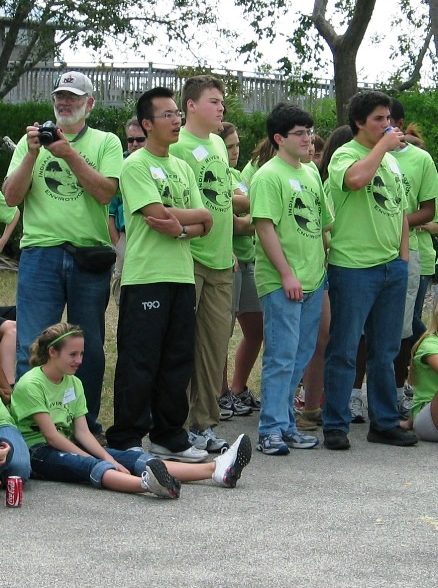 WABASSO – Several hundred students from more than 30 schools around the region descended upon the Environmental Learning Center Friday in a showdown of knowledge and passion for the environment.
The Environmental Learning Center played host to the 2011 Indian River Lagoon Regional Envirothon – an outdoor knowledge-based competition designed to put students' learning to the test.
From Indian River County, students from St. Edward's Upper School, Gifford Middle and Storm Grove Middle competed. Only St. Ed's will move on to the State level of competition as only high schools are allowed at that level.
"It's more fun than math competitions," said St. Ed's student Ethan Klein during a break between testing stations.
"It's stressful," said Austin Carroll.
"It's fun," said Bryan Brickman.
Jad Shalhoub said that it was great to be competing at the Environmental Learning Center – in an environment that they had been studying about all along.
Also part of the St. Ed's team was Dequan Zhang.
Teams are made up of about five students who travel between several stations answering a series of questions based on that station's theme.
Themes include the Indian River Lagoon, Soils, Forestry, Aquatics, Current Issue, Discovery and Wildlife.
"They're doing very well," Indian River coordinator Brenda Davis said of the Indian River County students participating in the Envirothon.
She said it was a first time for Gifford Middle to participate and the second year for Storm Grove Middle.
"I think for our students, we live here; we live with the lagoon," Davis said, and they learn all they need to be good stewards of the environment.
Storm Grove's team said they would rather be out at the ELC than in a classroom.
"We like the environment," said Skye Collins.
Team mate Caroline Granitur said she enjoys learning about it.
When asked which was their favorite of the stations, the team said Aquatics.
"There are so many things," Collins said of having to do at the station.
"There's a lot of details," Mackenzie Slade added.
The Storm Grove team also included Erik Keeling and Seth Kaiser.
The Gifford Middle team was divided as to which station was their favorite – one said Forestry, another Current Events, and another said Wildlife.
"Wildlife was definitely fun," Ryan Thomas said.
Team mate Barrett Jellie cringed, explaining that she doesn't like snakes. Snakes were a part of that station.
She said she preferred Current Events.
Ryan Overholt said he liked the Forestry station.
"No, Forestry wasn't fun," Jacob Hoekzema retorted.
The testing wrapped up with lunch of hamburgers, hot dogs and nachos and awards from the competition before kids from several school districts hopped on their buses to head home.
This article will be updated with the test results once they are made available.